Then...
A LOT can change in 26 years but for one Birmingham Irish family some things stay the same.
Pictured above are Bridget, Maggie, Andrew, Agnes and Angela in 1989 on the opening night after a refurbishment of the city's famous Irish pub The White Swan.
Fast forward 26 years and the Bradford Street bar in Digbeth, which has been in the Creaton family for over 46 years, was once again the scene for another special snap.
Andrew has been living with his family in Australia for over 10 years and the picture reconstruction was taken on his recent visit back to Birmingham at the end of September.
And now...
Maggie, Angela and Bridget all competed in The World Irish Dancing Championships during their many years of Irish dancing, where they started under the instruction of Mary Fogarty Dancing School at St Anne's Club also in Digbeth.
The White Swan has entertained generations of Irish people over the decades, from the patrons that frequented it in the 1960s and now the grandchildren of those families who still use the bar to this day.
The pub, run by the Roscommon family, is steeped in Irish history.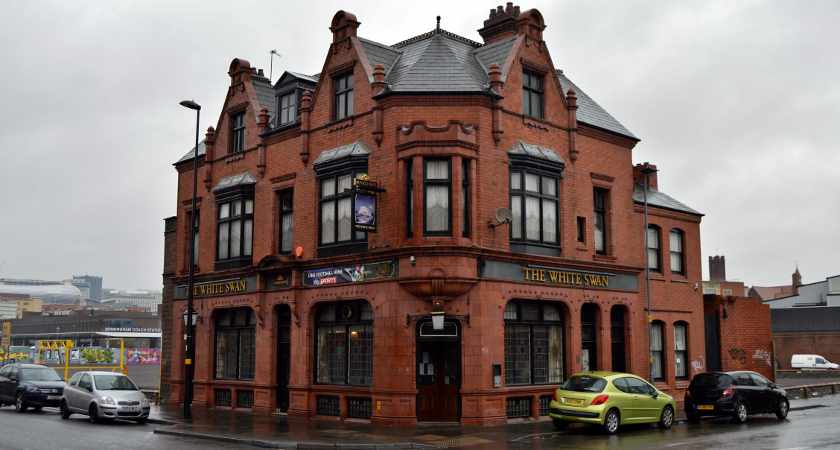 It was the meeting place for the original committee members who reintroduced the Birmingham St Patrick's Day Parade to the city in 1996 after an absence of 22 years.
Also the Midlands Republic of Ireland Soccer Supporters Club held its first ever meeting in the back room.
Digbeth as an area has changed in recent years. The factory units that once surrounded The White Swan have now been torn down and the and the historic and listed pub stands alone, although still as warm and welcoming as it always has been.