GAY BYRNE, who has died aged 85, was Ireland's foremost broadcaster over many decades.
Entertainer, interviewer and television host, he can be regarded as one of the most significant figures in Irish broadcasting history.
His most notable role, as first host of The Late Late Show, spanned a 37-year period from 1962 until 1999.
Prior to The Late Late show, Byrne briefly worked in Britain with Granada Television in Manchester — during which time he introduced many acts, including The Beatles. In the early 1960s he lived in London, working for the BBC.
But it is primarily his work with The Late Late Show that will be his enduring career legacy. Originally the programme was scheduled as an eight-week summer filler. But Byrne's natural ability on television — a mix of relaxed chattiness coupled with a shrewd interviewing technique — transformed The Late Late Show into the world's longest-running chat show. And in doing so, he helped transform Ireland's social landscape.
His Friday night 'appointment-television' became a focus for controversial or sensitive topics in Ireland, such as contraception, gay rights, abortion, divorce, suicide and several other hitherto taboo subjects.
The Late Late Show and its host played more than a peripheral role in shaping the modern Ireland that began emerging in the 1960s.
It was famously observed that "there was no sex in the country until The Late Late Show"; a view not met with approval in all quarters.
The Bishop of Galway called Byrne "a purveyor of filth" after he asked a woman what colour nightie she wore on her wedding night and she replied that she'd worn nothing.
This trivial exchange sparked the first major controversy involving "Gaybo" as he was now almost universally known.
The Bishop of Clonfert denounced the show as "disgraceful" and public bodies across the country joined in condemning what one councillor described as a "a dirty programme that should be abolished altogether".
Controversies such as this guaranteed the show's continuing success. Every assault on the Late Late for its alleged blasphemy, degeneracy and anti-Irishness served to make it essential viewing.
But oddly enough, Byrne was in fact a committed Catholic and markedly conservative in many of his social views — even though he could be considered as partly instrumental in undermining the very institutions and society that he largely supported.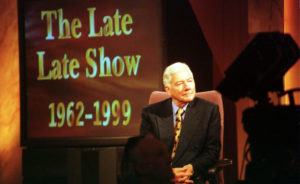 Career-ending interviews and controversies
As well as tackling social topics, The Late Late Show also delivered big interviews. Byrne tended to opt for the 'good cop' inquisitorial technique that often uncovered more information than the more confrontational style of, say, Paxman or John Humphrys.
The ramifications of Byrne's interview with politician Pádraig Flynn, a high-flying MEP, is widely seen as ultimately ending the Fianna Fáil politician's career. Byrne allowed Flynn to expound at length about how hard it was to make ends meet on £140,000 a year. Byrne then asked Flynn about Irish businessman Tom Gilmartin, whose evidence at tribunals in Dublin helped uncover corruption in Irish political and business circles. Flynn, under questioning from Byrne, spoke in unfavourable terms about Gilmartin — who happened to be watching at home in Luton.
He was greatly upset by the interview. Gilmartin's testimony against Flynn at subsequent tribunals put paid to Flynn's career, as well as, ultimately, Bertie Ahern's.
An appearance by Northern Secretary Peter Brooke also ended his career. Brooke appeared on the show in 1992. It was a bleak day for the North — the IRA had blown up a bus carrying Protestant workmen at the Teebane crossroads in Tyrone. All seven men were killed. It's hard to know what possessed Secretary of State Brooke, but after some gentle cajoling by Gay Byrne he launched into Oh My Darling Clementine. Egged on by Byrne he sang of his darling being "lost and gone forever." The unionists never forgave Brooke — it was bad enough appearing on the airwaves in the Republic in the first place, but partaking in a song routine was unforgivable.
By the end of the year he was gone from the Northern Ireland post.
Gay Byrne's interview with Annie Murphy, the lover of Bishop Eamonn Casey, delivered another seismic shock to Irish society. The interview, in 1993, featured Byrne interrogating the American woman — who had borne the bishop's child.
After an exchange that many saw as aggressive and slanted against Annie Murphy, Byrne remarked that Eamonn Casey's son would be fine, if he was "half the man his father" was. The interview ended very frostily, with Ms Murphy saying: "I'm not so bad either."
She then abruptly got up and walked off set.
Prior to Annie Murphy's appearance on the show, Eamon Casey had resigned as bishop and left Ireland for good.
Looking back at the episode in later life, Gay Byrne would only say: "The public thought I had done a bad interview," even though it is certain he reflected a large swathe of public opinion in Ireland at the time who supported the bishop.
From radio to the Rose of Tralee and beyond
Byrne's radio show was almost as groundbreaking as his television work. The Gay Byrne Hour on RTÉ Radio 1 first aired in 1972. It was the birth of the talk show format in Ireland, and was an immediate success.
The presenter also anchored the Rose of Tralee shows for 17 years, presented the Irish version of Who Wants To Be A Millionaire and in 2006 became Chairman of Ireland's Road Safety Authority.
Although Gay Byrne was affectionately known as Gaybo or Uncle Gaybo, he probably wasn't regarded with universal affection in the way, for example, Terry Wogan was in Britain. Byrne, like Wogan, became a 'national treasure' — but Gaybo had his detractors.
In his penultimate year as presenter of The Late Late Show, a poll found public opinion about him irreconcilably divided. Basically, there were those who loved Uncle Gaybo; but there were many who didn't.
In 2011 that popularity was almost put to practical test. Fianna Fáil leader, Micheál Martin, asked Byrne to stand as candidate for President of Ireland.
For a while it seemed that the former Late Late Show host expected to be swept into the Áras by a grateful Irish nation.
Instead, he came under immediate media scrutiny – and decided the cut and thrust of politics was not for him.
But Gay Byrne's public legacy is undimmed. It is no exaggeration to say that he put Ireland's social values under the microscope, and in doing so helped change them forever. He also revolutionised both television and radio at a crucial time in the country's history and helped transform Ireland into a modern, European state.
For someone who worked in light entertainment, it was a formidable achievement and probably unique in the entire world of showbusiness.
Gabriel Mary Byrne — born August 5, 1934 in Dublin. Died November 4, aged 85
Growing up in The Liberties in Dublin. He was the son of Guinness worker Edward Byrne, who was also a World War I veteran. Edward married Annie Carroll (from Bray), in Belfast, in 1917.
Byrne was educated by the Christian Brothers in Synge Street, Dublin.
On leaving school he worked as an insurance clerk, then trained as an actor before turning to broadcasting.
In 1964 he married the harpist Kathleen Watkins. They had two adopted daughters Crona and Suzy. They all survive him.