A PICTURE of one Irish couple's unusual wedding cake is going viral after being posted to The Farmer's Journal's Facebook page.
So far the post has been shared over 200 times and been liked over 2000 times.
Leona McManus and Brendan Barrett got married in the Cavan Crystal Hotel at the weekend, and they went all out on the design of their cake.
The four tier black and white wedding cake was topped with two model cows, one wearing a veil.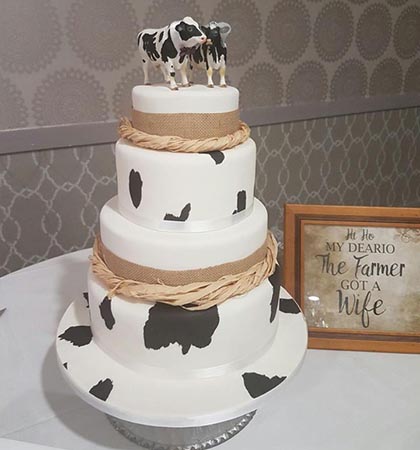 Groom Brendan, from Kilalla, was very pleased with the result, thanking Top Tier cakes in Cavan for the novel design.
Sinead Coyle, owner of Top Tier in Cavan, has been making wedding cakes for 15 years, and says while the cow cake was great fun to make, it is by no means the strangest request she's had. "We've made the Empire State Building and the Eiffel Tower," says Coyle.
The couple's special four-tier was as elaborate on the inside and it was on the outside with four delicious flavours, including traditional fruit cake, Madeira cake, and chocolate biscuit cake.
Scroll down to see more pictures...
Cakes like this one don't come cheap however, with work on some sections starting three months in advance of the big day.
Depending on the level of decoration, Coyle explains that a like Leona and Brendan's could set you back €500 to €750.
Most commenters on Facebook wished the couple a happy life together, but some couldn't resist making a bovine pun, like the one below from Claire Murray.
Wonder where they are off to on their honeymooooooon?
See the couple cut the cake here: