IF THERE'S one thing that Irish people are good at, it's having a laugh.
We're a hardy, good-humoured bunch that look for anything to make into a joke, which most of the time works to our advantage but seldom is to our detriment.
It's something that we're known for and a silly reputation that precedes us, which can make it hard for us to be taken seriously but also, makes us just so damn lovable.
Taking the mick is exactly what a few clever competitors did at St. Patrick's Day parades
The recent snow in Ireland led a group of men in Jobstown to destruct a Lidl which shocked the nation, but today, it was comic fodder for parade participants.
Two different teams of partakers in the St. Patrick's Day parade made light of the recent scandal by making a float, JCB included, re-enacting the incident.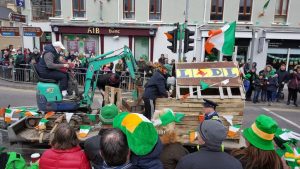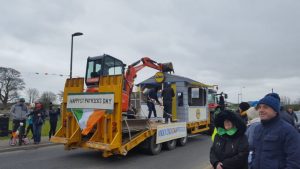 The float even caught the eye of the Lidl Ireland Twitter account, who luckily, took it well and laughed it off.
Okay, we've seen some very 'creative' floats in the #StPatricksDay parades today... but which is the best? 😂 pic.twitter.com/TR0WlXAih7

— Lidl Ireland (@lidl_ireland) March 17, 2018