ABOUT a year and a half ago photographer Thomas Knights did something groundbreaking.
He photographed a group of handpicked hot young men wearing not so many clothes against an electrifying blue background. The only thing that made this shoot stand out from all the others is that all his subjects had red hair. 
That's right — redheads, gingers, foxy, carrot tops, all half-naked and looking ridiculously sexy. Knights devoted an entire exhibition of stills and videos to redheads alone, and like the models' hair, it was a blazing success. 
Exhibitions were held in London, New York, Amsterdam, Sydney and Berlin, an art book (Red Hot 100) was spawned and a 2014 and 2015 calendar with image after image of glossy redhead gorgeousness followed.
The project took off on social media (31,000 Facebook likes) and generated serious column inches with national broadsheets and TV shows (including famous redhead Conan O'Brien's late night chat show in the US) sitting up and taking notice. As a result, £25,000 has been raised so far for anti-bullying charities. 
Now Knights is back with a steamy female calendar (launched in London last night). It features as its star Girls Aloud singer Nicola Roberts (viscously, and unfairly tagged the "ugly" member of the band) alongside 11 other red-haired models, dancers, a burlesque performer and a fire breather.
Knights, a photographer and film maker who can now add activist to his title, says he never thought his idea would take him round the world and help "to redefine the way we think of red hair".
He's proud of what the project has achieved so far but says there is still a long way to go. "We were constantly messaged by girls saying how badly they also suffered growing up with red hair, so it felt like the natural next stage for Red Hot to launch a girl version, and show the world there is true beauty in being different." 
To launch the calendar, Knights put on a late night party at London's Cuckoo Club, dubbed "the biggest ginger party the world has ever seen." Knights is hoping this will alter perceptions of redheaded women as much as it did for the men. 
Such is the interest in the men's 2016 calendar, some pictures were leaked online. Mikey Robinson was one of the first men to become involved with Red Hot. At 29, Robinson is originally from Wexford.
He studied at university in Dublin and at 25, packed up and moved to London. "I was one of the earliest to get involved," he confirms. "I saw some of the early shots on Facebook and though 'what a bonkers and interesting thing to do'. Growing up a redhead I was at times picked on so it seemed a really nice way to address those issues." 
Robinson says from an early age he was acutely aware that the colour of his hair was attention grabbing. Adults made a fuss and children could be cruel. 
"There's a stigma around people with red hair I've experienced all my life. Adults would make a big deal of it. So positively or negatively, if you have red hair you become attuned to the fact you are different."
Globally, only 1 per cent of the population have red hair, in Ireland it's 10 per cent but Robinson says this didn't stop him being made a target of school ground bullying.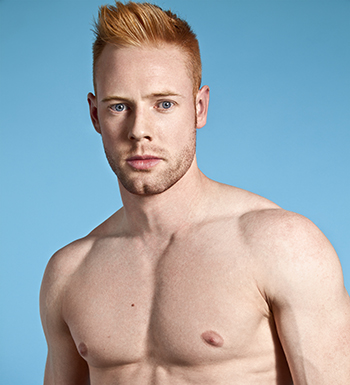 He recalls the day of the photoshoot for Red Hot clearly.
"It was nerve-wracking… As I arrived this hulking ginger man was leaving. I had to wait outside for quite a long time and I was thinking 'what am I doing? Is this the worst idea ever? Am I going to get picked on ever more because of this?' 
Robinson describes his image as  "stern and stoic".
"I wanted it to be simple and strong and defiant, that was the pose I was going for." His calendar shot is a little risqué. "I'm wearing red underpants and making a slightly rude gesture, pulling the pants southways."
Back home in Wexford his friends were very supportive. But what did his mum think? "I'm not sure what she said [when she saw it], she gave me a look that said it all."
Robinson has a full-time job in advertising but says that some of the men have been snapped up by modelling agencies since Red Hot came out.
Knights had originally approached several agencies before the campaign started to find their redhead models but found they had none on their books, so there is no questioning that Red Hot is making a difference.
Knights' pictures are a two-fingers up to anyone who ever called a redhead ugly, or said they couldn't be sexy. No red-blooded man or woman could say otherwise.
Check out some of the Red Hot Pictures here
A photograph was removed from the gallery on August 10, 2017 following a request from the photographer.