IT'S been another busy year for the Irish community across Britain and further afield – and our photographers have been busy capturing those all-important moments that tell their stories.
Here they share their favourite pictures of 2017 and tell us why they have chosen them:
Malcolm McNally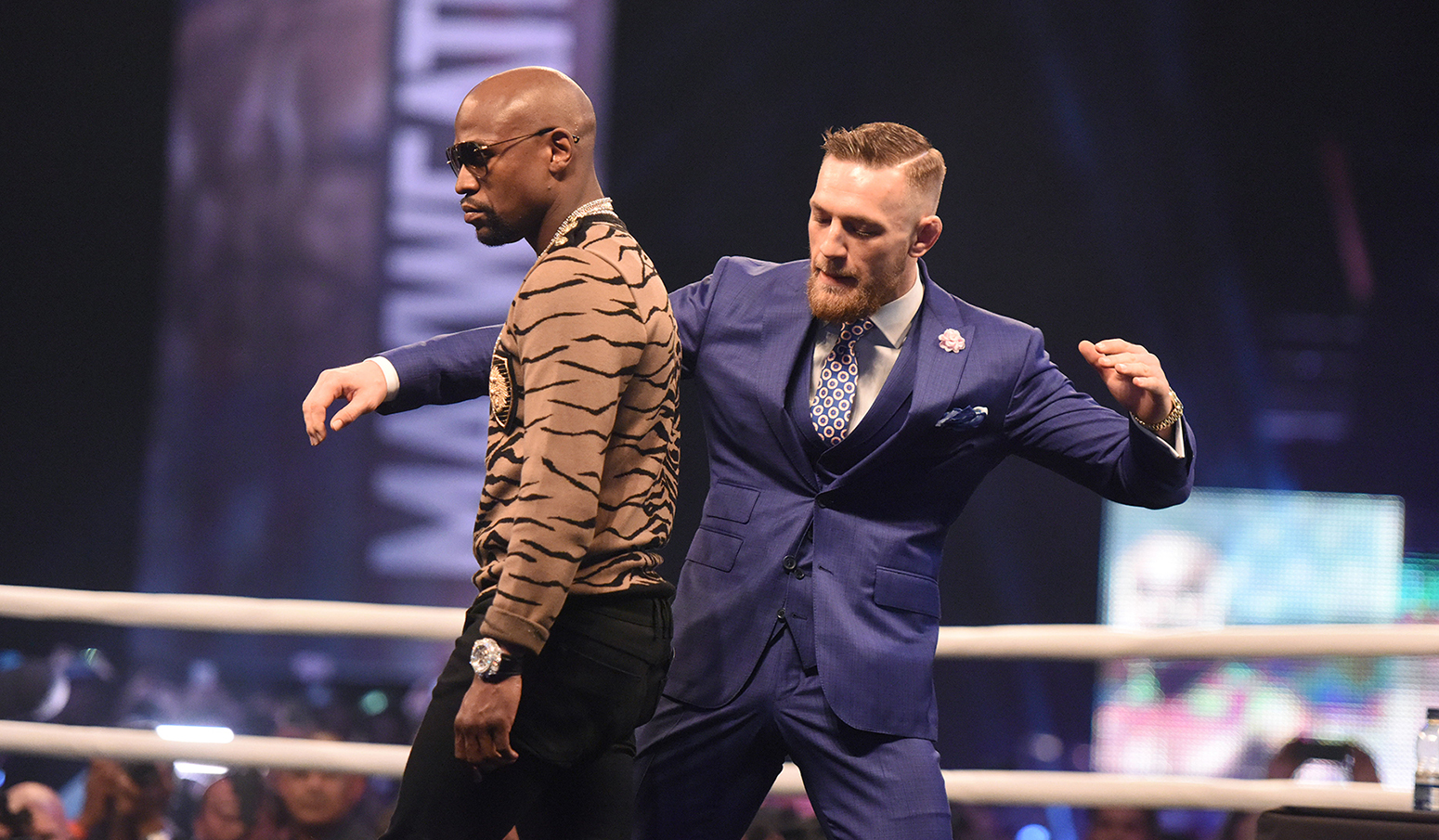 The London press conference for the Floyd Mayweather v Conor McGregor fight in Las Vegas was held at the SSE Arena, Wembley on Friday, July 14th.
I'm not fan of MMA but like a lot of people, was curious as to how Irish MMA fighter Conor McGregor would get on in a boxing match against the unbeaten boxing legend Floyd Mayweather. There was a lot of hanging around but when the fighters finally took to the stage in front of over 10,000 baying fans, the vast majority of them Irish, things got very entertaining. I love this shot of McGregor pretending to slap Mayweather's arse.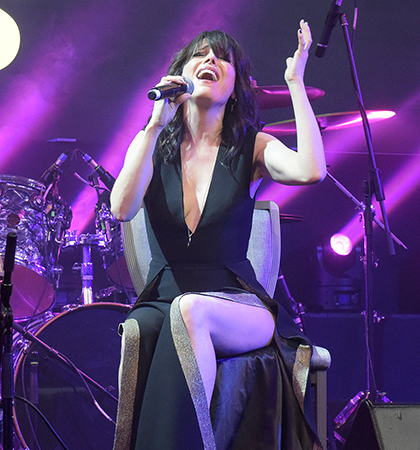 The Irish Post Awards 2017
I have been covering the Irish Post Awards for many years and this year's event was the biggest ever, with over 1,000 guests in attendance in the Great Room at the Grosvenor House hotel on Park Lane. It was a great night and there were some big names in attendance, like American actress Courtney Cox, Snow Patrol's Johnny McDaid, Sir Bob Geldof and Irish rowers Gary and Paul O'Donovan.  Singer Imelda May also received an Award, as well as singing a song on the night. I think this photo captures the emotion of that performance.
Kevin Gallagher
Manchester Bombing (top of page)
A devastating attack on May 22 in Manchester, killing 23 people at the Ariana Grande concert, brought the city to a standstill and days of mourning followed. Amongst those who visited the city to pay their respects was the then Irish Ambassador to Britain Dan Mulhall, with Deputy Lord Mayor of Manchester, Councillor June Hitchen. It's a photograph I will always remember taking.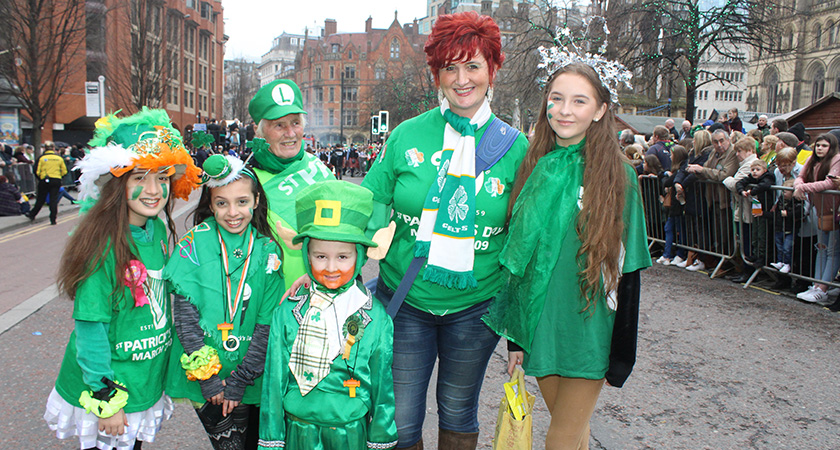 St Patrick's Day
On a brighter note, three generations of family turned out with superb outfits for the Manchester St Patrick's Day Parade in March 2017. Maisieanne, Shenara, Ramona Shia, Annie and Jean Louise McGuire.
Chris Egan
Irish Ambassador Daniel Mulhall 
In his last engagement as the Irish Ambassador to Britain, Daniel Mulhall donned the St Finbarr's colours to take part in the annual Cuimhne cup in Coventry. The Gaelic football competition is an initiative by the Irish in Britain organisations, who have teamed up with St Finbarr's to raise awareness of health issues and showing that even light exercise can help physical and mental health. I have been fortunate to cover many of the Ambassador's visits to the Midlands, and was pleased to be able to cover his last official engagement in Coventry.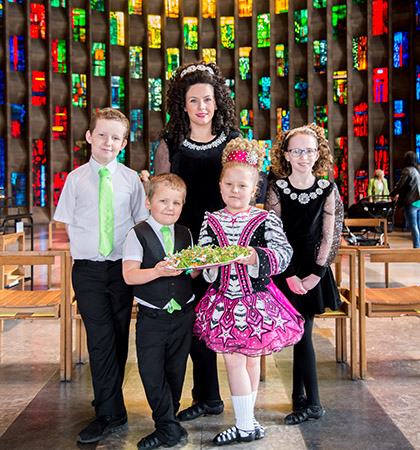 Coventry Irish Society's Blessing of the Shamrock

As part of the blessing ceremony there was an opportunity to take some pictures of the McHugh School of Irish dancing in Coventry in front of the iconic Babtistry Window.  The stain glass window was the first commission completed by Patrick Reyntiens and John piper who went on to design the stained glass lantern at Liverpool's Metropolitan Cathedral, nicknamed "Paddy's Wigwam" and the "Mersey funnel".  With so many different spaces within the cathedral, it is a great place to bring a camera.
John Lawton
Maureen and Steve Gallagher pour a cup of tea for Father Tim O'Sullivan on his Birthday (below)

I have selected this shot, which was taken at a special surprise 80th birthday party held for Fr Tim O'Sullivan, as he has been such an inspiration to everyone in the community and is well liked by all. This shot was taken as Fr Tim, Steve and Maureen Gallagher the Treasurer of the Derby Irish Association have held many meetings together over the years whilst drinking a cup of tea.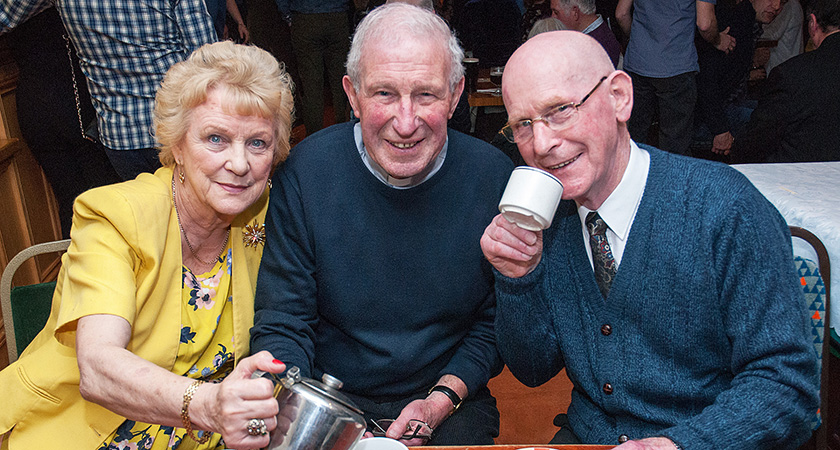 School friends Susie Murray, Paula and Anna Morgan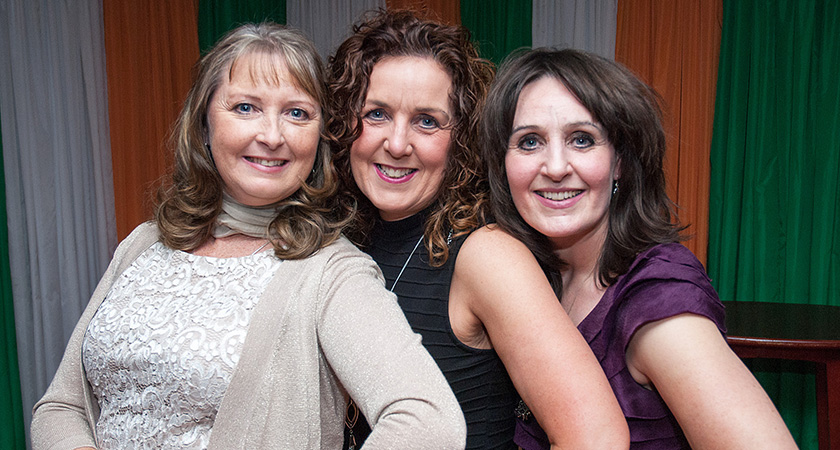 I have selected this shot taken at the Derby Irish Association's 2017 Annual Dinner Dance, as I thought they looked such happy friends and they have remained good friends for such a long time.
Peter Fawcett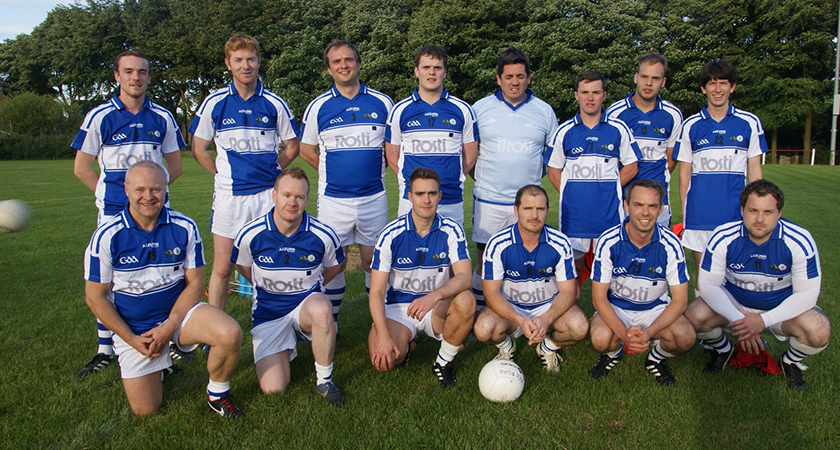 York GAA
York returned to the GAA with their first team since the 1960s. A York team last won the Yorkshire title back in 1961. I
caught up with the new team playing Huddersfield.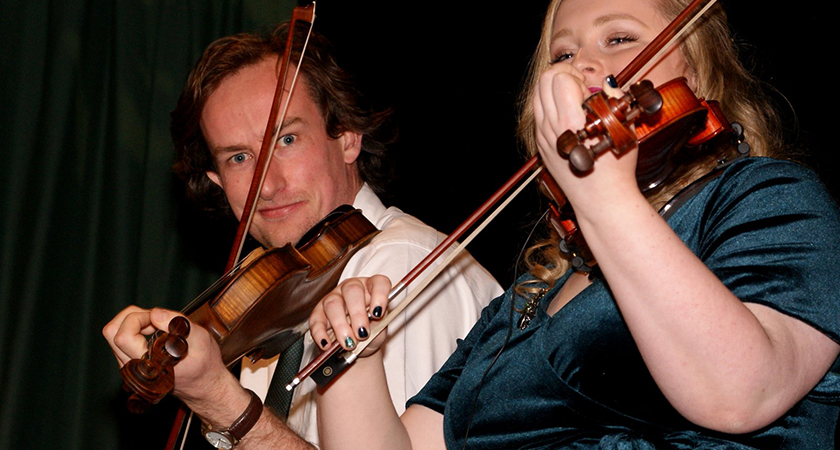 Comhaltas Echoes of Erin Tour
Finbarr English and Claire Ann Kearns were with the Comhaltas Echoes tour in Settle, North Yorkshire. As I got closer Mr English, who is now working as a vet in Somerset, gave me a wild eye.