A FUNDRAISING campaign has been launched to support a community project documenting the reality of life in a close-knit Kerry community during the year of Covid-19.
Launched by freelance photographer Marie Carroll-O'Sullivan, Behind the Mask, Killarney is an accumulation of photography and stories about the people she met within her 5km zone of movement while under lockdown from January – December 2020.
It is due to be released as a book, to raise funds for two important Irish charities, The Irish Cancer Society and Pieta House, if the volunteers who are producing it can raise the cash to fund its publication.
"It became a diary so to speak, through my eyes and ears of us, our town of Killarney, our lives and the restrictions and life as we knew it, together, during Covid-19," Ms Carroll-O'Sullivan told The Irish Post.
The Tipperary native, who runs The Little Memory Gallery in Killarney, where she has now lived since 1997, explained where the idea for the book came from.
"Like many, when the pandemic hit the world, I found myself without work," she said.
"Initially we were all confined to 2kms from our homes, which later stretched to 5kms.
"During this time a lady who lived just 12 miles away asked me to visit her parents.
"I live in a densely populated area in the town of Killarney, so my reach was larger than many and I had no hesitation in saying yes."
She adds: "Each day by request I visited many cocooners and wrote about them on The Little Memory Gallery Social Media channels.
"It soon became a platform where people could greet and check in with each other as a community.
"I could see it made people happy. It was making me happy.
"I feel it is my duty to the community of Killarney to document a year that, please God, we will not see again in our lifetime."
Many people are already supporting the publication of the book, with a range of local sportspeople, including football star Colm 'the Gooch' Cooper and Kerry GAA's Patrick O'Sullivan, featuring within it.
Graphic designer Sinead Collins, of Design by Sinead, who is based in Ardnacrusha, Co. Clare, has even offered to design the book free of charge to support its publication.
Sinead's sister-in-law is the Killarney community Garda Diane Collins, who has also been one of the leading campaigners on the project.
Sadly, Garda Collins now finds herself even more committed to the cause, as her husband, fellow Garda Paudie Twohig, who is also stationed in Killarney, has recently been diagnosed with stage four melanoma cancer.
The happy couple, who are well known across Killarney, have a two-year-old daughter and another child on the way.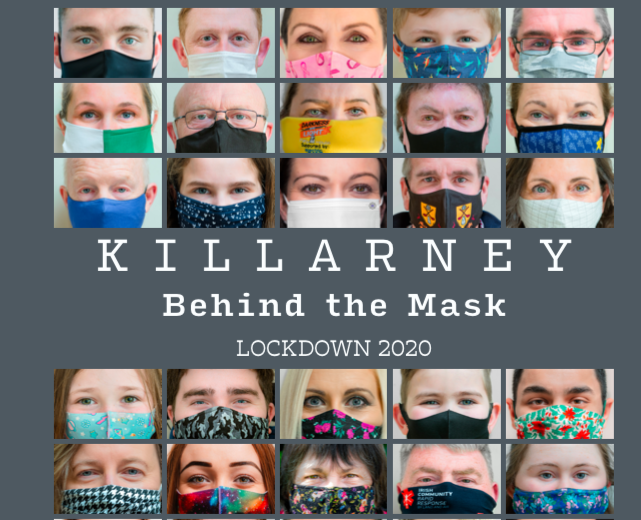 Diane recently shared the family's cancer battle in an interview for the Ryan Tubridy Show on RTÉ Radio One, in a bid to gain further exposure for the Behind the Mask fundraising campaign.
Diane told Ryan Tubridy that when she and Paudie first got involved in the book venture, they had no idea they would go from being supporters to potentially becoming one of the beneficiaries of the charities it will raise vital funds for.
"Our lives have been turned upside down and inside out in the last four weeks," she told Mr Tubridy.
"None of us know what any of us are facing," she added.
Regarding 44-year-old Paudie's shock diagnosis, she added: "We're shell-shocked. We're absolutely petrified of what we we're facing and it's important to acknowledge these feelings."
Now, with the book ready for publication, the Behind the Mask team are hopeful they can raise enough funds to see it become a reality – and want to reach out to as many people as possible, including members of the Kerry diaspora in Britain and across the world, for their support.
"It is a history book," Ms Caroll-O'Sullivan explains.
"Something for us to have and to hold, as a memory, but also to leave our fingerprints so the future will know."
"Behind the Mask, Killarney is a certainty to sell out tenfold," she adds, "but to maximise profits for our chosen charities, we need to fund production in the form of a publisher, to meet this demand.
"Donations is what will feed production to get Behind the Mask published and on the bookshelves pre-Christmas," she adds.
Proceeds from the sale of Behind the Mask will be shared between the Irish Cancer Society and Pieta House Kerry and, in addition, all of the frontline staff in the Covid ward at University Hospital Kerry will be treated to a five-star hotel spa treatment in appreciation of their dedication.
To support the campaign click here, or further information or to support the campaign email [email protected].