AER LINGUS has announced a new premium travel service which promises short-haul passengers "greater comfort and convenience" on some of its most popular routes.
AerSpace, which launches on September 1, guarantees either a window seat or an aisle seat with the middle seat unoccupied on the first row of many of the Irish airlines's planes.
Passengers using the new service will also enjoy "reserved cabin space directly overhead" as well as complimentary lounge access, Fast Track security and priority boarding.
AerSpace will initially be rolled out across 27 of Aer Lingus's busiest short-haul routes - including including Dublin to Heathrow, Gatwick and Manchester as well as Dublin to Paris, Munich, Amsterdam, Frankfurt, Barcelona and Brussels.
It will also be available from Cork, Shannon and Belfast to Heathrow, and from Knock to Gatwick.
While partly aimed at business travellers, the service differs from a traditional 'Business Class' and will not be introduced on transatlantic routes.
Each of the 27 participating flights will come with four 'AerSpace seats' all in the first row of the plane, with fares starting at €129 each-way.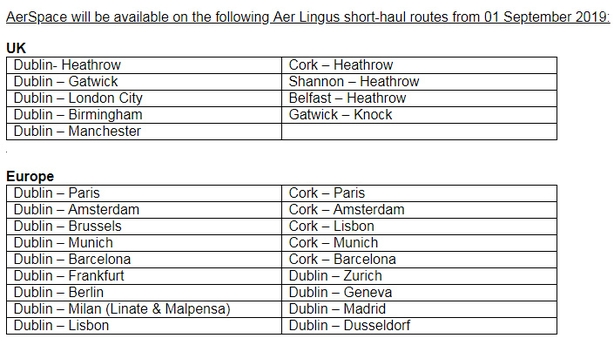 Susanne Carberry, Director of Network Revenue and Loyalty at Aer Lingus, said the airline was committed to innovating its service to meet the ever-changing needs of passengers.
"We are thrilled to introduce a new fare option which gives greater comfort and convenience to our guests," she said.
"AerSpace guests will have reserved seating in row 1 on our most popular routes, leaving the middle seat free and allowing more space to work or simply relax as they fly.
"Not only will those choosing AerSpace enjoy a suite of complimentary services including lounge access and priority boarding, AerClub members will also collect Avios on their AerSpace purchase.
"We are proud to launch AerSpace in response to feedback from our guests seeking a more premium and spacious travel experience when flying short haul with Aer Lingus."
Aer Lingus has been keen to update its image in recent years, with the roll out of a new logo and livery to be completed by 2021.
New uniforms are also set to be worn by its cabin crew later this year, and the carrier recently unveiled a new customised "mood-lighting" set-up on board its jets.
Be your best self with AerSpace

— Aer Lingus (@AerLingus) 7 May 2019