AFTER Prime Minister Boris Johnson missed last night's Channel 4 News debate on climate change, the broadcaster replaced him with an ice sculpture, leaving the Conservative party furious.
Leaders of the major political parties from around the UK were present for the debate, except for Johnson and Brexit Party leader Nigel Farage, who were instead represented by frozen sculptures marked with their party name.
The Tory party have accused Channel 4 of "conspiring" with Labour Party leader Jeremy Corbyn to block them from the leaders' debate, which also featured Liberal Democrat leader Jo Swinson, Scottish National Party leader Nicola Sturgeon, Green Party co-leader Sian Barry and Plaid Cymru leader Adam Price.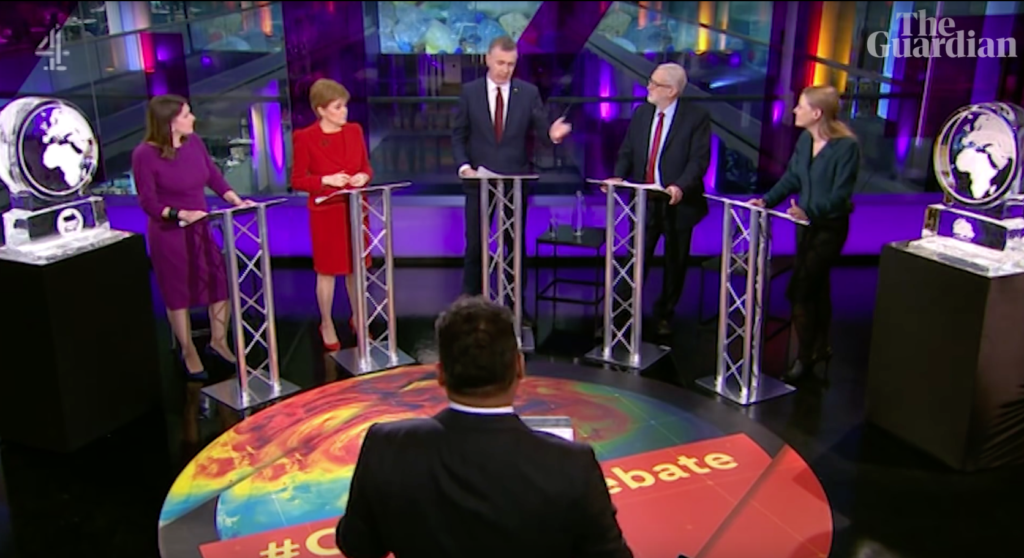 The Conservatives made a formal complaint to Ofcom's election committee regarding the use of an ice sculpture in Boris Johnson's place, though other parties have accused the Prime Minister of cowardice for not turning up for the debate.
Michael Gove, Chancellor of the Duchy of Lancaster and former Environmental Secretary, turned up instead of Mr Johnson, and attempted to join proceedings, however according to Mr. Gove, leaders of the other parties turned him away because he wasn't a party leader.
Tonight I went to Channel 4 to talk about climate change but Jeremy Corbyn and Nicola Sturgeon refused to debate a Conservative #climatedebate pic.twitter.com/NY1dQOzCgN

— Michael Gove (@michaelgove) November 28, 2019
A letter from the Conservatives, addressed to Ofcom election committee chairman Tim Suter, said it offered Channel 4 the former environment secretary Gove to be the party's representative for the debate.
"Channel 4 News has refused to accept this representative, and stated that they intend to 'empty chair' the Conservative Party if the Prime Minister does not attend," the letter said.
"This effectively seeks to deprive the Conservative Party of any representation and attendance at the Channel 4 News debate."
Ahead of the debate, a Conservative Party spokesperson said: "We are deeply disappointed that Channel 4 News has conspired with Jeremy Corbyn to block the Conservatives from making the case for tackling climate change and protecting the environment in this evening's debate."
Labour meanwhile are keen to call out the Prime Minister's continued absence form television.
Deputy Leader Tom Watson wrote to Ofcom's chief executive Sharon White, urging her to "call out this meddling", adding: "This campaign, Boris Johnson has banned the Daily Mirror from its battle bus, ducked the Andrew Neil interview and now attempted to bully Channel 4.
"I hope you'll stand with me in defending our free broadcast press from this gross dictatorial act."