A military court in Lebanon has charged five members of the Hezbollah militia with the killing of Private Seán Rooney (pictured below) of the Irish Defence Forces last year. Pte Rooney was born in Dundalk but lived in Donegal. He was 23 at the time of his death.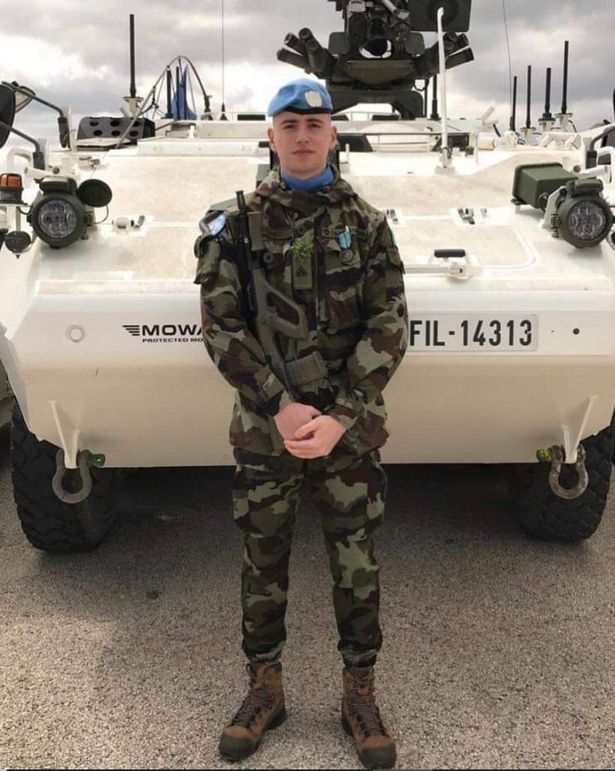 Pte Rooney's unit was in an armoured UN jeep which came under fire while travelling to Beirut. It is understood the vehicle, which had been part of a two-vehicle convoy, took a wrong turning and was surrounded by a mob in a Hezbollah stronghold. As it drove away, with Pte Rooney driving, it was fired on. Pte Rooney was killed instantly by gunfire from a Kalsahnikov assault rifle. The incident happened at about 21:00 on December 15.
At the time Iranian–backed Hezbollah officially denied involvement in the incident, calling the killing an "unintentional incident" that took place solely between the town's residents and UNIFIL (United Nations Interim Force in Lebanon).
Last week a 30-page indictment from a Lebanese military court confirmed that five men face trial on "voluntary homicide" and will face a military court for trial.
The indictment states that the five accused "formed a criminal gang and implemented a criminal project".
The indictment specifies that the actions are punishable by death under Lebanese law. However, capital punishment has not been used in Lebanon since 2004.
Of the five people named in the indictment, only one person is in custody.
Pte Rooney's colleague, Trooper Shane Kearney, who was 23 at the time of the attack, was seriously injured in the incident, but has since recovered.
He was repatriated to Ireland for medical treatment.
UNIFIL has been deployed since 1978 to act as a buffer between Lebanon and Israel. The organisation and speialists from the Irish Defence Forces have also conducted separate investigations into what happened.
UNIFIL comprises of some 10,000 peacekeepers. Pte Rooney was part of an Irish-Polish UN peacekeeping unit in the south of the country.
In a statement, UNIFIL said: "We are aware that the investigative judge issued an indictment earlier today in the case of the 14 December attack on UNIFIL peacekeepers, in which Private Seán Rooney, a UNIFIL peacekeeper from Ireland was killed.
"This is one important step towards justice and we continue to urge accountability for all perpetrators involved. We look forward to justice for Private Rooney, his injured colleagues, and their families.