DERRY GIRLS could be set to end after a third and final season.
That's according to Tommy Tiernan who plays Erin's dad, Gerry, on the hit series.
Tiernan made the revelation during an appearance on Jason Manford's Absolute Radio show.
A critical and commercial hit since its debut in January 2018, the sitcom centring on the exploits of a group of girls living in Derry, Northern Ireland in the 1990s is returning for a third series later this year.
However, according to Tiernan, it is set to be the final one.
Advertisement
"This is last series, I think. As far as I know this is the very last series," he says.
"I feel lucky to be working with such funny people. There are two members of the cast that I can't look at because I laugh," Tiernan added.
"It's enough to bring you out in sweats. Kathy Kiera Clarke who plays my sister in law… Kathy is one of the funniest people that I've ever worked with and I'm just not able to look at her."
"I mean this sincerely, as soon as I get the scripts I will rifle through it, first of all to see my own scenes and then to pray to God that I don't have an awful lot of scenes with [Kathy], because I'll be getting the sweats the night before," he added.
"Like how can I keep a straight face? We find it very difficult… and I also find it impossible to look at Orla who's her daughter."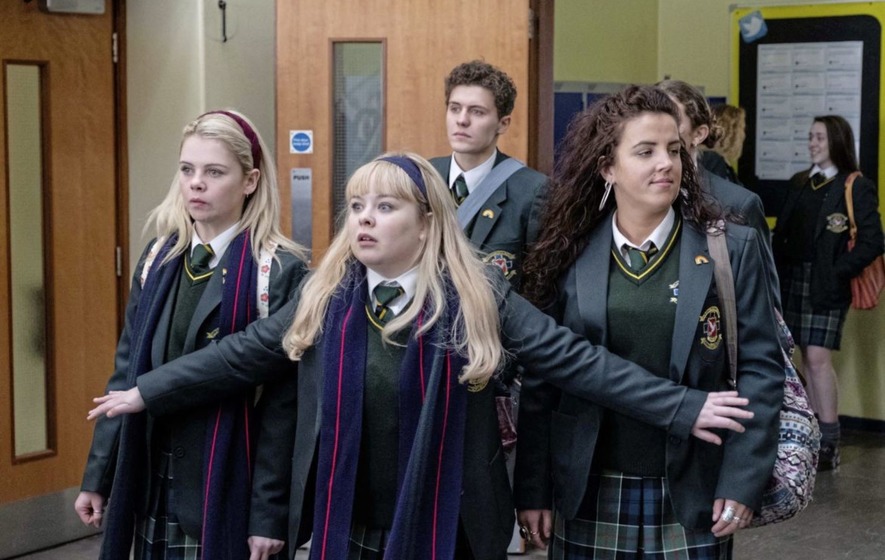 The Irish comedian and actor went on to reveal that filming for the new series is set to begin this April.
Advertisement
While the upcoming series might mean the end of Derry Girls on the small screen, there are already plans afoot for a big screen outing.
Derry Girls creator Lisa McGee revealed Red Carpet News, that discussions over a film outing for Erin, James, Clare, Orla and Michelle are underway.
"That's definitely something we're talking about and something I'd like to explore," she said.
"It's just if the story is right. So, it's about me figuring all that out at some point!"