A DUBLIN pub has left customers divided following the introduction of a coronavirus tax on food and drink purchases. 
Mulligans of Sandymount found itself at the centre of a major social media storm after one disgruntled customer posted a photo of a bill from the bar that included a €2 "Covid 19 charge". 
The punters racked up the charge during an afternoon trip to the pub on Saturday, August 1. 
The group enjoyed a burger and a beef taco during their trip, as well as a cheesecake for afters. 
No alcohol was purchased during the visit, with the diners washing their food down with a diet 7-Up as well as a Ballygowan sparkling water, black coffee and orange juice. 
While the finished total racked up for food at drink sprang few surprises at  €49.85 the new Covid-19 charge did not go unnoticed. 
Evidently surprised at the introduction of the tax, the aggrieved party shared a picture of the bill online, sparking responses from both sides of the debate. 
One commenter who backed the pub's decision to add the charge said: "Do you know how Covid has affected the staff? How hard they are working to make it safer for customers? Rapid new normal? Begrudge €2, don't eat out. End off." 
Another said: "Private company is entitled to charge what they want and consumers are entitled to shop somewhere else if they don't like it."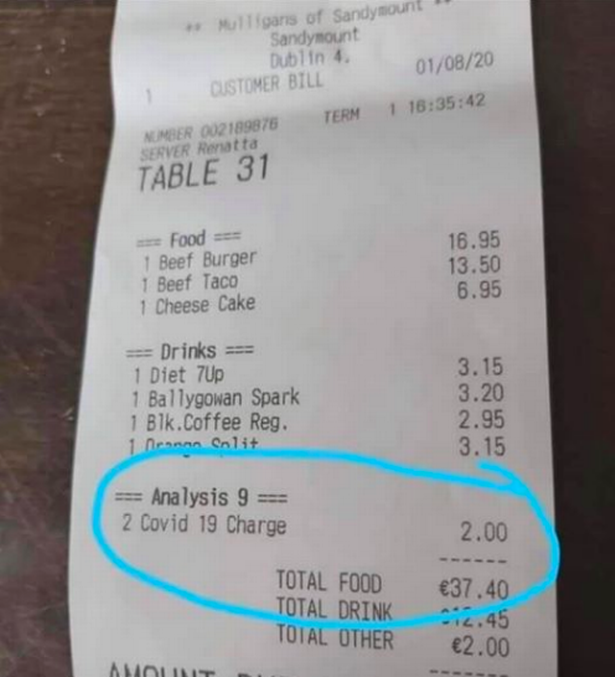 Other would-be patrons were less impressed though: "The Covid charge is a disgrace, no problems with the price of the food or drinks as they are the prices around those areas. I doubt Brown's of Sandymount or BuJo burger in the same area are doing this. Mulligans of Sandymount should look at themselves." 
A second concurred: "I don't know, I wouldn't really be for it. The rate reduction and wage subsidy scheme are a big help. I don't think it warrants a 'Covid charge' too, the optics of this are brutal." 
Mulligans of Sandymount has yet to explain the charges, with a spokesperson telling Dublin Live:  "I hope people would understand why that charge is on the receipt and what it's going towards." 
They have so far refused to comment further.