AN ELDERLY woman who went viral after being photographed during lockdown holding up a sign saying "I NEED MORE BEER!!" has passed away. 
Olive Veronesi became an instant hit on Facebook after a photograph of her holding up the placard was shared by a close family member who had been checking in on her. 
The photo garnered more than 51,000 shares and 28,000 reactions with many leaving glowing compliments about Olive's winning smile. 
Like many elderly people at the time, Olive, who was 93 was the picture was taken, had to cocoon away from others at the height of the pandemic's first wave in the US. 
But, as her sign suggested, she never lost her sense of humour with Olive's story soon grabbing the attention of a local news station and later millions all over the world. 
An avid Coors Light drinker, who swore by a diet of just one can of beer a day, her positive demeanor provided a much-needed positive news story in another otherwise difficult time.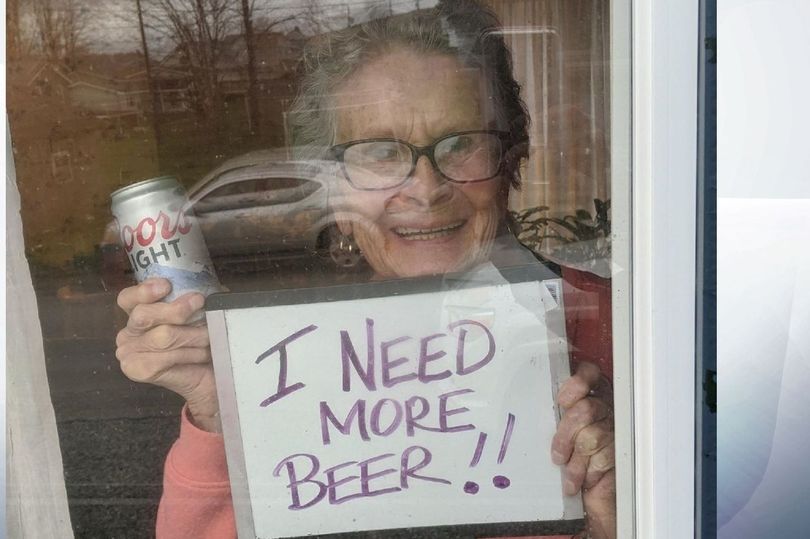 Local Pittsburgh news station KDKA picked up the story, sharing the photograph on their own Facebook page, where it drew yet more positive responses. 
"Olive Veronesi from Seminole, PA is doing her part to stay home and stay safe," the caption says. "She's sending this message to her neighbors and to her daughter." 
After learning of her love of Coors and struggles at sourcing more of the beer, the brewery behind it even sent her 10 cases as a thank you. 
A woman remembered for her warmth and kindness, Olive's obituary described her as a "devoted member" of the Catholic Church and former postal worker who is survived by her four children and dozens of family members. 
Olive passed "passed away peacefully with her family by her side" earlier this week having recently turned 94.
Fondly remembered for her love of beer, tonight a glass is raised in her memory.