FOUR MEN arrested in connection with the vicious assault on soccer referee Daniel Sweeney have reportedly been released without charge.
Amateur football official Daniel Sweeney was left with serious facial injuries following the attack which took place after a game on Sunday, November 11th.
The father-of-two had to undergo five hours of surgery after he was left with a jaw broken in two places, a fractured eye socket and numerous lacerations to his nose after the assault.
Several metal plates were inserted into Sweeney's jaw following the attack and he is expected to be out of action for up to eight weeks.
The incident took place at the end of a game between Horseleap United and Mullingar Town in Westmeath.
It soon emerged that the supporter reportedly involved in the incident was already banned for life from playing the sport for assaulting a referee in November 2007.
Mullingar Town, meanwhile, was fined €500, which will go towards the Daniel Sweeney's recovery fund, and must have three match officials in attendance at all their remaining games this season.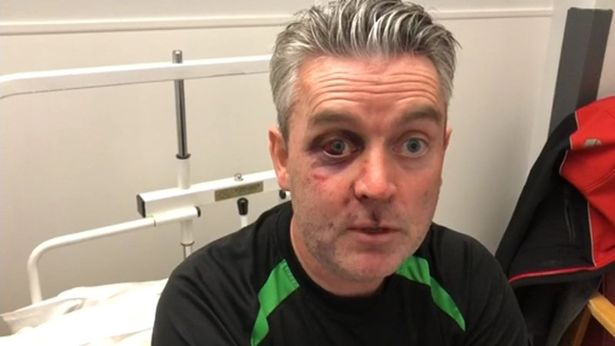 Three men and one supporter were subsequently arrested following an investigation into the confrontation by the Gardai.
The foursome was also handed 40-year bans from all "footballing activities" by the Combined Counties Football League.
However, according to a report from the Irish Mirror, all four men have subsequently been released without charge.
A garda spokesperson told the Irish tabloid:
"All 4 men were released without charge in the early hours of this morning 29th of November 2018 and a file will be prepared for DPP."