GRETA THUNBERG has trolled Donald Trump after the President launched into another angry tirade online claiming the US election is rigged.
In an extraordinary press conference, the President accused 'big tech, big money, the media, pollsters and Democrats' of rigging the election against him.
He went on to double down on his unsubstantiated claims on Twitter, at one point tweeting out the words "STOP THE COUNT!" on the social media platform.
That gave Thunberg the perfect opportunity to get her own back on the US politician by telling Trump to "chill" in a callback to a previous remark made by the 74-year-old.
Back in December 2019, the President poked fun at Thunberg over her concern for the environment.
Advertisement
He tweeted: "So ridiculous. Greta must work on her Anger Management problem, then go to a good ol-fashioned movie with a friend! Chill Greta, Chill!"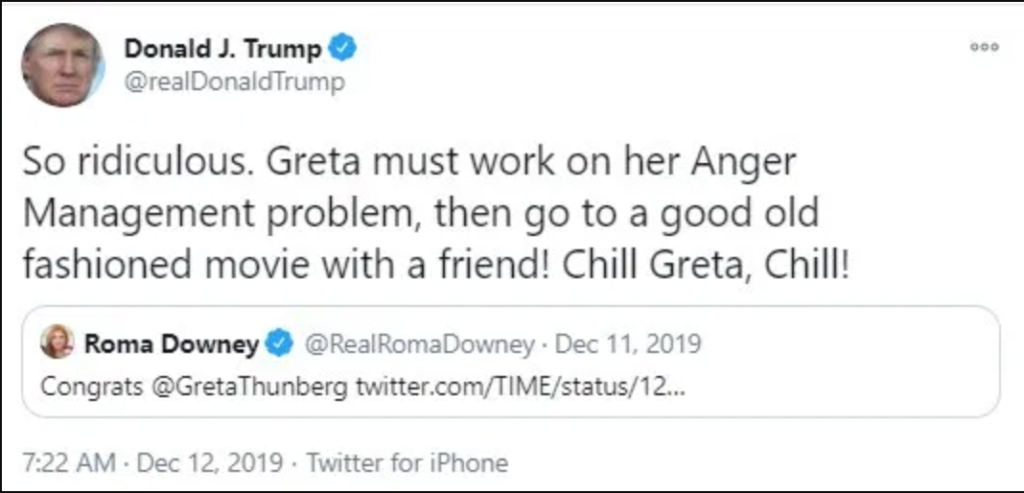 Nearly a year on, the environmentalist got her revenge on Trump as the President demanded the counting of votes in the US election stop with rival Joe Biden edging closer to victory.
The 17-year-old wrote: "So ridiculous. Donald must work on his Anger Management problem, then go to a good old fashioned movie with a friend! Chill Donald, Chill!"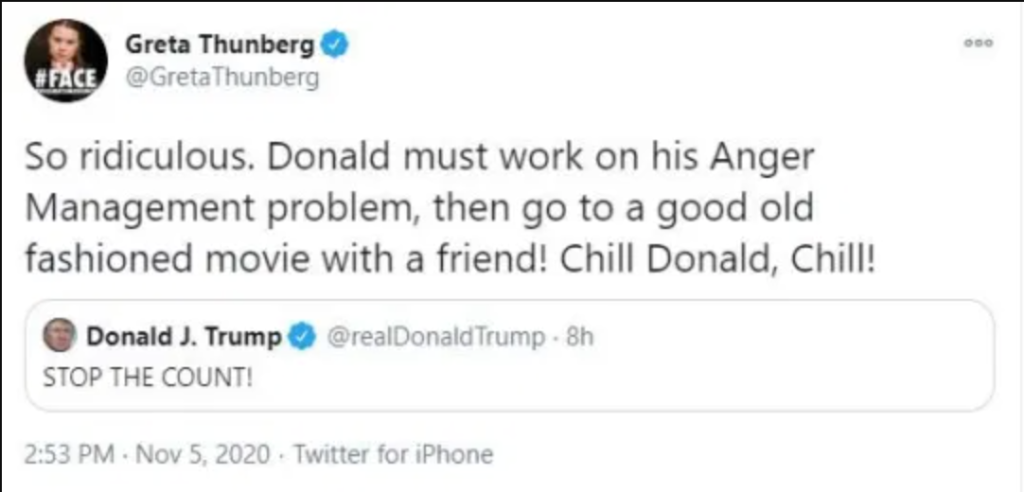 Living up to the old adage that revenge is a dish best served cold, Thunberg's tweet has already racked up over a million likes and 350,000 retweets.
There is little love lost between the pair, who first crossed paths at a United Nations event in New York last year.
In a clip that subsequently went viral, Thunberg could be seen glaring at the US President as he made his way through the event.
Advertisement
Her latest remarks come just days after the US became the first country in the world to formally withdraw from the Paris climate agreement.
The deal was put in place with the express aim of tackling climate change.
Countries signing the accord agreed to keep global temperatures "well below" 2.0C (3.6F) above pre-industrial times and "endeavour to limit" them even more, to 1.5C
The deal also saw the nations involved agree to limit the amount of greenhouse gases emitted by human activity to the same levels that trees, soil and oceans can absorb naturally, beginning at some point between 2050 and 2100.
Trump made leaving the deal a key part of his election platform in 2016 as part of a strategy that has seen the US focus on coal and oil energy production.