SOME IRISH traditions are too good to keep to ourselves.
Some traditions pass on from generation to generation.
Homes across Ireland have recipes for Irish Stew - and some have a special drop of Irish Whiskey or glass of Guinness included.
Occasions with Family and Friends, be it St Patricks Day, A Birthday or Anniversary, A get-together after Covid - it's a chance to gather with friends or family for good food, great drinks, and even better craic.
With St Patrick's day falling in the middle of Lent every year, it's a chance to dispense with the usual Lenten practices for a celebration of all things Irish.
When Arthur Guinness Birthday falls on September 24th, there are creative ways to commemorate.
Combining much of what makes St. Patrick's Day so memorable to so many, or  tastebuds needing satisfying after a tough day at work,  this delicious Guinness and Jameson Irish stew recipe from Katie Lynn Bonzer might feel like a sin but tastes heavenly.
Here's how it's made.
What you will need:
2 lb beef chuck (after trimming)
1/4 cup of flour
2 tsp salt
2 tsp fresh ground white pepper
1 large onion
2 large carrots
3 large celery Stalks
1 can Guinness
1/4 cup Jameson Irish Whiskey
4 potatoes (washed, not peeled)
1 cup beef broth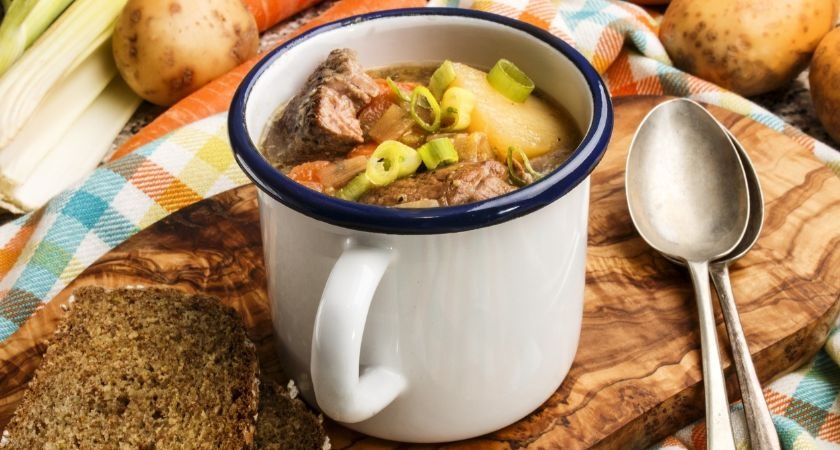 How to make it:
Preheat oven to 150 degrees Celsius.
Start by browning the butter in a stock pot with a lid or similar.
Now whisk the flour, salt, and pepper together.
Trim the Beef Chuck removing all fat, veins and grizzle, keeping the most tender cuts. Cut those cuts i1-inch cubes. Try to keep the pieces around the same size.
Lightly dredge the beef in flour mixture.
Brown the beef on the hob in three batches so as not to overcrowd the meat; rotating the sides and transferring each batch to a tinfoil-covered plate.
Take the now empty pot and cook the onion, carrot, and celery until the onion is see-through.
Clean and cut potatoes into 1-inch cubes relative to the beef. Cover and put to one side.
Add beer and whiskey to the pot and bring to near simmer.
Add the potatoes and beef back to the pot and fill it to the halfway mark with beef broth so the ingredients are covered.
Place the pot in the pre-heated oven and cook for 90minutes or until meat and potatoes are tender.
Serve with a bit of bread and enjoy!
** originally Published on: Sep 12, 2018