CAREFUL NOW.
Father Ted is one of the shows whose cultural impact lasts long, long after the show itself has stopped airing.
It's beloved by people across the world and transcends generations: recently, Maria Doyle Kennedy, who appeared in one of the best episodes, admitted to us that it's the only role she's played that her own children think is cool.
Dublin's National Wax Museum Plus are well aware of the Channel 4 sitcom's continued popularity, and are celebrating by opening a new room in the Westmoreland Street-based business: A Fr Ted room, dedicated to all things Craggy Island.
The museum encourages customers to "spot as many Ted references as you can. You'll be surprised how many you can fit into a little room," and the man himself, Ted Crilley, was the first installation, looking benignly unimpressed, as is his way.
Down with this type of keychain! #CarefulNow We have some new keychains in our giftshop of our new waxworks. Pop in to check them out! https://t.co/afPbpWECjW pic.twitter.com/LVlejWqWFU

— Wax Museum Plus (@waxmuseumplus) July 12, 2018
And today marked the addition of a new iconic character: Dougal "Those women were in the nip" Maguire, who looks at once startled and completely oblivious to what's going on around him. So you could say they nailed it.
Fr Damo, Dougal's bad-influence friend, was there to celebrate the new addition, and possibly to slip a stolen whistle into the figure's pocket.
Father Damo was here for the big reveal (and a bit of play station) pic.twitter.com/FQEWO2N56u

— Hannah Murphy (@Hanelizaa) September 10, 2019
Father Jack, Mrs Doyle and Bishop Len Brennan are next in line to join the 'odd couple' priests in the Fr Ted room, and while an exact date for the new figures hasn't yet been annnounced, the Wax Museum Plus does promise one thing: That "all of our waxworks have lovely bottoms".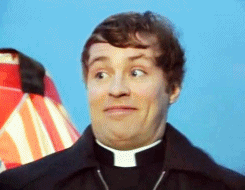 If you find yourself in Dublin and want your fix of Craggy Island mania, you can book tickets to see the Fr Ted room, along with everything else the Dublin Wax Museum plus has to offer, here.