A PETITION set up to try and save one of Dublin's most iconic murals has attracted thousands of signatures in the space of just a few short days.
The famous 'Horseboy' mural has been a striking feature of the Irish capital's cityscape for several years now.
However, the artwork, which features on the side of a building located in the Smithfield area of the city, just off Church street, is at risk of being removed.
A previous arrangement between the council and tenant had designated it as an "exempted development".
The conditions attached to that agreement only applied for a period of 12 months, ending 1 April 2018. Since then the owner of the build has written to the council opposing the idea.
"The owner of the property raises an objection to the painting which has been put in place without his permission and outlines that he has requested the applicant to remove the painting on a number of occasions," council documents said.
The tenant, described as a long-term resident of the property, then made an application to Dublin City Council to try and battle the decision.
Now a petition has been launched on Change.org to fight back against the mural's planned removal.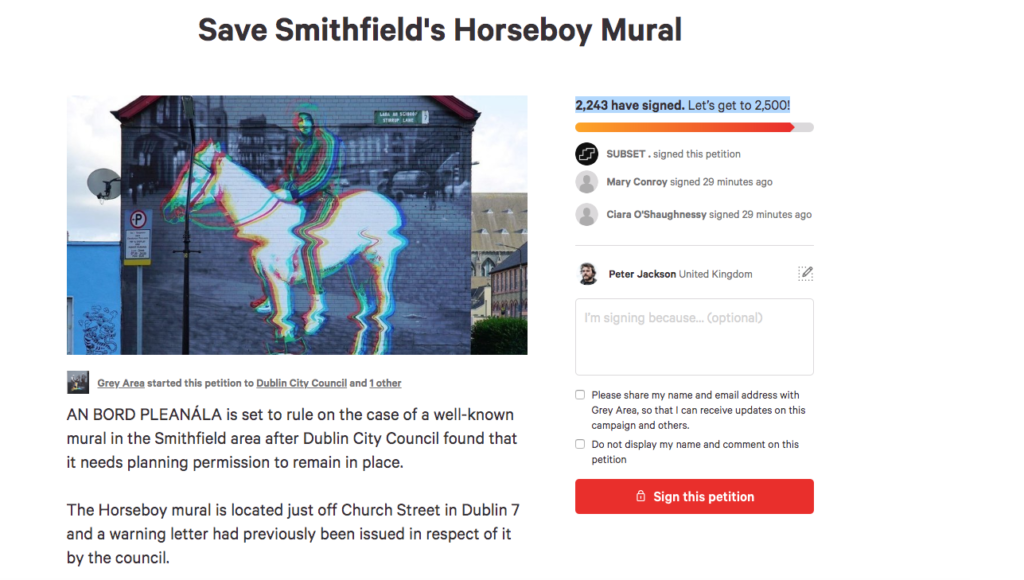 "There were three reasons given by the tenant as to why the mural should be considered exempted development, and therefore allowed to remain," the petition states.
"Firstly, it was said the mural works were carried out for the maintenance and improvement of the property. Prior to that, the wall had been subject to graffiti.
"The works "do not materially affect the external appearance of the structure/property".
"As the mural is on the side of the property on Stirrup Lane, the Church Street-facing facade is unaffected by the mural painting.
"Dublin City Council, however, found that the mural does require planning permission, and therefore it cannot be considered exempt under existing laws.
"The need for planning permission for murals has been a thorn in the side of efforts to develop street art in Dublin in recent years."
At the time of writing, 2,243 people had signed the petition with a target of 2,500 in sight.