THE IRISH harp has been added to the UNESCO list of culturally significant items.
Created to "enhance visibility for the traditional practices and know-how of communities" the list represents a lasting record of humanity's cultural heritage.
Harping was handed the UNESCO designation in recognition of the instrument's unique position in the music and culture of Ireland.
The addition comes off the back of a concerted campaign supported by musicians and the wider public to have the instrument added to the list.
It is hoped that the new status will encourage more people across Ireland and the wider world to take an interest in both playing and listening to the harp.
Malaysian self-defence art Silat and a traditional Thai massage known as Nuad Thai were also added to the UNESCO list.
Keen to recognise Irish harping and a history dating back more than 1,000 years, UNESCO said:
"Contemporary gut-strung harpers have safeguarded the old repertoire and ensured its continuity while responding to evolving styles.
"There has been a major resurgence of interest in harp playing over the past 60 years thanks to a growing appreciation of the harp's role in Irish culture, language and identity."
A special event was held at the National Gallery of Ireland to mark the UNESCO decision.
Cruit Éireann/Harp Ireland Chair Aibhlín McCrann described the decision as "historic".
"Due to the efforts of a passionate and committed group of harpers, the living tradition of Irish harping is now thriving, with a rich and vibrant diversity of harping taking place all over Ireland and overseas," she said.
"The number of harp students continues to rise, and Irish-made harps are in big demand.
"Our third National Harp Day in October saw events take place the length and breadth of the country as well as farther afield.
"We are thrilled that Irish harping has gained the recognition it so richly deserves and that the harp clearly occupies pride of place at the heart of our national identity."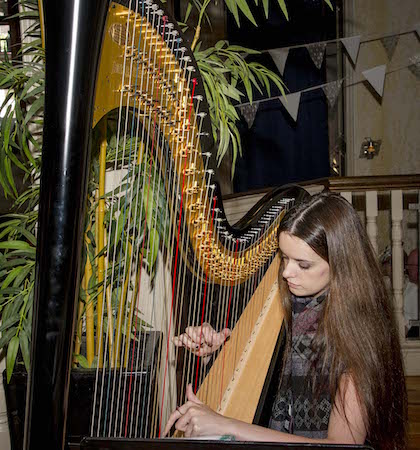 Culture Minister Josepha Madigan praised the news as "a wonderful opportunity to share a cherished and central aspect of Irish cultural heritage with the international community."
"I am delighted that Irish harping has received this international recognition as it holds such a central place in our cultural heritage," he said.
"The harp is Ireland's national symbol and has been played in Ireland for more than 1,000 years.
"This recognition by UNESCO is a true tribute to the generation of harpers, who have ensured the transmission of Irish harp music for this and future generations.
"I am also grateful to Cruit Éireann/Harp Ireland for their work with my Department to achieve this UNESCO recognition."
Harping joins two other Irish cultural practices - uileann piping and hurling – in being inscribed on the list.