AN IRISH pub has courted controversy after hosting a coronavirus themed party featuring discounted bottles of Corona and free protective face masks for paying customers.
Fitzgerald's Irish Bar in Bunbury, Australia, posted a Facebook promotion for an event last Saturday night, February 1, featuring $6 bottles of Corona
"There's been a LOT of talk about Corona and to be honest it's made us pretty thirsty…" the caption for the promotion reads alongside an image of a Corona beer bottle wearing a face mask.
"We've heard Corona is pretty popular at the moment. We're not sure why though, it's just beer isn't it?" the caption adds.
The original post, which has since been deleted, also featured a line promising that it would be the "Sickest night of the year" but that version has since been deleted.
Advertisement
The promotion echoes a similar effort by a bar in New Zealand, who used the coronavirus outbreak to promote a deal on Corona beer alongside the tagline "while the pandemic lasts".
The offer was promoted alongside an illustration featuring two men in boiler suits and gas masks holding bottles of the beer.
In that instance, Corona's distributor in New Zealand, Lion, intervened to have the advert removed.
The post sparked more than 500 angry responses with Greg Bowden among those to hit out at the insensitive nature of the promotion [via Newsweek].
"Living in Asia, many of my clients are Chinese and I can assure you it's nothing to joke about," they said.
Advertisement
"Sure, I get it. It's a small and harmless play on words to almost everyone who reads it in NZ because you are so far removed from the situation, for now."
"How on earth do you think this is OK?! You wouldn't run a '$6.50 on all Aussie beers for the entire bushfire season' so why is this okay?!"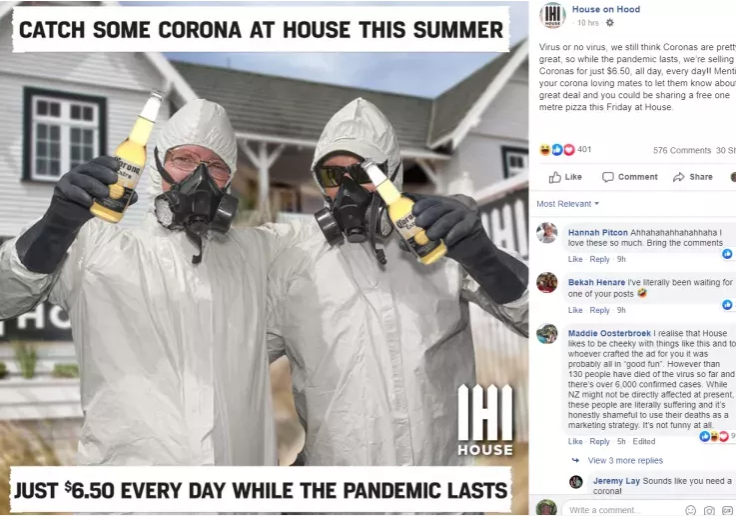 More than 360 people have died since the outbreak of the virus in Wuhan, China, with close to 18,000 cases reportedly worldwide.
The World Health Organisation has since declared the outbreak to be a global emergency.