A LEGAL loophole is allowing pubs across Ireland to sell takeaway pints despite previous warnings from the Government. 
Earlier this year Micheál Martin told the public to "forget about takeaway pints", however it has emerged that gardai are powerless to prevent pubs from selling them. 
However, with pub owners increasingly frustrated at the ongoing coronavirus restrictions and lack of support for the industry, many have opted to reopen on a takeaway basis. 
Back in January the Taoiseach said:  "Forget about takeaway pints, takeaway alcohol. No publican should be selling takeaway pints. 
"This is a very serious situation that we're in. It leads to congregation, it leads to gathering of people which can spread the disease and the virus. 
"That's a very, very clear message from me and Government." 
Despite Martin's warning over takeaway pints, however, no restrictive measures were ever signed into law to prevent the sale of takeaway alcohol. 
Last month, one Dublin pub broke ranks to hit out at Martin and the Irish government and announce its intentions to begin selling takeaway pints again. 
Now, according to Extra, several other pubs in the Irish capital have followed suit – and there is nothing the An Garda Siochana can do to stop them. 
A Gardai spokesperson told Extra: "The sale of take away alcohol from licensed premises is not currently a penal regulation and therefore not an offence. 
"In respect of regulations, which are declared to be Penal Regulations under the Health Act 1947 as amended, An Garda Síochána continue to adopt the approach of the Four Es which see Gardaí engage, explain, encourage, and as a last resort, enforce."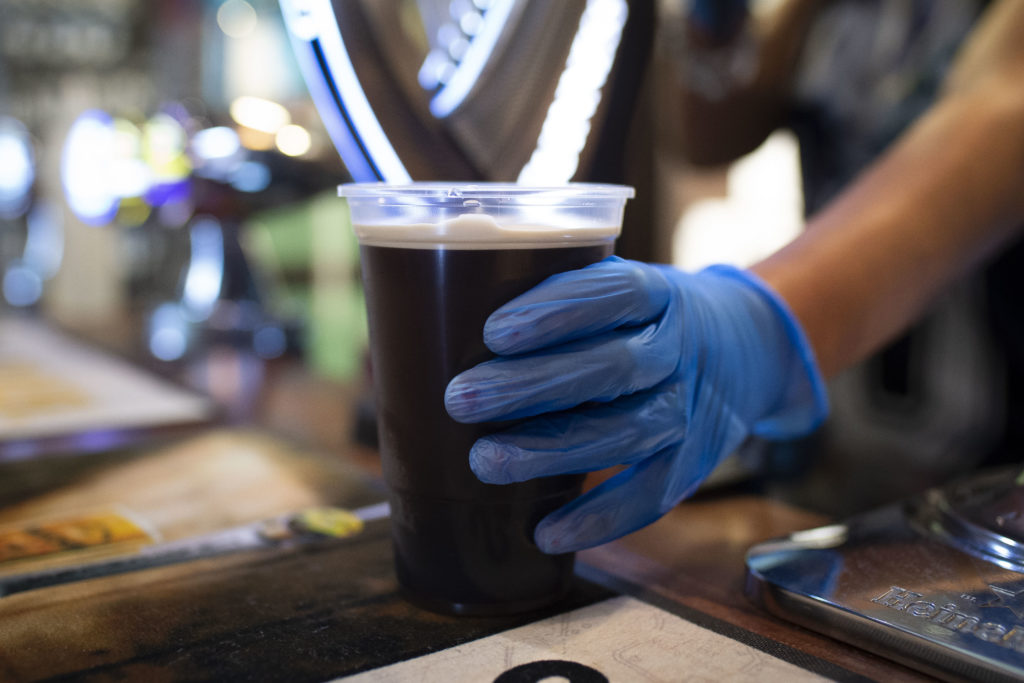 Under liquor licensing laws in Ireland, the only requirement in the sale of takeaway alcohol is that it must be consumed a minimum of 100 metres from the pub where the drink was originally purchased. 
Therefore, drinking takeaway pints in outdoor spaces like parks is technically legal, subject to local county and city bye-laws, provided it is done more than 100 metres from the pub involved. 
There are, of course, some caveats to those rules. 
Gardai can intervene should a public order incident arise as a result of drinking takeaway pints, while mass gatherings involving the purchase of takeaway alcohol are prohibited. 
However, under the Official Government Level 5 regulations, while wet pubs must stay shut, those serving food can offer alcohol alongside meals on a takeaway basis. 
Individual pubs are nevertheless being urged to ensure they adhere to the public health guidelines issued by the Irish government.