A TV comedy sketch broadcast in Ireland that depicted God as a "rapist" has sparked a furious reaction from leaders in the Catholic Church. 
The satirical skit, which was produced by the team behind the popular spoof website Waterford Whispers, was broadcast on RTE as part of the channel's New Year's Eve Countdown Show. 
In the clip, a man in a white robe is led to court while a voiceover from ex-broadcaster Aengus Mac Grianna explains: "In another shocking revelation this year, God became the latest figure to be implicated in ongoing sexual harassment scandals. 
"The five-billion-year-old stood accused of forcing himself on a young middle-eastern migrant and allegedly impregnating her against her will. 
"He was sentenced to two years in prison with the last 24 months suspended."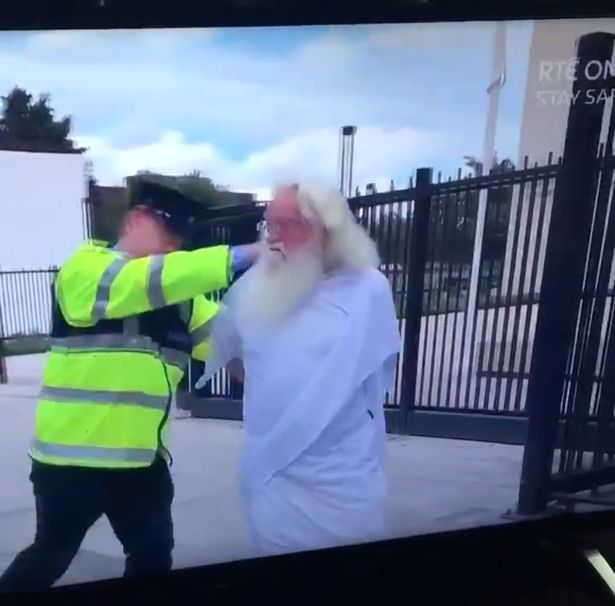 Though it was intended as joke, the sketch sparked a furious reaction from the head of the Catholic Church in Ireland Archbishop Eamon Martin who hit out at RTE for broadcasting the gag. 
Archbishop Martin said: "I am shocked that producer/editor of NYE Countdown Show didn't realise how deeply offensive was a mocking news report accusing God of rape and reporting his imprisonment. 
"This outrageous clip should be removed immediately and denounced by all people of goodwill. 
"To broadcast such a deeply offensive and blasphemous clip about God and Our Blessed Mother Mary during the Christmas season is insulting to all Catholics and Christians." 
1. I am shocked that producer/editor of 'NYE Countdown Show' @RTE @RTEOne didn't realise how deeply offensive was a mocking 'news report' accusing God of rape & reporting his imprisonment. This outrageous clip should be removed immediately & denounced by all people of goodwill.

— Eamon Martin (@ArchbishopEamon) January 1, 2021
New Archbishop of Dublin Dermot Farrell has condemned RTE's comments about God "raping Middle Eastern Migrants" on their New Year's Show.
He accused them of "mocking the divine" and "trivialising rape victims".
This criticism was echoed by Cllr Michael Sheehan, of Wexford County Council, who questioned whether the sketch would have made it to air if it had been poking fun at other religions. 
Sheehan told the Irish Daily Mail: "I have to say, it exercised a lot of people, who were offended by it, and who thought it was crass and very bad judgment. 
"I very rarely get people getting in touch regarding offensive broadcasts, but I got half a dozen calls and more messages from people saying how upset they were. 
"I think they took a very serious topic and belittled it, and they essentially trashed a community of faith. 
"I know it was tongue-in-cheek, but it was inappropriate and the wrong tone. How they could see that being part of a New Year's Eve programme, I don't get that at all." 
The Catholic Arena website meanwhile said RTE had "crossed a line" and called on the public to make a formal complaint to the Gardai. 
"Under new hate crime legislation, Mac Grianna and RTÉ can be prosecuted. We encourage everyone to take the following actions: Call Donnybrook Garda Station and report the hate crime, which violates the new Harmful Communications Bill." 
Ireland's Junior Minister for Special Education and Inclusion Josepha Madigan also expressed disdain for the sketch and, in particylar, the way it made light of rape in a "flippant" way. 
"'Satire is an important part of free speech, but I am very concerned about flippant jokes being made about a topic as serious as rape," she told the Mail. 
RTE have so far declined to comment.