AN IRISH woman in Australia has welcomed a healthy baby boy after he was in such a rush to arrive that she gave birth in a bike lane.
Aishling Mohan and her husband, Stephen, are both from Castlebar in County Mayo and live in Brisbane, Australia.
The couple were preparing to welcome their second child this week when the baby decided he was finished waiting around-- and the couple were less than 200 metres from the doors of the hospital when he decided to make his appearance.
The Mater Hospital in Brisbane shared Aishling and Stephen's story in a post on their website, along with a photograph of the happy young family.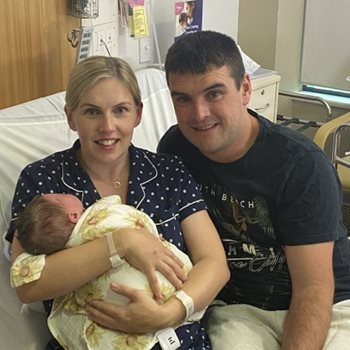 "At 5 am my contractions started but they were mild, so I told Stephen to go to work and I would call him if they developed into anything," Aishling said, adding that it was the couple's second baby-- "so I thought I knew what I was doing and had more time!"
Just an hour later, Aishling's contractions increased steadily, and Stephen arrived back home just as her waters broke-- so after dropping their daughter, Layla, to daycare, the new parents began the mad dash to the hospital.
But just five minutes into the 40-minute drive, Aishling felt the need to push and knew their child was about to arrive, saying "I just kind of surrendered to the fact that the baby was coming in the car".
"I told Stephen I was pushing, that the baby's head was coming out, and he replied 'just breathe'."
Thanks to being so close to the hospital, a paediatrician was nearby and immediately ran to help.
And, incredibly, at the very moment Stephen pulled into the bike lane to help his wife give birth, a student midwife, Emily, was seconds away, walking towards the Mater for the start of her shift.
Emily recalled that someone noticed her uniform and asked her if she was a nurse, to which she responded "No, I'm a student midwife"-- the epitome of being in the right place at the right time.
"They pointed to the car and said 'She's having a baby', so I ran to the car as fast as I could," Emily said.
"The paediatrician was already there, so I was just reassuring mum, supporting her and making sure that everyone was okay and safe and everything was normal.
"I think that mum and dad did a wonderful job—it was a wonderful life experience that I will never forget."
Stephen and the paediatrician delivered the baby and placed the child on Aishling's chest, and their young family was complete.
Stephen and Aishling had decided to keep the sex of their baby a surprise-- not knowing that the biggest surprises were yet to come-- and have yet to decide on a name.
According to the Mater hospital, the couple have been inundated with suggestions for their newborn son-- some have suggested Roadie (No prizes for guessing why), or Stanley, as he was born on Stanley street.
Others have suggested Blane, as their child was born on a bike lane-- and another suggestion is Carson, for their son who was born in a car.
As of now, the mother and father are happy just to have their child in their arms-- there's no rush, after all.