THE IRISHMAN behind a hilarious and heartwarming 'In Memorium' message dedicated to his late father has lifted the lid on the inspiration behind the obituary.
Ronan Costello's wonderful message to his dearly departed dad, James, proved a major hit on social media over the weekend.
The perfect showcase for the famous Irish sense of humour, the obituary touched a nerve with everyone living through the pandemic and anyone who has lost a loved one.
"Da, you're probably better off where you are," it read.
"There's not even a pub open down here."
"Sadly missed by his sons Patrick, James, and Ronan, daughters-in-law and all his grandchildren."
Speaking to the Irish Post, Ronan explained the motivations behind his simple yet hilarious message to his late father.
"My dad died two years ago after a short battle with cancer," he explained.
"He wasn't very religious in the way of going to mass every week but he had his beliefs and he would always make sure there was a memorial mass for my mam who died in 1992."
Ronan has many fond memories of his father who he recalls as a forceful figure and dedicated family man who spent four decades working in a pub and would have likely hated lockdown.
"My dad was a stubborn culchie (Roscommon) who had no problem telling people off but had a heart of gold," he says.
"He was always looking after his grandkids and making sure they got what they wanted. Sometimes he was too generous and would get into trouble from us for spoiling them too much."
Above all, Ronan recalls his dad's distinctive sense of humour and innate ability to look on the bright side of life. It was something that shaped the memorial.
"I just thought the times we are living in at the moment and the day that was in it a bit of a giggle is what my dad would have wanted from us instead of being sad and missing him," he said.
"My da had a great sense of humour and him being a barman for over 40 years I thought it'd be relatable to bring the closure of the pubs in Ireland into his memorial."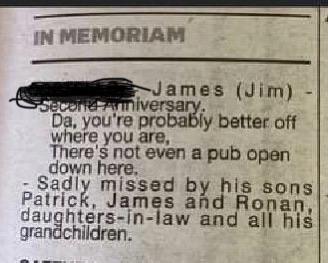 He still has fond memories of his dad and his love of the pub.
"He would walk over to his local pub, The Cardiff, each day and sit there for an hour and have two pints every day and come home," he said.
"Ironically the Cardiff Inn has permanently closed it doors due to the pandemic."
Ronan has been blown away by the response.
"Myself and my two brothers Pat and James just thought it'd be fitting to put the memorial in this way, not knowing it would be shared, viewed and commented on by so many platforms or as far away as Australia," he said.
"It's great the reaction it has got and the kind words people have commented."
"It's only a bit of Dublin humour on what should be a sad day," he added.
"My dad would definitely not like living in these times of pubs been closed.
"I know he would have preferred what we wrote in the memorial and would be smiling down at the coverage it has got."