JAMES BOND actor Pierce Brosnan and his wife Keely Shaye Smith have been fat-shamed by a reality TV couple on social media.
Jenelle Evans, who stars in the American-based reality show Teen Mom, posted a before-and-after photo of the former 007 star and his wife on the beach on her Facebook page.
The photos, which appear to be taken over 20 years apart, show the famous couple looking slim and in shape at the beginning of their relationship, next to a current photo.
They were initially posted to celebrate Pierce and Keely's everlasting love for one another, but the reality stars decided to have a pop at the their understandable weight-gain.
Tagging her husband David Eason, the 29-year-old wrote: "This is us."
"We do not look that fat," her husband responded.
Jenelle replied: "Close to it," as she laughed off the joke.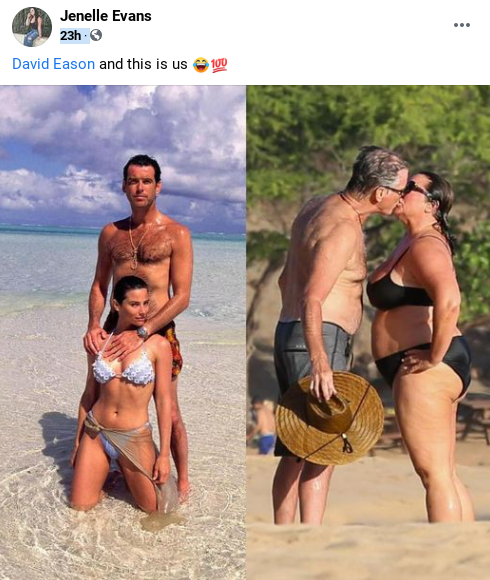 David has previously faced backlash from the public over his social media and lifestyle choices, meanwhile Jenelle has a history of trying to spread body positivity online.
She previously admitted feeling "totally insecure" when she was at her skinniest, and that she feels "happy" with her current body.

"Back in 2015 I started gaining weight, and also I was being cheated on. And this is when I was feeling totally insecure and feeling like I needed to something about my body or I wouldn't be loved," Jenelle said.
"Happy wife, happy life. Strut your stuff. Happier is better, and no, I'm not pregnant - just happy," she claimed."
Brosnan, 68, met Smith, a former actress and journalist, back in 1994, and the couple were married in 2001 at Ballintubber Abbey in Co. Mayo, Ireland.