JOHN WAYNE Airport in Orange County, Southern California could be renamed after comments made by the actor in a 1971 interview resurfaced online.
The Quiet Man actor stands accused of making several racist and homophobic remarks during an interview with Playboy magazine's Contributing Editor Richard Warren Lewis.
In the interview, Wayne was asked to list some of the films of the period that he considers to be perverted.
"Oh, Easy Rider, Midnight Cowboy – that kind of thing. Wouldn't you say that the wonderful love of those two men in Midnight Cowboy, a story about two f**s, qualifies?" he replied.
"But don't get me wrong. As far as a man and a woman is concerned, I'm awfully happy there's a thing called sex.'
Advertisement
Wayne, who was born Marion Mitchell Morrison, also offered up an opinion on political activist Angela Davis, who famously claimed anyone revoking her teaching credentials on ideological grounds would discriminating against her because she's black.
"With a lot of blacks, there's quite a bit of resentment along with their dissent, and possibly rightfully so. But we can't all of a sudden get down on our knees and turn everything over to the leadership of blacks." Wayne responded.
"I believe in white supremacy until the blacks are educated to a point of responsibility. I don't believe in giving authority and positions of leadership and judgement to irresponsible people."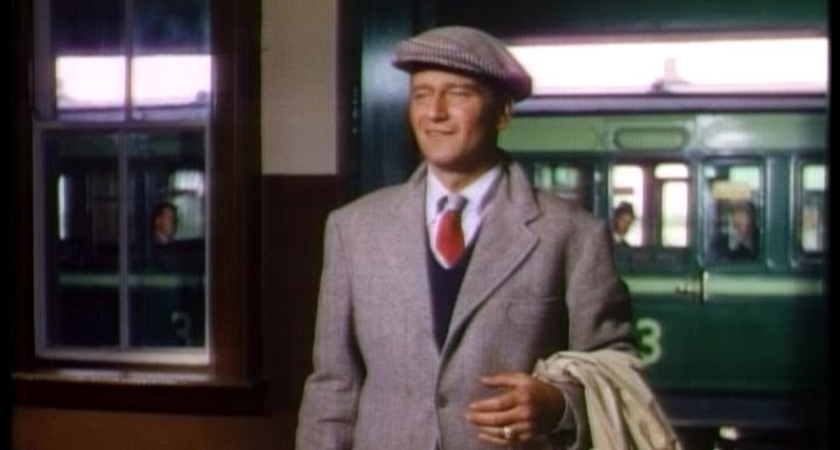 He went on to state that he didn't "feel guilty about the fact that five or 10 generations ago these people were slaves," describing it as "just a fact of life, like the kid who gets infantile paralysis and has to wear braces so he can't play football with the rest of us."
The interview even sees Wayne state his belief that black people had more advantages in America than whites.
Wayne was also critical of Native Americans, dismissing any suggestion America was in the wrong for "taking away" their lands.
Advertisement
"Our so-called stealing of this country from them was just a matter of survival," he said.
"There were great numbers of people who needed new land, and the Indians were selfishly
trying to keep it for themselves."
The interview resurfaced as part of a tweet posted by screenwriter Matt Williams and has sparked widespread online discussion.
And writing in an opinion piece for the Los Angeles Times, columnist Michael Hiltzik called on Wayne's name to be removed from the Orange County airport.
Originally named Orange County Airport, the county Board of Supervisiors renamed it in 1979 in honour of John Wayne who lived in Newport Beach and died earlier that same year. Hiltzik feels the time for change is now.
Advertisement
"Orange County today is such an economically and ethnically diverse community that it's hard to justify asking any member of that community to board planes at an airport named after an outspoken racist and homophobe, with his strutting statue occupying a central niche in front of the concourse," he wrote.
"Wayne was a few weeks shy of his 64th birthday when the interview appeared in print," Hiltzik added.
"It was 1971, so the civil rights revolution had been going on for years; Martin Luther King Jr. had been assassinated three years before. Wayne wasn't expressing the tenor of the times — he was reacting to the advances being won by African Americans through demonstrations and legislation."
Hiltzik's suggestion has been met with some opposition though, not least from Madeline Fry over at the Washington Examiner, who responded:
"Removing his name from Orange County's airport now only validates what many Americans are coming to believe: You can't say anything anymore, darn it, without being discovered and punished by the mob."
Advertisement
The local authorities have yet to issue an official response to the furore.
It's not the first time the interview has sparked controversy.
Back in 2016, California lawmakers rejected plans for the introduction of a John Wayne Day in the US state after the comments made in the interview surfaced.