THE NATIONAL University of Ireland, Maynooth, have offered free accommodation to 20 medics returning from abroad to fight against coronavirus in Ireland.
NUI Maynooth have joined multiple Irish businesses in lending a hand to 'Answer Ireland's Call', an initiative started by businessman Neil Sands-- an alumni of the college-- who offered to fly two health care workers from anywhere in the world and provide them with accommodation as they worked in a nearby hospital.
Since then, the initiative has grown exponentially, with tens of thousands being raised to bring Irish health care workers home and accommodate them as they self-isolate and work on the front lines-- you can learn more about the campaign here.
The University yesterday announced that they were making available 20 rooms on Maynooth's campus completely free of charge to any health care workers returning to Ireland.
The donation was made possible thanks to private donations from companies and alumni of the college, with the cleaning, security and other costs all covered by the donations to the Ireland's Call initiative.
Director of External Communications at NUI Maynooth, Rebecca Doolin, said:
"All over the country, people are doing whatever they can to support the national effort to combat Covid-19.
"While some students remain living in campus accommodation, the vast majority of them have moved home, so we have capacity and wanted to help in whatever way we could. MU is delighted to partner with Answer Ireland's Call to support health care workers who are on the frontline of this crisis and we are grateful to our donors who helped make this possible, as there will undoubtedly be difficult financial constraints facing the university sector in the months ahead."
Founder of Answer Ireland's Call, Neil Sands, said he is "incredibly proud" of his alma mater's help with the campaign.
"I have always considered Maynooth to be one of the most progressive and innovative third-level institutions in the country," he said,  "and opening its doors to house our health care heroes is just another example of that.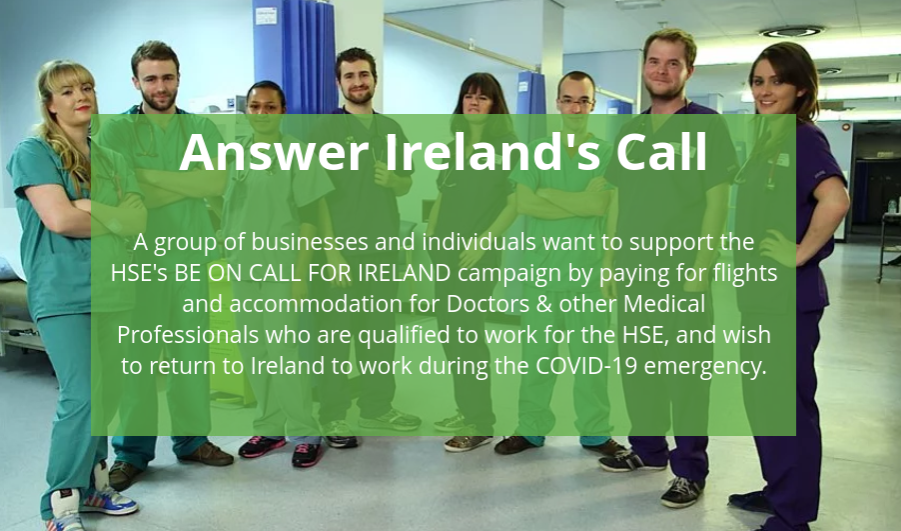 "Maynooth listened to the calls for colleges and universities to put their empty rooms to good use and have really stepped up."
"We are unbelievably grateful to Maynooth, and to everyone who has donated their time, property or money to help the Ireland's Call Initiative. These health care workers are making enormous sacrifices for Ireland in its hour of need and we should do everything we can to support them. It's our chance to stand shoulder to shoulder with our front line."