A NEW ZEALAND AIRLINE has poked a little fun at Irish supporters ahead of Saturday's World Cup quarter-final clash between Ireland and the All Blacks.
Air New Zealand posted a video to Twitter offering Ireland fans 'safety tips' for watching the upcoming match.
The video mimics the pre-flight safety briefing given on most airlines around the world and advises us all to 'prepare for some turbulence' ahead of the big game.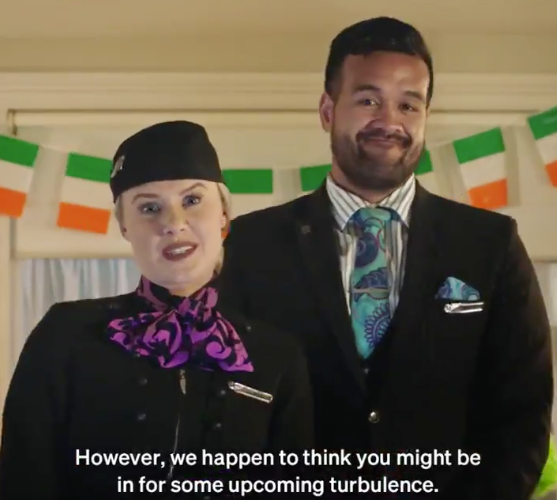 Three Irish fans are pictured sitting on a sofa as Air New Zealand cabin crew sarcastically offer them tips to deal with a supposedly guaranteed defeat at the hands of the All Blacks at the Tokyo Stadium tomorrow.
It begins with the crew telling us that despite beating them in two of our last three encounters, we shouldn't be expecting a pleasant journey.
Firstly, fans are advised to fasten their seatbelts tight during the haka, so we don't "flee for the exists too early."
We're then encouraged to stow all handheld electronically devices in their pockets, to stop us throwing them at the screen in fit of anger.
Next, we're told to "stow away young children" in their bedrooms because "language may become a little colourful."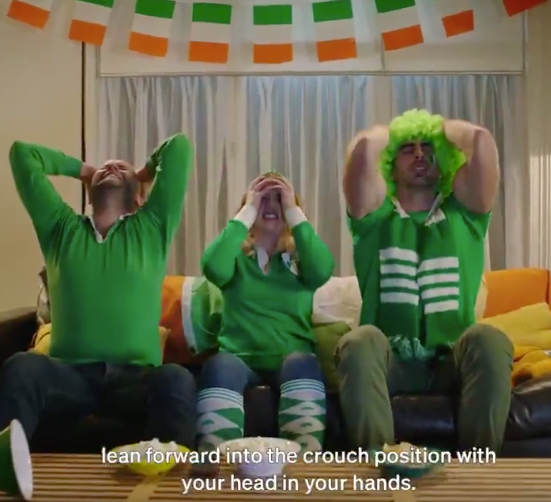 The crew then compare the 'brace' position to the pose we'll all be taking when New Zealand "score an early try," before advising us to head for the exits if they tries continue.
Finally, they end the 'banter' by advising us to "remain seated until your disappointment has come to a complete halt."
Now, obviously this is all fun and games, and there's nothing wrong with poking a little fun and having a few friendly jabs, but does anyone else under the growing impression that New Zealand seem to think this game is going to be a bit of a walkover? ... No, just me?
Anyway, after seeing this, we look forward to Michael O'Leary's Ryanair rebuttal once we send 'em packing on Saturday.
Big game this weekend. Know any Irish fans who could use some tips for getting through it? 😉 #CrazyAboutRugby #NZLvIRE pic.twitter.com/LLTEziG9MI

— Air New Zealand ✈️ (@FlyAirNZ) October 17, 2019