A FLIGHT from London Gatwick airport to Costa Rica was delayed for over three hours yesterday after 25 passengers were removed from the plane by police for "disruptive behaviour."
A spokesperson from Sussex Police confirmed: "At 11.35am on Monday, police were called to an outbound Thomson flight due to leave Gatwick North Terminal for Costa Rica after the captain refused to fly with a group of 25 male passengers, all adults except for one 14-year old boy, some of whom had been disorderly on the aircraft."
The Irish Post contacted Sussex Police, who would not confirm the nationality of the passengers, but reports from some British tabloid newspapers have described the passengers as being "drunk Irish".
One passenger on the flight, Sally Ferguson, 50, from Weston-super-Mare, told The Sun: "Twenty-five people have just been taken off the plane because they are drunk and abusive.
"The police are here taking bags out of the hold. It's going to take forever.
"They are Irish. The captain said he has never seen anything like it in 20 years."
The news has sparked a barrage of comment on social media with Facebook and Twitter.
Some comments on social media stated "Drink is a problem with the Irish", another wrote "25 'Irish' leaving from Gatwick. Do they mean those lovely Travellers that blight our land???"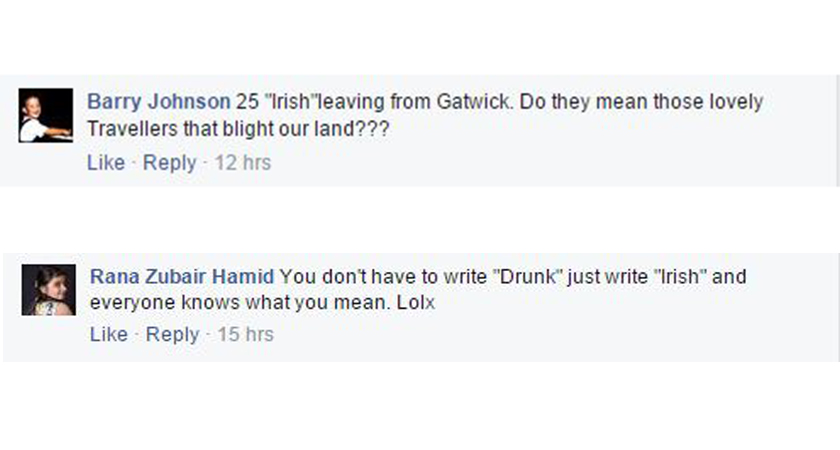 Some commentators on Facebook took issue with the comments.
One woman wrote: "As someone who is Irish can I ask that people do not judge all Irish like this. I know we have a reputation but the majority of us Irish are not drunken louts. Thank you."
Gatwick delay for Caribbean flight after 25 'drunken Irish passengers' booted off planehttps://t.co/6LkBlK4LLw pic.twitter.com/7ulVvAmIKQ

— Daily Mirror (@DailyMirror) March 7, 2016
The nationality of the passengers and whether or not they were inebriated has yet to be confirmed by officials.
Police escorted them from the aircraft to landside where they dispersed.
"There was no violence as the officers escorted them away, and no evidence of criminal offences on the aircraft or in the airport," said Sussex Police.
A spokesperson from  Thomson Airways added: "We operate a zero-tolerance policy in relation to any disruptive behaviour and several customers were asked to leave the aircraft.
"We worked as quickly as possible to ensure the other customers could get away on their holiday."