IRELAND'S NATIONAL broadcaster has received close to 5,000 complaints for airing a controversial comedy sketch on New Year's Eve.
The spoof Waterford Whispers news report, which was presented by Aengus Mac Grianna, saw God become "the latest figure to be implicated in ongoing sexual harassment scandals".
Dressed in a white robe, the sketch saw 'God' being led to court by a Garda, with a voice-over by McGrianna stating the "five-billion-year-old stood accused of forcing himself on a young middle-eastern migrant and allegedly impregnating her against her will.  
"He was sentenced to two years in prison with the last 24 months suspended." 
The joke sketch divided opinion, with RTÉ receiving hundreds of complaints in the hours after the sketch was shown, and Archbishop Eamon Martin condemning it as "deeply offensive and blasphemous".
RTÉ apologised for airing the sketch, but the controversy has not died down, with a member of the Dáil Communications Committee announcing that they intend to question RTÉ's director general Dee Forbes about the unfortunate parody.
 And today, the Irish Sun reports that the number of official complaints to RTÉ regarding the Waterford Whispers sketch has now grown to almost 5,000.
A spokesperson for RTÉ told the outlet that since the show aired on Friday, RTÉ received approximately 3,500 emails and 1,250 calls from people offended by the segment.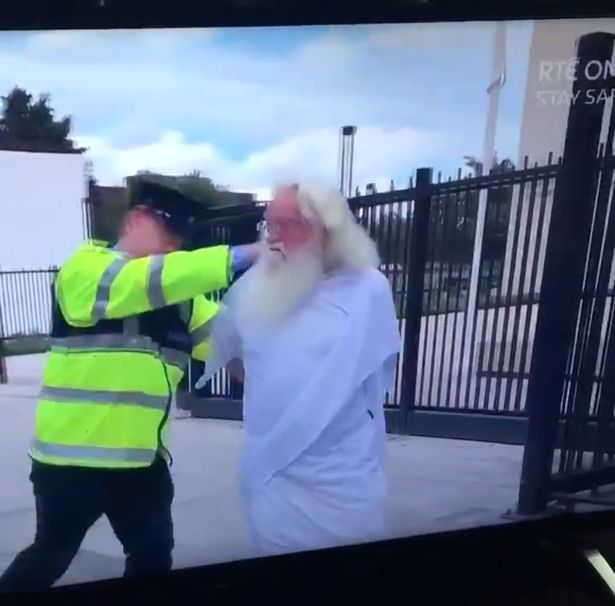 "This takes into account emails to RTÉ's Complaints and Information Offices, as well as calls to RTÉ's Information Office and to RTE's main reception," the spokesperson confirmed.
Waterford Whispers News is a satire site similar to The Onion in the US, and is usually praised for its on-the-nose parodies of Irish life, however many have accused its New Years Eve sketch of missing the mark.
Brendan Griffin, the member of the Communications Committee who intends to question RTÉ Director Dee Forbes, said his seven-year-old was confused by the sketch and began asking difficult questions.
"In our house, two nights a year the family stay up late," he said. "That is the Toy Show and New Year's Eve. 
"Surely someone in RTÉ should have realised a great many more families than usual would be watching the show and proofed it appropriately."