SINEAD O'CONNOR issued a short but powerful message of support for those affected by the London Bridge terror attack
Two people were killed and a further three were injured when convicted terrorist Usman Khan began attacking members of the public with at least one knife in a rampage that began near Fishmongers' Hall in the English capital on Friday, November 29.
The 28-year-old assailant was eventually shot and killed by armed police on the north side of London Bridge just before 2pm.
Taking to Twitter in the wake of the incident. O'Connor, who was renamed Shuhada Sadaqat after converting to Islam, wrote simply "Love to London".
Love to London

— Sinead O'Connor (AKA Shuhada Sadaqat) (@MagdaDavitt77) November 29, 2019
Advertisement
The tweet comes just days after the singer tweeted and then deleted a message detailing plans for five upcoming shows in Ireland.
O'Connor initially tweeted out plans to perform in Dublin, Cork Belfast, Waterford and Galway next summer.
However, just as fans began responding to the tweet with excitement at the prospect of seeing the Irish music legend in the flesh, it was deleted.
Several fans succeeded in taking a screenshot of the message before it was removed.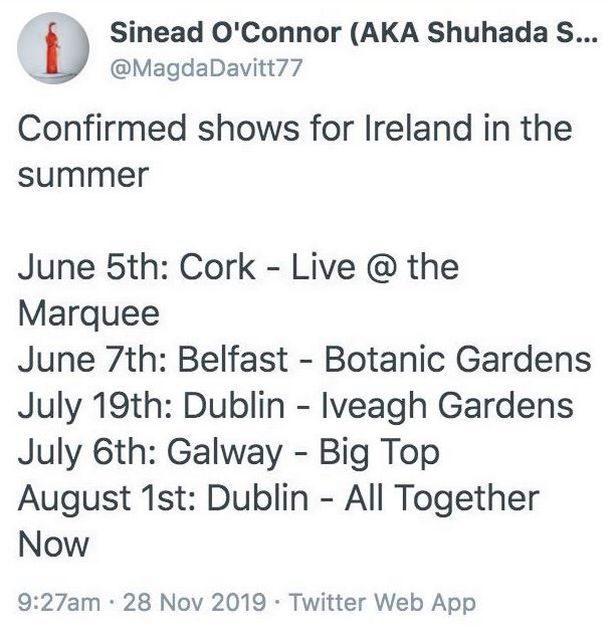 There are, as yet, no confirmed plans for any Ireland gigs.
Advertisement
O'Connor is currently confirmed to perform a string of dates across Europe, the US and Canada.
Those plans could be subject to change.