A US reality star has been slapped with a temporary ban from Facebook after "fat shaming" Pierce Brosnan and his wife Keely Shaye Smith.
Jenelle Evans, who is best known for her appearances on the MTV series Teen Mom, was accused of fat-shaming the James Bond icon after posting two side-by-side pictures of the Irishman and his partner on the beach, taken 20 years apart.
In both, the happy couple are enjoying a warm embrace and come from a post previously shared online as part of a celebration of their time together.
However, Evans and her husband David Eason sparked fury after seemingly using the images to fat shame Brosnan and his wife in an entirely unprovoked and unnecessary attack.
Captioning the repost, Evans wrote: "David Eason and this is us."
"We do not look that fat," Eason replied to which Evans responded: "close to it."
The comments sparked a furious reaction online with Evans, in particular, accused of hypocrisy having previously taken to social media to send a message of support to women feeling anxious about their changing bodies after having children.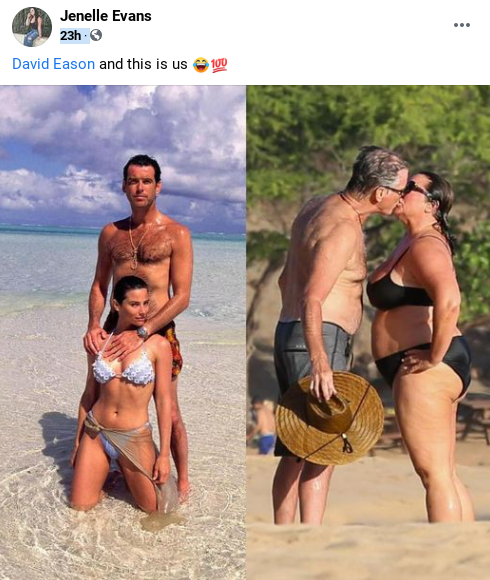 In the body positive-themed post, Evans told fans it "happens with age" and you should "always love yourself."
"But you know, embrace your body. You're not there to impress anyone. Just live your life. Be happy," she added.
Now in the wake of the backlash, Evans revealed her husband was hit with a temporary ban from Facebook over his comment.
""Y'all… David is blocked from FB for 7 days saying the word 'fat,'" she wrote.
The ban was likely triggered by a slew of complaints from users on Facebook.
Brosnan and Smith have been happily married since 2001.
They famously wed in Ballytubber Abbey in Co Mayo, having first met at a party in Mexico back in 1994.
They share two sons, Dylan Thomas Brosnan, born in 1997, and Paris Beckett Brosnan, born in 2001.
The Brosnans have not responded to the social media attack.