IRELAND's quest to properly replace Robbie Keane, the nation's record scorer, is one likely to rumble on for years and years. Particularly when you consider that he's scored 47 more goals than second-placed Niall Quinn.
Naturally, us fans are always on the lookout for someone to fill those 68-goal boots, cynically presuming though that it'll never happen.
But what's life as a football fan other than getting overexcited and massively overrating whomever the next bright young thing in your youth academy is who did a step-over in training this one time?
So let's do a bit of that, shall we?
Aaron Connolly is going beat Pele's record of 1000 goals!
... a bit too far? I guess you're right, Pele didn't actually score 1000 goals, despite obnoxiously claiming to have done so whenever anyone dares to even dream of thinking about considering him as anything but the greatest player of all time.
His tally is closer to the mid-700s, but enough about the most insecure man in football, let's talk about Ireland's next big thing (I believe he's the 38th in the last five years).
Connolly grabbed a sensational double against Tottenham Hotspur on his full Premier League debut as Brighton took advantage of Spurs' surprisingly unsurprising plummet back down to earth after briefly forgetting the fact that they're perennially a mid-table side, no matter how many Champions League finals they're good enough to reach! (Hopefully Spurs fans can take a joke)
It was a blistering start to what could well be a fine career in England's top division for 19-year-old Connolly. I'm sure if we spoke to him, he'd probably want to avoid comparisons to Ireland's all time top scorer, but it's hard to do so when his brace earlier this month was the first time an Irish teenager has grabbed two goals in a Premier League game since ... Robbie Keane in 1999 for Coventry City.
Obviously, it's very early days, but both of Connolly's goals demonstrated much of the attributes the Irishman will need to reach the top level of the game.
His first was a classic poacher's finish, while his positive driving run at Toby Alderweireld followed by a powerfully curled shot for his second goal was a thing of beauty and, above all, promise - both were admittedly very Keane-esque.
The lad from Galway has been part of the youth system at Brighton for three years after moving from Mervue United back in 2016.
At 5ft 9ins, he's no bully-boy, nor is he outrageously speedy, but like Keane he enjoys getting behind defenders and finding spaces between them. He's understatedly a defender's nightmare, someone who doesn't cause any immediate physical threat, but one which defenders will take their eye off at their own peril.
When Brighton head coach Graham Potter took charge of the side, he immediately promoted Connolly to the senior team.
"I was aware he scored goals in the under-23 league, where he was prolific," said Potter.
"He's got pace and he is a good finisher, and wants to run into space, to threaten the back of defenders. I don't like to pick out individuals, but a young player making his debut in the Premier League with two goals is impressive."
It isn't just Potter who's been impressed with the youngster. Ireland manager Mick McCarthy decided to hand the youngster his first two of what will hopefully be a bucket-load of caps for the national side, and despite the disappointing draw with Georgia and 2-0 loss to Switzerland, Connolly insists he's ecstatic to be part of the Ireland setup.
"It's something I've dreamed of as a kid, it's every Irish kid's dream to play for his country and to do it at 19 is a brilliant feeling," Connolly said.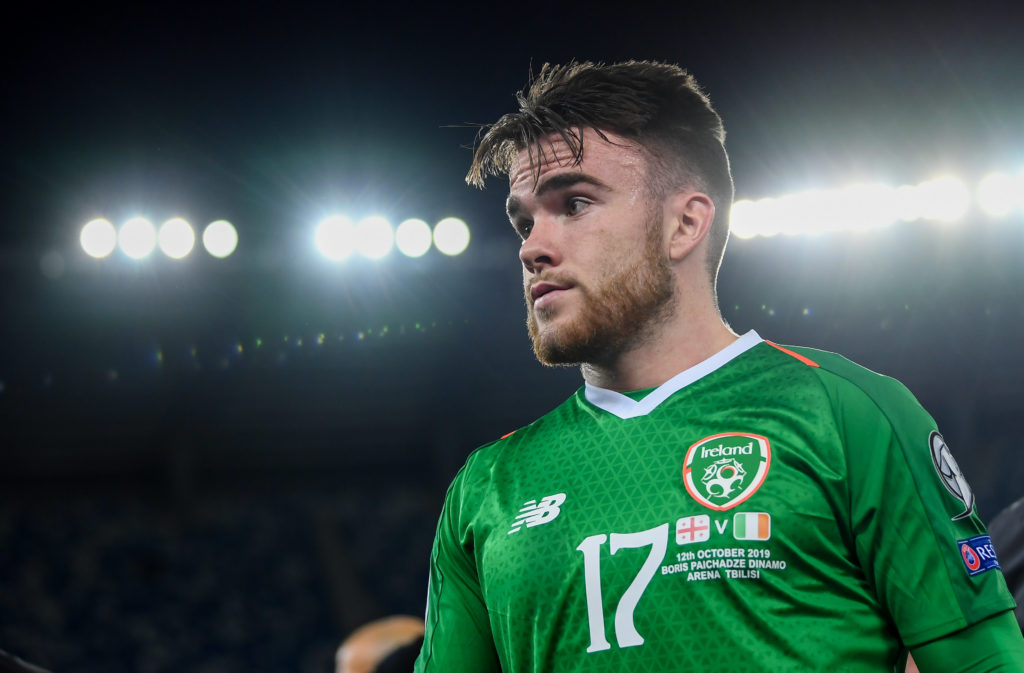 "I've been watching and wanted to play for my country since I can remember and it was a proud night for me and my family."
Connolly steep rise to notoriety this month serves as a stark reminder of the kind of ability that the Irish conveyer belt of talent is able to produce.
The number of Ireland-affiliated players playing in the Premier League is currently at the lowest on record - with just 15 - but Connolly provides a glimmer of hope that the next generation, the post-Robbie-Keane generation, may well be poised to bring about a great green resurgence across the footballing landscape.
Here's to the next 998 goals, Aaron!