THERE is a thick scar lined across his scalp where the surgeon's knife had visited, yet if his head tells the story of a trauma then his face does not.
John Hartson appears content. "Blessed," is his way of describing the turn of events which changed, and then saved, his life. "I was a dead man," he bluntly states. But now he is very much alive. After a career that saw him break the transfer record of four clubs, become Britain's most expensive teenager, score for Arsenal in the 1995 Cup Winners Cup final, and most memorably of all, win six trophies in five years at Celtic, Hartson wasn't a stranger to success.
"But my greatest victory of all was beating cancer," he says. "No doubt about that."
There was considerable doubt, however, in 2009, if he would be around today to tell his story. After a period of ill health, he discovered that testicular cancer had spread to his brain and as he lay on his hospital bed waiting for surgery, the memories of what he had achieved on a football pitch faded into insignificance.
What did it matter if he had scored the goal that helped Celtic beat Celta Vigo and allow them to progress in Europe beyond Christmas for the first time in a quarter of a century? Who cared if it was his strike against Liverpool that proved the key moment in their UEFA Cup quarter-final victory at Anfield?
Advertisement
Scoring for Wales in a 2-1 win over Italy? A nice time, as were his five years in Glasgow, but as the days waiting for the laboratory results that would indicate whether he was going to live or die slowly passed, football's importance dipped.
"Was it hard for me?" asked Hartson earlier last week. "What I would say is that it was a lot harder for the people who are closest to me. I thought about my children and my wife. She was pregnant at the time and I couldn't help wondering how on earth was she going to cope? My goal then was to live to see the baby come into this world. So mentally it was tough.  But it is just as hard, if not harder, for mum and dad and my brothers and sisters.
"I feel so lucky. You see, I had a wonderful career, especially the time I had at Celtic. But that was just me doing what I was meant to do, making the most of the talent which God had given me. As a player, I did the right thing but beating the cancer is something that has to come from within. That is my biggest achievement in my life because I thought I was a dead man.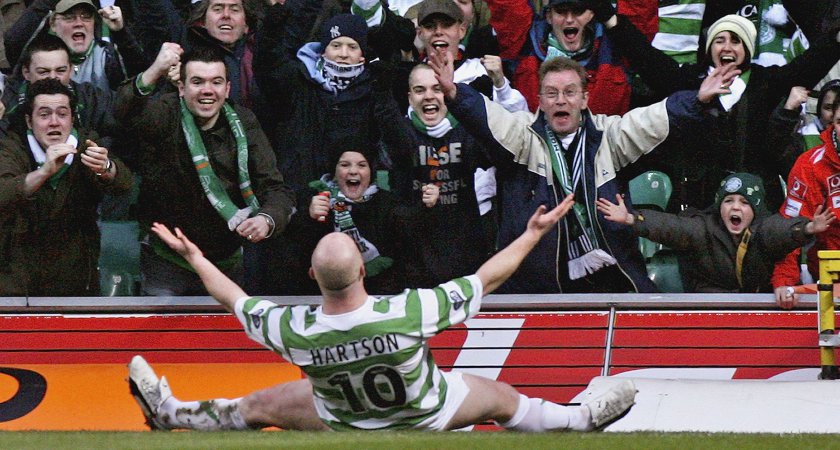 "But in the last six years I have bounced back. Surviving cancer, and living to see my children grow up, is massive. I have a different perception of life right now and am just so glad I came through my illness. What I have achieved since in terms of my health, and my cancer foundation, makes me a lot more proud than anything I achieved in football terms."
He tells his story with softly spoken words, his gentle tone at odds with the image he created of himself as an old-school centre-forward, who was as tough as nails, and who combined so effectively with Chris Sutton and Henrik Larsson at Celtic. "Great players, great days," he says of his former colleagues and his time at Celtic Park.
"I'll never forget those years," he says now, almost a decade on since he left Glasgow. "Remember, I failed four medicals before I joined Celtic, and one of those was at Rangers, the best medical I ever failed. People were writing me off, so I owe a great debt to Martin O'Neill for taking a gamble and placing his faith in me, when four other managers had decided not to. There were other good years – remember, I was second behind Andy Cole in the race for the Premier League's golden boot one year – but the Celtic years were special."
Advertisement
You can see as much when he quickly changes out of his shirt (he was over in Dublin doing promotional work for Setanta Sports) and the Celtic crest is visible on his arm, tattooed onto his skin as well as into his conscience. "They'll always be a club I will look out for," he said.
But Wales will always be his country which is why – allegiance to O'Neill or not – he may be cheering for Ireland to emerge from their group and qualify for next summer's European finals, but, after that, he will be hoping Chris Coleman's team, not O'Neill's, make it to the 2018 World Cup.
"Look, Martin has been a great manager and even though Ireland have found themselves in a very competitive group, he will be disappointed not to have won a couple more games. He is a realist. He knows that even when you don't play particularly well, you have to find a way to hold on to the lead.
"You have to be gritty, dig in, and hold on, even if you're not playing well, you just don't throw away points, which is what they did against Scotland. Ireland are still capable of qualifying but it is looking unlikely. But, rest assured, I worked under Martin. I know him. He will keep the players as optimistic as he possibly can."
Hartson's hope for Ireland, though, is cautioned by a reality. He played for Wales in an era when the candle nearly flickered out before he briefly came back to work as their assistant manager under Chris Coleman.
So he knows how cyclical success can be for smaller countries and while he can see Wales continuing to thrive for another couple of years, he can't envisage a scenario where Ireland get the better of them when the countries meet in the 2018 World Cup qualifiers.
"It is just the way it is," says Hartson. "We have Williams, Allen, Davies, Ledley, Ramsey. And on top of that, we have a player like Bale which gives you such an advantage, because he loves to play for Wales. Chris (Coleman) allows him to get home for a couple of days to see his family when he reports for internationals.
Advertisement
"He allows him do his own thing, allows him to express himself. He plays where he wants to play, through the middle. He can drift left, drift right, do what he wants on the pitch. He is the most expensive player in the world so he has earned the right to be treated properly. And it has paid off for us. It is why we are where we are. We weren't a bad team in the past but we have better players now and it is showing. Ireland, unfortunately, haven't got the same talent as before which is why I think Wales will do better than them in the World Cup."
Hartson will appear on Setanta Sports this season on their Premier League Central programme which airs every Saturday at 8.30pm