FOR many, George Hamilton is the quintessential voice of Irish football.
The Belfast man's job as chief football commentator for RTÉ sport means that his Ulster accent has informed and entertained Irish sports fans through the national team's high and lows.
As the undisputed voice of Irish football, Hamilton's evocative and celebrated commentary is familiar to millions.
The Ulster man, now 71, has commentated on some of the pivotal moments in sport over the last five decades — Jack Charlton's successful run as Ireland manager, George Best's return to international duty for Northern Ireland, Pat Jennings demonstrating why he was regarded as one of the top goalkeepers in the world.
Hamilton has captured the undulating fortunes of Irish sport for generations of fans, ever since he first took up the microphone in the mid-seventies.
RTÉ's chief soccer commentator has seen it all — and not just football: he is behind the microphone for a wide range of sports from rugby to cycling, and has been on the ground, at the trackside, or round the boxing ring at Olympics, Commonwealth Games and world championships in just about every discipline.
During his career Hamilton has met the aristocracy of soccer — Pele, Cryuff, Eusebio, Cantona and of course George Best; he was baptised in the same east Belfast Presbyterian church as Best.
The Irish Academic Press has now published Hamilton's memoir A Nation Holds Its Breath.
The title comes from the 1990 World Cup.
The scene: it's Romania versus Ireland.  David O'Leary has been entrusted with the responsibility of taking the penalty that could send Ireland to the quarter-finals of the World Cup. This kick can decide it all.
"The nation holds its breath …" intones Hamilton as O'Leary steps up to take the shot.
After an agonising wait, he slots it home
"Yes, we're there!" shouts Hamilton.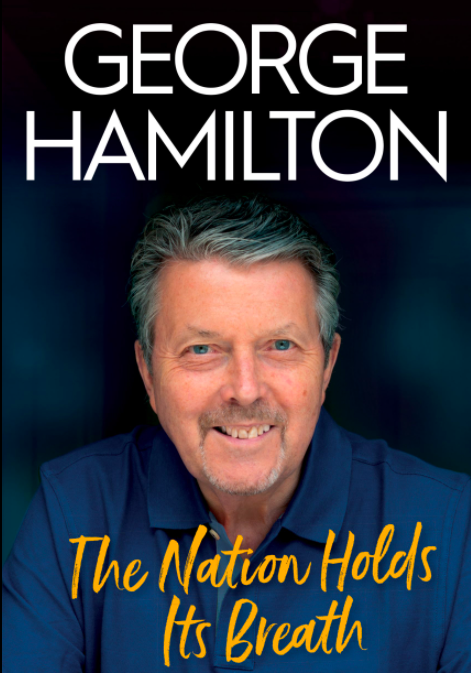 A Nation Holds Its Breath traces Hamilton's fascinating journey from being brought up in Protestant East Belfast, through his early years at Queen's University with the Troubles as a backdrop, to being inspired by a fellow Irish sports commentator, Eamonn Andrews.
As a young lad, Hamilton would be transfixed by the BBC's Light programme on a Saturday. This station provided second-half commentary on a top English League fixture, followed by Sports Report, presented by Andrews — on his way to becoming became one of the biggest stars of British radio and TV.
In addition to his sporting duties Hamilton also finds time to present a classical music programme on RTÉ Lyric FM, The Hamilton Scores.
Hamilton is a very competent musician and for a while was principal cellist in the orchestra of his Belfast school, the Methodist College.
"My father had a fine voice and sang regularly with local musical societies.
I still have the programme from an appearance in the Grand Opera House in Belfast. My mother too could hold a note, so there was always plenty of singing in the house.
They were keen that I should make the most of whatever musical talent I had, so they enrolled me for piano lessons."
From there it was a progression onto stringed instruments and eventually the cello.
Truly it can be said that George Hamilton has more than one string to his bow.
The commentaries
Sporting commentators are often targeted, and indeed criticised, because of their use of clichés, mixed metaphors and in general a tortured use of the language
There's even a column dedicated to commentating slips of the tongue in Private Eye called Colemanballs.
But the criticism of sports commentators is a little unfair. These broadcasters are the final bastion of live broadcasting, the only people who have to make it up on the hoof.
Chat shows are pre-recorded; newsreaders, presenters et al have autocues, current affairs interviewers know exactly the topics their guests (or victims) are to be questioned on.
But sports commentators have to extemporise as they go along, to commentate on the unexpected, to unravel for the viewer or listener exactly what's going on no matter what has happened on the sports field, court, pitch or track.
And none better at it than George Hamilton
The sports humour website, DangerHere.com, takes its title from another quote by Hamilton: "And Bonner has gone 165 minutes of these championships without conceding a goal. Oh, danger here..."
They call him The King of the Jinx on the website as  they reckon his "there's danger here" often presages a goal against the Republic.
For those of you unfamiliar with Hamilton's commentating, here's a flavour of his style:
"And Ireland have got to contain the brothers Baggio." [Later in the game…] "The Baggio brothers, of course, are not related"
"When I said they'd scored two goals, of course I meant they'd scored one"
"You can trace all that back to the sliced clearance from Boumsong, which led to a throw-in, which led to a free-kick, which led to a corner, which led to the goal."
"Dick Advocaat [the Dutch manager] is Dick the Dope! They were two goals up but whoa ho ho, they've blown it!"
"Kevin Moran, oldest man on the pitch today…. 35 years of age. Of course the referee could possibly be older than that… and technically he's on the pitch too… then again his linesmen could be even older than him… but are they technically 'on' the pitch?"
"I might be tempting fate but I can't see the Poles scoring… OH NOOOO they just have!!"
"A win's a win's a win. And it you want to win you need the goal… Italy are only one-nil up in Podgorica. This is Kishichev, Petrov… oh noooo."
George Hamilton's book The Nation Holds its Breath is available now, published by Merrion Press.