PARNELLS Ladies Footballers were on top of the World on Friday, after being crowned champions at the Etihad Airways GAA World Games at Croke Park.
The former All-Ireland Intermediate Club Champions, added another title to their impressive honours list, and were the only club side during the week to capture Cup silverware.
Parnells blazed a trail over the week, topping their group on Tuesday, before being unbeaten on Wednesday, accounting for Australasia (4-9 to 0-2); Asia (6-7 to 2-2) and the Middle East (2-3 to 0-0) to earn a place in the showpiece decider on the hallowed Jones Road sod.
Goals were again key for Parnells, who faced a determined Australasia side, keen to avenge their earlier defeat, but Parnells claimed a 3-7 to 0-8 win.
Australasia made a strong start taking a 0-3 to 0-0 lead, but Parnells settled with Renee Murphy taking some impressive points and two goals, including one from Hannah Noonan helping Parnells move 2-3 to 0-5 ahead, and take a lead they wouldn't relinquish.
Former Sligo star Therese Marren was also in strong form, as a brace of points handed her side a 2-5 to 0-6 lead at the break.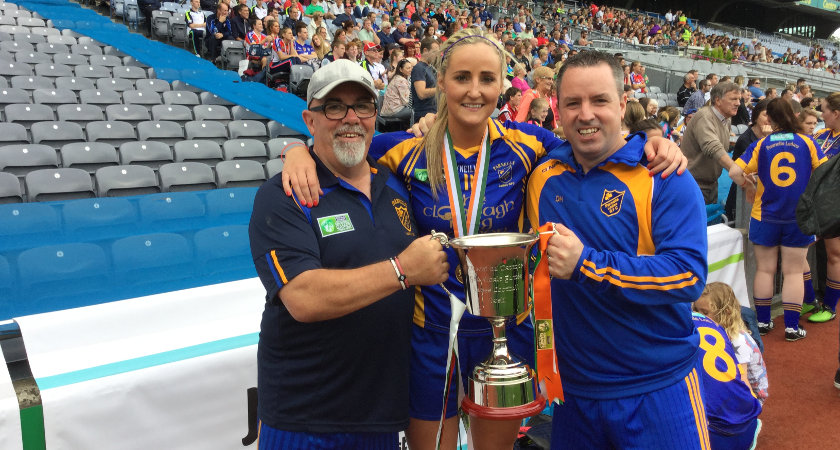 The Sligo link in this Parnells success was certainly strong, with Áine Gormley netting Parnells third goal early after the restart.
Australasia only managed two second half points, as Parnells drove on, defending very well also in the closing minutes, to hold out for an impressive win.
After the game, Parnells Ladies captain Niamh Murphy received the cup from Ladies Football President Marie Hickey.
And the honours didn't stop there, as at a well-attended closing banquet in Croke Park on Friday night, Hannah Noonan was honoured with a GAA World Games All-Star.
Earlier in the day, Tara Camogie Club fittingly took part in the Camogie Cup decider for Irish natives, but lost on a 5-17 to 1-8 score-line to a very strong Australasia side.
Fiona Morrissey scored 1-5 in the final, with one point each from Claire Ryan, Joanne Hamilton and Sarah McNicholl.
The Britain native team also reached the first of the days finals at Croke Park on Friday, but unfortunately failed to come home with silverware.
In a tight encounter, the only goal of the game, came in the final minute as North America registered a 1-4 to 0-4 victory.
The sides were tied at 0-3 apiece at half-time, with Rebecca Cunningham from Erin go Bragh firing two first half points, and Green Isle's Lucy Pawley also on target.
Cunningham added to the Britain native tally on the restart, but New York finished strongly.
Rebecca Cunningham (Britain) and Sarah McNicholl (Tara) were rewarded for their efforts, with GAA World Games All-Stars.
Elsewhere, on Thursday at UCD, In Mens football, Tir Chonaill Gaels claimed plate honours in the Mens Football (Irish Native) competition, with a 3-9 to 1-4 win over Middle East 2 in the final.
The side contained a number of English born players, including Rory Jennings, Ciaran Clarke and Paddy O'Connor, who each netted a goal; and winning captain Liam Gavaghan.
Croydon lost the Camogie Shield Final to New York by the minimum margin on a 4-3 to 3-5.
Thomas McCurtins and Father Murphy's were also involved in the competition, with McCurtains losing to Toronto in the semi-final.
Fr Murphy's were also involved in ladies football, reaching the semi-finals of the plate competition, before losing to Asia by 7-9 to 1-2.
WINNING SQUADS

PARNELLS LADIES - GAA WORLD GAMES CHAMPIONS: Niamh Murphy, Sinead McCooey, Helen Hughes, Helen Murphy, Helen Stephens, Shauna Henry, Therese Marren, Renee Murphy, Lauren Murphy, Marie King, Hannah Noonan, Polly Marmion, Sarah Quinn.

TIR CHONAILL GAELS: Eoin Higgins, Rory Jennings, Paddy O'Connor, Marty McCoy, Killian Butler, Philip Butler, Liam Gavaghan, Anthony McDermott, Ronan Breen, Ryan Kearney, Kieron Clarke, Gerry Geraghty.