IT MAY be a global production in an Anglo-Welsh setting with a cast drawn from every continent of the world but this eighth staging of the Rugby World Cup has the potential to have a peculiarly Irish feel to it.
Needless to say, this is also the kind of prediction that should come with an asterisk attached considering Ireland's history of failure in the competition. And yet despite the shortcomings of their predecessors, there is genuine hope that if Joe Schmidt's squad can navigate a way past the ghosts of their past then they could travel deep in this tournament.
Of greater certainty is the fact they will do so in the company of at least 30,000 of their countrymen, many of whom are already living in Britain, the rest of whom are preparing for the gentlest invasion of a foreign land since Jackie's Army conquered Italy in 1990.
Since then the emotional identification with the country's football team has faded dramatically, a void Schmidt's side have successfully filled, not just on the back of their dramatic capture of successive Six Nations championships but also because of other, more personable factors. "They carry themselves well, those players," said Denis Hickie, a veteran of three World Cups and 62 Irish caps. "They have a humility about them that resonates with people."
Results, however, have unquestionably had a deeper impact. Fourteen victories from sixteen internationals since February 2014  have seen them steadily climb to second in the world rankings, their progress coinciding with the arrival of Schmidt as national team coach.
"It has been impossible not to admire their capacity to grind out the wins," wrote Stuart Barnes in his Times column earlier this year. "It is also impossible to fall in love with the brutal functionality of it all. Ireland signed a head coach whose teams played like poets, and now Ireland perform like a nation of number-crunchers.
"Has Schmidt undergone a Damascene conversion and seen some sort of light that has blinded him to his former brilliant attacking ways? I would suggest not. Rather, the smoothness with which his side have radically downgraded their game from the poetic passing and offloading of the Leinster team he led so effectively, marks a man at the very peak of his career."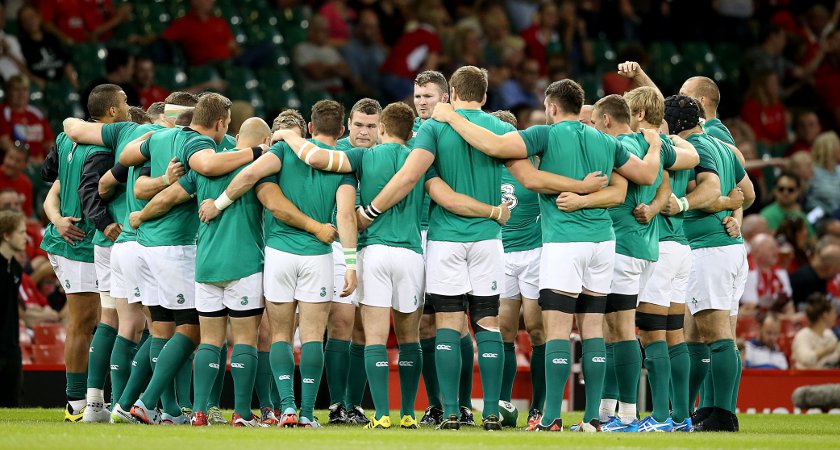 Schmidt's peak coincides with Paul O'Connell's farewell, and showstopper to the last, the big man has no intention of walking off the stage quietly. "We have confidence in ourselves," he said, "a self-belief that stems from our results."
With Saturday's win over Scotland following last week's thrashing of Wales, Ireland are cruising right now. Their Group D opponents have every right to worry. After all, Ireland's recent results against their forthcoming World Cup opponents have been impressive; two straight wins against the Italians and French, a 40-14 victory over Canada in 2013, a 31-10 win over Romania by the Emerging Ireland side in Bucharest last year.
A continuation of that form would see Ireland top their group and secure a date with Argentina in the quarter-finals. Hickie, however, delivered a note of caution. "Few people doubt that we are good enough to beat Canada, Romania and probably Italy too.
"So the French game will probably be the decisive one. And it will be extremely difficult because France, when they get to World Cups, tend to improve dramatically. Look at their history. They have reached three World Cup finals while we haven't even been to a semi-final.
"The fact that (Philippe) Saint-Andre will finally have access to his own players - much more so than he has during the Six Nations – will certainly work in their favour as well. Still and all, you'd have to be optimistic. It's rare that you can say a manager's record speaks for itself. But Joe's does. Six trophies from five seasons since he came to Ireland."
Those are excellent credentials but expecting another addition to his CV in October is a little fanciful, although a trip to the semi-finals, a place no Irish team has ever visited before, most certainly is not.