LANCASHIRE welcome Kerry to their home turf of Old Bedians in Manchester on Saturday, but here is where the welcome ends.
Lancashire are out to win an All-Ireland, they won't afford Kerry too much respect when they cross the white line. They know they have a great chance to capture an All-Ireland Junior Inter-County Championship; it would be an astonishing achievement.
In manager Liam Coyne, they have the right man for the job. Has any club player won their respective under 14, under 16, minor and senior provincial then went on to manage the inter-county team to provincial success? Drop me a line if you know any player who has, for that takes some beating. Coyne has achieved this incredible feat; all before the age of 30.
Coyne provides great leadership from the sideline, so how have the team fared on the field?
Over the course of Lancashire's run to All-Britain glory, they have won three games and drawn one. In their opening game they had a facile win over Yorkshire, whilst in the second round they only beat Warwickshire by a point having survived with 13 men for much of the game.
The semi-final game with Scotland was a topsy-turvy affair with Lancashire lucky to come away from Glasgow with a draw. Subsequently Scotland did not travel for the replay.
Lancashire were up against London in the final. After a terrible performance in the first-half from the Saffrons; they managed to turn things around to win by a point in an incredible comeback.
Over the course of Lancashire's run, they have used 30 players from four different clubs. Incidentally, all the clubs were Senior within the county. Only three players managed to play in all four games, which shows the unpredictability of inter-county football in Britain.
Those players are Paraic McGuirk and Oisins pair Mick Comney and Ciaran Harper. The latter is team captain and top scorer; he has weighed in with 1-19. Michael Molloy, who has only played two games in this campaign, has bagged 1-13.
Lancashire have blown hot and cold during the drive for the Sam Maguire. They were truly awful in the second-half of the game against Scotland, while the opening half of their final victory over London was a shambles.
When they turn it on, they can be sparkling. The second-half of the London game was inspired, it was a huge team effort. Leading this effort has been their ace-marksmen, Ciaran Harper and Michael Molloy.
Both players are physically strong and can take a point from anywhere on the pitch. Stephen Sands in midfield is a terrific fielder of the ball and can put the ball over the bar while in defence, Paraic McGuirk leads from centre-half back.
There are often unsung heroes in many teams and Lancashire is of no exception. Gary Morris and Craig Owen would fall into this category. The wing-backs just love their football and would go through a brick wall for this team, and with McGuirk in the middle they form a formidable half-back line.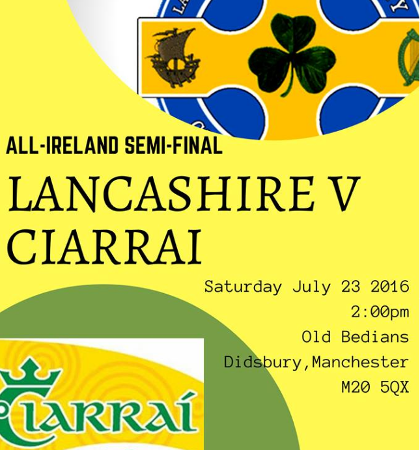 It's difficult to gauge how good this Kerry team is having not seen them play. One thing is certain though; they will play the Kerry way. No hand-passing and long ball.
John Mitchels representing Britain last year came up against Templenoe and even in the dire conditions of Pairc na hEireann on a dreary Sunday; they still kept to tradition and the ball was played long to devastating effect.
It will be interesting to see how Lancashire set up come Saturday. If they try and contain Kerry, it is something that they have not been used to on this campaign and this might unsettle them.
On the other hand, if they play the same way they have been doing they might be opened up quite easily; just like in the first-half against London. Lancashire's best hope of victory will come down to two key points.
First, they must have the strongest possible panel available and secondly, they must show the same desire they showed when wiping London off the park in the second-half of the All-Britain Final.
There was a real togetherness shown by Lancashire which is generally not associated with the inter-county scene in Britain. They must resurrect this comradeship come Saturday to succeed.