CORNWALL eh? It conjures up so many images — British, yet Celtic and rugged, with a snarling coastline and surfing beach culture you'd probably expect in Australia or California.
The postcard-grade villages, however, are pure Cornwall. Perched on unfeasibly steep cliffs, the citizens of these places thoughtfully provide cosy pubs and teahouses in which to recover from your strenuous climb up from the harbour.
The fishing day boats and lobstermen are still busy, and most villages and towns have at least one — sometimes several — cafes and restaurants where they really know how to cook cod, bream, sea bass and haddock.
Inland, along narrow laneways lined with ancient hedgerows and windswept trees, is every bit as dramatic. Dartmoor and Bodmin Moor provide, not just the scenes for writers such as Conan Doyle and Daphne du Maurier, but endless hiking and pony-trekking trails.
The better to survey Cornwall's many charms I based myself at the St Moritz Hotel in Trebetherick, overlooking the Camel Estuary — which flows into Padstow Bay on Cornwall's north coast.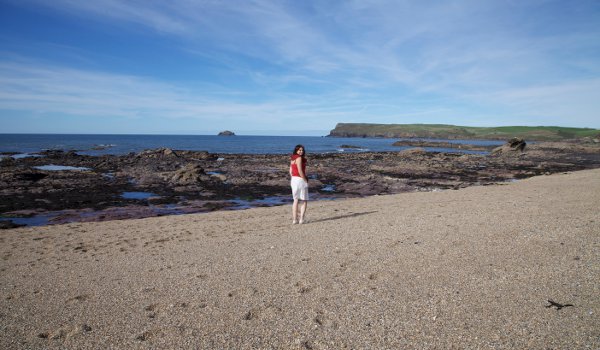 Now, I use the word 'hotel', but in fact the St Moritz is a mini-resort, and pretty much a destination itself. Dominating the headland at Trebetherick — between the towns of Rock and Polzeath — the St Moritz, despite its rugged position, gives off an air of art-deco cool.
But there's a predictable, but nonetheless pleasing, profligacy of nautical stuff: lots of ocean liner glass and brass, portholes and gunwales, decks and terraces — from where you can sweep the horizon, shiver your timbers (whatever that is) and gaze out across the Camel Estuary to the Atlantic Ocean.
The rooms are no less impressive with oak floors, marine décor which borders on Scandi at times, with pale hardwood furnishings (birch, perhaps?) and curtains and upholstery in shades of sand, aqua, black and pale blue. The lighting is more contemporary than sea-going — but then you need to be able to see the luxurious fabrics (silky velvety throws and fine linens) in the optimum conditions.
In short, it's the sort of place that you almost wish a gale will blow up and you won't need to venture out at all. Further, the St Moritz has all the amenities any self-respecting boutique should have — and then some more. The hotel's rooms and suites are stylish and contemporary, and the views unsurpassable.
There's a spa called, somewhat contrarily, The Cowshed — when surely the Camelshed would have been an obvious choice. But it delivers everything spa-related that you could possibly want — nine treatment rooms, pool, sauna, steamroom, jacuzzi and gym.
An outdoor swimming pool with sun-loungers and hammocks awaits sunny weather. And if the sun proves a little recalcitrant — as it sometimes does in these parts — you can amuse yourself with free wifi throughout the hotel; and in your room flatscreen TV, iPod dock, DVD players and board games.
The St Moritz restaurant on the first floor offers plenty of locally-sourced fish served with imaginative twists — the head chef certainly knows his oignons, and probably plenty of other French words too.
You might care to try half a dozen Porthilly oysters served on ice, shallot vinaigrette, lemon, or halibut, crab bisque, saffron potatoes, mussels, braised fennel. Needless to say, all the fish is locally sourced.
The fish and chips I had in the brasserie were probably amongst the finest I've ever had. Now, as something of a connoisseur of fish and chips, I have to tell you that this is a dish that should be noisy. The chips should be crisp, and the batter even more so. If the batter has been made properly, and the temperature of the oil correct, then the fish is poached, not fried.
The batter forms a seal round the cod (at the St Moritz it's cod or haddock) and the resultant dish is crispy on the outside with soft, white, flaky fish on the inside. It makes me hungry again just thinking about it.
To relax before or after dinner there's an arty-looking bar upstairs, perfect for cocktails and getting up to no good.
But of course, you don't come to a hotel like this to laze about quaffing cocktails and getting up to all sorts. You come for bracing walks on the cliff top, or stroll along Greenaway beach, which seems to go on forever, where the sea is big and angry, and the air tastes of salt.
Actually, it doesn't go on forever. It only goes as far as Padstow. But that's a fine excursion, and will involve you in taking the Black Tor ferry across the Camel Estuary. En route along the beach you'll pass shallow inlets, rock pools, sandy alleys, cave-riddled rocks and expanses of sand that wouldn't disgrace the Gobi Desert.
Check your kit before you head along — you'll need bucket and spade, picnic, windbreak, probably a kite, maybe a Frisbee. Oh and a pair of binoculars might come in handy.
Of course you may want to venture into Padstow itself. Its attractions are many. This is a world fish and chip superpower, as well as having more than its fair share of top dining opportunities, such as Rick Stein's Seafood Restaurant (01841 532700, www.rickstein.com)
This is also where you can rent out boats, yachts, and gear for paddle-boarding, that strange activity where you look as if you're walking on water, but in reality you're standing up on what looks like a surf-board. It is, in effect, a cross between punting and surfing.
In the unlikely event you've had enough of sea, surf and sand, the open spaces of Bodmin Moor are less than 10 miles away.
If you're unlucky enough to be in Cornwall when the sun is splitting the skies, you'll have no excuse but to head for the Moor's many walking and hiking trails. First farmed over 4,000 years ago by Bronze Age settlers Bodmin Moor is one of the last great-unspoilt areas in the south west of Britain.
The Moor is dominated by dramatic granite tors, or rocky outcrops, which tower over the sweeping expanses of open moorland. As well as marshes, bogs and rocky expanses, there are valleys with enchanting oak forests, alive with wildlife. It's not hard to see why and how this dramatic landscape has inspired painters, writers, poets and sculptors.
It has generated folklore and legend, and is studded with archeological remnants from Neolithic times right through to the mediaeval era.
If natural history is to your liking, the Eden Project lies just to the south of Bodmin.
With its giant greenhouses, or biomes, Eden has established itself as one of Britain's top 10 tourist attractions Tim Smit's ecological vision has resulted in a unique experience; just wandering down the outdoor terraces is an education, while the bubble-like indoor biomes transport you to some of the most exotic landscapes in the world; the most dramatic is the Humid Tropics, with its hot, damp air, rushing waterfalls and unidentified chirrupings.
Cornwall has a lot going for it — indoors and outdoors. It's the sort of place where you can work up a healthy appetite through a whole host of activities; and fortunately there are myriad establishments to satisfy those appetites.
The weather can be unpredictable (that's the kindest way to describe it) but on the other hand it can be dramatic, if not downright scary. And of course getting there is relatively straightforward — train, car or plane. I'm already planning a mid-March break.