THIS year London will go green for St Patrick's Day.
World-famous Irish dancing phenomenon Riverdance will headline the Mayor of London's St Patrick's Day festivities with an unmissable performance in Trafalgar Square six months ahead of their 20th anniversary tour.
On Sunday 16 March, Trafalgar Square will become a hub of festivity and Irish culture.
The parade itself will showcase London's Irish sports clubs, dance schools, marching bands, community organisations, professional pageantry and feature a five metre tall firebird breathing a fountain of sparks and a 10metre tall St Patrick.
I urge Londoners and tourists alike to join in the biggest St Patrick's Day festival outside of the Emerald Isle itself. What better way to celebrate the contribution generations of Irish have made to our capital than with a day of singing, dancing, feasting and general merriment.
Mayor of London,
Boris Johnson
On the main stage at Trafalgar Square the line-up of Irish entertainment includes performances by stars of the hit West End musical The Commitments and folk group Kíla.
There will be plenty of laughs in the London Irish Comedy Festival Marquee where Ireland's best comedians including the  award winning Aisling Bea, Jarlath Regan and Roisin Conaty will be performing.
There is a true Irish feast to be enjoyed at the Irish Food Market with delicious fare from Burren Smokehouse Salmon and Clonakilty Black Pudding, to Broderick's cakes and Irish farmhouse cheeses.
Film buffs should check out the St Patrick's Day Film Festival at The Prince Charles Cinema near Leicester Square, showing Irish films including the multi award-winning short film The Missing Scarf and Oscar winning black comedy Six Shooter.
A new addition to this year's line-up is the St Patrick's Day Ballroom Dance at Westminster Cathedral Hall. The festival is free, open to all and runs from 2 - 6pm.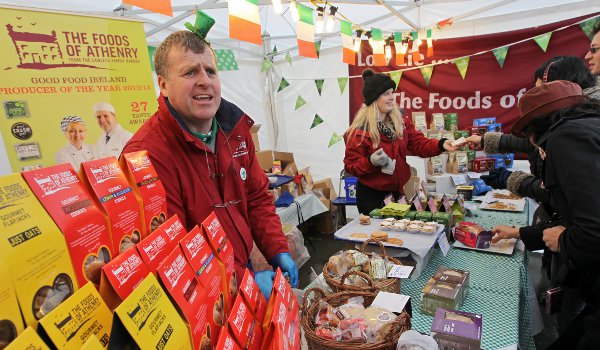 Irish Food market - Trafalgar Square, Sunday 16 March, 12-6pm
St Patrick's Day was traditionally a day of feasting and this year the Irish Food Market in Trafalgar Square promises to attract hungry festival goers with an array of Ireland's best home-grown produce to tuck in to.
Sample Aryzta Breads, Broderick's Biscuits, Burren Smokehouse Smoked Salmon, Clonakilty Black Pudding Company, Glenilen Farm Dairy produce, Irish Cheeses, sweets from the Jelly Bean Factory, Kooky Dough Cookies and muffins, Mella's Fudge and The Foods of Athenry gluten free biscuits, cakes and cereals.