"I THINK we were oppressed for so long that we just had to see the funny side of things!
"If we had been dour we would have been a very depressed nation. We've a great sense of humour for that reason and also, Irish people are naturally funny. That's why we have produced so many great playwrights over the decades."
He is the grandfather of Irish comedy these days and from his base in the United States Brendan Grace is gearing up for his new tour of Ireland and Britain and he can't wait to start it.
The proud Dubliner still loves his comedy and the buzz he gets from putting a smile on people's faces.
From legendary characters like 'Bottler' to his portrayal of a jungle music-loving priest in Father Ted in the 1990s, Grace has been making us all laugh for a very long time. And he has no intention of stopping any time soon.
"I've been in showbusiness for 44 years now, can you believe that?" he told me from his Florida home last week.
"I can't believe it is 44 years and I've been married to Eileen for 40 years. It's a life's ambition and a dream come true. Forty years ago I invented a schoolboy character called 'Bottler'. Irish people living in the UK would have been brought up on that kind of humour.
"I got the idea about 10 years ago that 'Bottler' should be a cartoon character. I eventually got someone to listen to me and he is going to be, so this is the culmination of many years of hard work.
"Now 'Bottler' will never look his real age in the cartoon and he will probably go on for a long time after I'm gone. It's nice to know that there is something to go on with, when I go to the man above. It makes me feel great."
Grace, 62, has a new DVD out for Christmas featuring all of his best-loved characters and it is sure to find its way into many a stocking this festive season.
"I got the inspiration for the characters from real life people I knew, but 'Bottler' was based on myself and the stories were based on yarns I had heard over the years.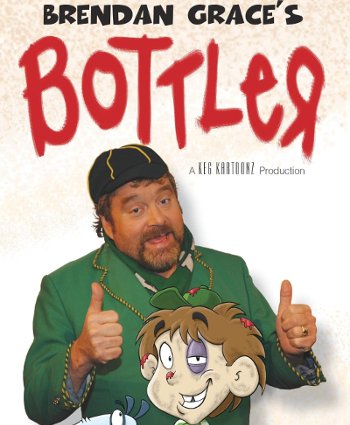 "Fr Fintan Stack, now he was based on a teacher I had at school. The father of the bride? He was based on my own father.
"I just observed life around me and when you do that you see humour everywhere. Irish people are very funny people. And I absolutely love that about the way we are."
Right now Grace is counting down the days until he hops on-board a flight to Dublin and gets his new tour under way. All the preparation has been done and he's relishing the opportunity to get on stage and make people laugh, on both sides of the Irish Sea.
He added: "The Christmas plan is to spend it in America and then travel home to Ireland on December 26 and start my Irish tour. I'm also doing a small number of dates in the UK. I'll be performing in London, Birmingham, Manchester, Leeds and Glasgow and I can't wait.
"I'm absolutely delighted to be coming to the UK because people are always asking me 'when are you going to come over and tour?' I wasn't that sure if I was that well known in England, but the Irish community is certainly tuned into the comedy scene, that much I know.
"I will also have a lovely band with me in the UK, they're all former showband stars. Frankie McDonald was with the late great Joe Dolan for 39 years. I'm delighted to have him tour with us, everybody is really going to enjoy this show, I'm sure of it."
By his side, as ever, will be his wife Eileen. Just think of the laugh-a-minute car journeys the two of them will share as they make their way across Ireland and Britain!
Grace continued: "Well I'm all set for the year ahead, I know that much too. Eileen is ready to drive me around Ireland. She has been my wife for 40 years and she has finally got herself a job!
"I first met Eileen in Co. Wexford, I love it down there. My mother's family were from Wexford too, they were Meylers. It's a great county, I particularly love Rosslare Strand."
Home for two decades, however, has been the USA and the Grace family are very much settled now across the Atlantic.
"Life over here is wonderful. I have been here for 20 years, even though I spend a lot of my time commuting back and forwards to Ireland. America has been very good to me.
"I now have three of my four children over here with me and all two of my grandchildren are here in the States. I'm pretty well at home here.
"I'm based in Florida, but I move around a lot, between New York and Boston and Ireland. I do a fair bit of charity work as well, which keeps me busy and I love that."
Fellow Irish comedian Brendan O'Connor is often to be found on the fairways of Florida, but Grace is adamant that 18 holes of golf is not top of his list of things to do.
"I don't play golf, I'm absolutely ashamed to say it. I'm surrounded by golf clubs but I don't play. I swim a great deal, but golf? Nah! Honestly, could you imagine me on a golf course? Something would surely go wrong somewhere!"
Brendan Grace tours Britain in March 2014. For full list of dates see www.brendangrace.com