DES BISHOP is in Dublin, but he's on his way to Cork. He's originally from New York, but has lived in Ireland since he was 14.
Two years ago he moved to China but he's back in Dublin now, although he's considering moving back to the States soon.
Before that he'll be on tour in London and New Zealand. But back to China…
What prompted the move to Beijing, where he barely knew another soul and couldn't speak a word of the (notoriously difficult to learn) language? 
It's a long story, says Bishop, but he's happy to give me the quick version. 
As a kid he loved Kung Fu movies. In his early twenties he took the martial art up in Ireland and became "immersed in King Fu and hanging out with his Chinese 'master'".
Then, during the filming of his Des Bishop Work Experience series for RTÉ in 2003, he worked at infamous fast food chain Abrakebabra. While shovelling chips and learning the art of kebab-making he worked with and befriended a group of young Chinese guys. 
"I really got sucked back into being obsessed with China," he says, so much so that after bonding with his colleagues he paid them a visit in Beijing when they returned home for holidays in the summer of 2004. 
"I was blown away by how different China was to what I expected," says Bishop, who has lost none of his NYC drawl. 
By the time 2008 rolled around, and interest in China was heightened due to the Beijing Olympics, he hatched a plan to move there, learn the language and set himself the ambitious challenge of performing a one-man stand-up show in Mandarin for a Chinese audience within a year. 
Bishop has form with this type of immersive comedy. He previously gave the Irish language the same feet-first treatment relocating to the Gaeltacht and learning to speak as Gaeilge, making fun of the Modh Coinníollach along the way.
The result was the RTÉ documentary In The Name of The Fada, which aired in 2008. 
From that experience, Bishop knew he had a clever mechanism to tell a story on his hands, and one with guaranteed scope for laughs. Learning the language gave him a unique insight and access into a people, a place and its culture. 
While some gaelgeoirs weren't too impressed with his poking fun at their beloved language, the show and the media buzz around it him made him a household name in Ireland. If that was the effect in a country with a population of 4.5 million, you can imagine the cogs tuning in his head… what if he could do the same thing in China, home to over one billion people?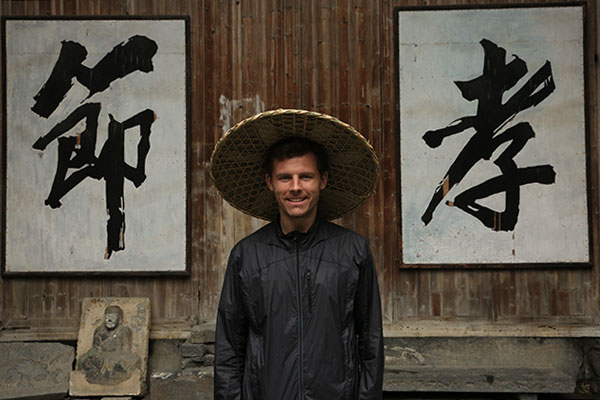 "I figured it was a good recipe for a TV show," says Bishop, so he pitched the idea to RTÉ. It took him five years to get the money but he's happy with the result. 
Breaking China had a season average (over six episodes) of 220,950 viewers per episode when it aired on RTÉ recently. That's a decent figure, but a lower one than Bishop's previous show Under the Influence, which dealt with the Irish and their attitude to drink — it attracted 287,825 viewers per show over four episodes.
Bishop says he wasn't just chasing ratings in Ireland though. He wanted to tell a modern story of China to the West.
The West's version of China is "pretty narrow", he explains. He says while the message that their "economy is booming and the government's terrible" is often heard, you "don't learn a hell of a lot about the people…we tend to focus on the differences, not the similarities."
"It's a pretty big part of the planet so it's not a bad thing to know… every time you go for Chinese, every time you see a stupid tattoo… China is so much part of our culture." 
But what stops making a comedy show about another nation's language from crossing into ridicule, or casual racism? It's down to the time he spent there, he counters.
While many other western comedians have been known to roll in, stay for a week and make borderline jokes, Bishop uprooted, lived with a Chinese family for over a year and learned their language. "They make jokes and the ex-pats laugh, but are probably offensive to the Chinese," he says.
In his early days in Ireland Bishop was seen as a foreigner.
"I had to navigate my way around it… how do I make fun of Irish people without them thinking 'this guy is mocking us?' Because I clearly wasn't… you find a way to frame the jokes so people see themselves in it… it's a bit of trial and error." 
There is, he confesses, a little bit of mockery, but that's stand-up comedy. "There are targets and I think everyone's OK with that. They enter the stand-up arena knowing this isn't going to be children's entertainment, this isn't going to be the UN, it's not the ultimate in cross-cultural diplomacy."
Years have now passed since Bishop first set foot in China so he can't remember the culture shock he felt first clearly, but he recalls "vividly" the culture shock of arriving in Ireland in the 1990s as a teenager. 
In a storyline that sounds like the premise for The Fresh Price of Bel Air, Bishop's parents sent him from his working-class neighbourhood, Flushing Queens, to Ireland aged 14.
He had "developed an unhealthy relationship with alcohol" and his parents thought a change of scene would do him good. It seems they were right — at the age of 19 Bishop ditched the drink altogether and hasn't touched it since. He boarded at St Peter's College in Wexford, before studying History in UCC. 
"I went from a completely urban life to a rural boarding school. I ended up in a conservative Ireland, I had a very different upbringing to the guys I was in school with, it was much colder in my mind… people were much more religious. I mean, my mother was Catholic but people were a lot more… Caaaatholic," he says laughing a little. 
He adjusted with time and Ireland became home from home. Irish people are the people he's "most comfortable with", he says, and when he's away he misses his friends and "the craic". But becoming famous in a fish bowl hasn't been without it stresses either. 
"I'm well known in Ireland, and with that comes the stress of being recognised everywhere," he explains. "That's what's been pushing me to New York." He doesn't want to sound ungrateful, he's famous in Ireland, but unknown in his real home. "I love all the benefits that come from profile and I'm not ungrateful for everything it's done but it's a lot of stress. 
"Everytime you walk into a restaurant you think maybe people are looking at you. They may not even be," he says, checking that he doesn't sound like an ego maniac, before continuing, "but regardless fame makes you conditioned to be paranoid. You spend your time walking a little faster than you normally would, trying to find a table that isn't in the middle, and at night when people are drunk you are extra worried because you think if someone sees me it could be an incident…" 
Basically, he's learned that there's a lot to say for anonymity. 
Now 39, Bishop is still single, something his Chinese friends found pretty startling. He went on two dating shows in China, one was "a sort of Chinese Take Me Out." As well as being TV gold, it was fun and he got a date and a trip to Greece with a girl out of it. Things with the girl "didn't work out" but Bishop isn't bothered by the thought of being single at 40. 
"The only thing that gets in my mind about that is I didn't want to be like my dad and start having kids late," he says, "because he was old and we were still in college so I didn't want to repeat that but lo and behold! I'm actually going to be later than him. That date officially past about three months ago… I was engaged before, it's not like I've been completely disengaged from the process of trying to get married, I certainly had hoped that I would have a kid by now but not being married — I couldn't care less…"
His immediate plans involve a short tour of his Made in China show in London's Soho Theatre, then New Zealand, then New York. 
He wants to be closer to his family, and says while he'll still be "bouncing back and forth" to Ireland, he wants New York to be his base while he comes up with his next big idea. 
Bishop has that odd set of circumstances of being too American to be thought of as fully Irish in Ireland where he's spent most of his adult life, and yet he feels a tourist in his own country too. The New York of his youth has changed, it's middle class, more "exclusive", it's lost its edge.
But he'll be back in his old neighbourhood of Flushing Queens, which coincidence or not, is now a bigger Chinese hub than Chinatown, so speaking Mandarin will come in handy. And as he says "the only people who know me in America are Irish people on holiday" so he's guaranteed the anonymity he craves. 
Des Bishop: Made In China,  Tue 31 Mar - Sat 11 Apr, 7.30pm, Soho Theatre