The Irish-Liverpudlian country singer is known for being a big hit with the ladies.
Nathan Carter has opened up in the past about the attention he receives from women, both young and old.
In the past, Fermanagh native Carter revealed the weirdest piece of fan mail he ever received was a pair of boxers with a woman's name emblazoned on the front.
He spoke to The Mirror about the excitement of fans at gigs becoming so intense, they throw personal belongings at the stage when he performs: "I get cakes, knickers and bras thrown up at gigs... I got a pair of boxers sent to me with a woman's names on them, which I thought was pretty unusual."
Despite fans not knowing where Nathan lives nor his address available as obtainable information, the young crooner said he's surprised at the postal service: "I get mail all the time addressed to Nathan Carter, Enniskillen, Co Fermanagh and it just gets to me."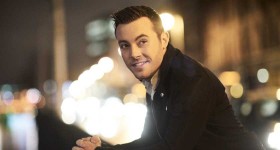 The young heartthrob is surely set to get letters of a different kind following an Instagram photo of him getting friendly with one blonde female.
The singer is currently on holiday in the States and while out exploring, no doubt ran into some fanciful females.
The picture of Nathan, captioned "Fort Lauderdale is going well 😂🙌" has set the internet alight, with women upset at thoughts of the singer settling down.
Comments from outraged people included "Who.is.that" and "Nathan please tell us the truth please is that your new girlfriend Yes or no".
Nathan has neither confirmed nor denied that the woman is his girlfriend.