ARE you looking for a last minute stocking filler, or after a good read to take you through the festive holidays? Whether you're into facts, fiction, history or romance, here are the best books by Irish authors, or those with an Irish theme, available this Christmas…
My Father's Wake: How the Irish teach us to live, love and die, by Kevin Toolis
Weidenfeld & Nicholson. £16.99 (HB) £8.99 (ebook)
My Father's Wake is an intimate, lyrical memoir exploring the ancient rite of the Irish wake, and the Irish way of overcoming our fear of death.
For twenty years writer and filmmaker Kevin Toolis hunted death in famine, war and plague across the world before finding the answer to his quest on the island of his forebears. In this beautifully written and highly original memoir, he gives an intimate, eye-witness account of the death and wake of his father, and explores the wider history of the Irish wake. With an uplifting, positive message at its heart, My Father's Wake celebrates the spiritual depth of the Irish wake and shows how we too can find a better way to deal with our mortality, by living and loving in the acceptance of death.
Struggle or Starve: Working Class Unity in Belfast's 1932 Outdoor Relief Riots, by Seán Mitchell
Haymarket Books. £14.99
In October 1932, the streets of Belfast were gripped by vicious and widespread rioting that lasted the best part of a week. Thousands of unarmed demonstrators fought extended pitched battles against heavily-armed police. Unemployed workers and, indeed, whole working-class communities, dug trenches and built barricades to hold off the police assault.  The event became known as the Outdoor Relief Riot, one of a very few instances in which class sympathy managed to trump sectarian loyalties in a city famous for its divisions. Belfast based author and activist Seán Mitchell tells that story.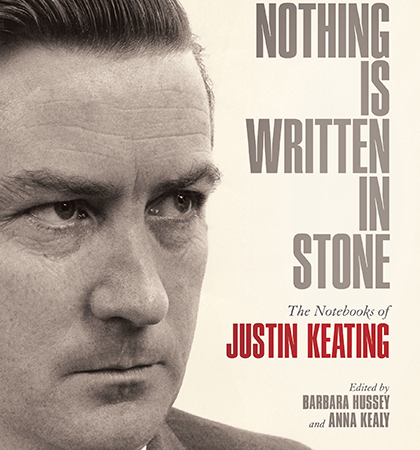 Nothing is Written in Stone: The Notebooks of Justin Keating edited by Barbara Hussey and Anna Kealy
The Lilliput Press. £18
Justin Keating, son of the artist Sean Keating, was a Labour Party politician, academic, journalist, veterinary surgeon, television pioneer and award-winning documentary maker.
Edited posthumously by his wife Barbara hussy, his notebooks offer an in-depth account of the interests, musings and opinions of one of Ireland's most wide-ranging intellectuals, whether writing about Noël Browne, Sean McBride, Garret FitzGerald, Charles Haughey, Conor Cruise-O'Brien and their era, or mapping his journey from the Marxism of his youth towards ardently felt, Green-leaning social democracy. This absorbing book chronicles the personal and political odyssey of a man who did so much to shape twenty-first century Ireland.
How We Killed God…and other examples of Modern Ireland, by David Quinn
Currach Press. €16.99
IN his debut book, Sunday Times columnist David Quinn looks back at almost 25 years of tumultuous social change in Ireland. He examines the ongoing debates that rage over marriage and the right to life. He analyses the clerical sex abuse scandals, the controversies over the Magdalene laundries, the Tuam mother and baby home and the closing of the Irish embassy to the Holy See. He looks at Church/State relations and the pontificates of Popes John Paul II, Benedict XVI and Francis, among many other things.
Quinn's thesis is that the last quarter century has amounted to a concerted effort on the part of many people in Irish society, but especially its leaders, to push God to the margins of public and private life, to effectively try and 'kill' him.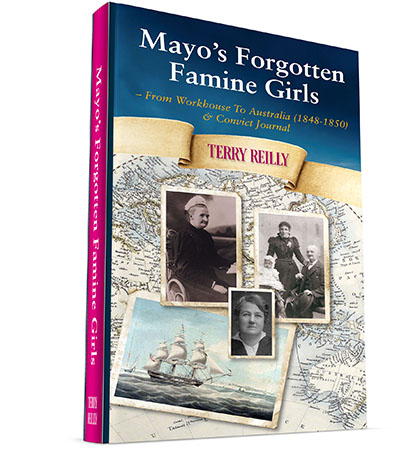 Mayo's Forgotten Famine Girls – From Workhouse to Australia (1848-1850), by Terry Reilly
Yew Plain Publishing. €19.99
Ballina author Terry Reilly's latest book - Mayo's Forgotten Famine Girls - delves into the horrors of the Irish Famine and its fallout. The dead lay in ditches, claimed by starvation, workhouses were filled to overflowing, coffin ships bound for Canada and America sank or, in the case of the Elizabeth and Jane out of Killala, were 'horrible and disgusting beyond the power of language to describe.'
Between 1848 and 1850, as the after-shock of the Irish famine continued to rumble across the landscape, over 4,000 Irish orphan girls, aged mainly 14 to 18, were sent from over-crowded disease-ridden workhouses to Australia. Over 600 were from the province of Connacht in the west of Ireland, and of those 137 were from Mayo. This book tells their stories.
Socks for Mr Wolf – A Woolly Adventure Around Ireland, by Tatyana Feeney.
O'Brien Press. £12.99
This entertaining children's' book tells the tale of Mr Wolf – who loves to dance, and look good, but most of all loves his beautiful socks.
Author Tatyana Feeney grew up in North Carolina, where she spent much of her childhood reading and drawing. This developed inot a love of art and particularly illustrations. She now lives in Co. Meath with her husband and two children. She had illustrated several books to date, including Small Bunny's Blue Barkwt, little Owl's Orange Scarf and Small Elephant's Bathtime.
A Wymbsical Journey, by Henry Wymbs
Oxford Folio.£17 (plus £3 postage)

Sligo-born Henry Wymbs is best known as the presenter of the BBC's ever popular Irish Eye radio programme. He has now taken the time to write his life story, A Wymbsical Journey, which is described as a "delightful tale told with heaps of Celtic charm". In it Henry provides a deeply personal account of his life, from humble beginnings in rural Ireland to Oxford police officer, through to BBC radio presenter. To purchase a copy contact Mr Wymbs directly on 07981 391782.
Skintown, by Ciarán McMenamin
Doubleday Press. £12.99
Actor Ciarán McMenamin made his debut in the writing world this year, with the adrenaline-fuelled Skintown. Born in Enniskillen, Co. Fermanagh, McMenamin now lives in London, although his novel is set in Ireland. In it we meet Vinny, whose Saturday night is about to spin entirely out of control.  Skintown charts Vinny's drink and drug-fuelled odyssey through fights, riots, fishing, ecstasy and acid house on that fateful night.
Chips and Sausage: A Guide to Ireland and Her Wonders, by Daniel Zuchowski 
Literary Publishing. £20.99
Written by linguist, language consultant and trainer Daniel Zuchowski, Chips and Sausage is a tribute to the Irish people and to Ireland's rich cultural heritage – but it can also serve as a guide to anyone who would like to learn more about Ireland and the Irish way of life.
A Lost Tribe, by William King
The Liliput Press. €15
In The Lost Tribe, author William King charts the role of the priest in Ireland, from an "exalted position to one of an endangered species". The story is told through the character Mac, a spirited young student who is disillusioned with the inadequacy of his seminary training and is expelled for a tryst. King, who was born in Kilfylnn, Co. Kerry and studied at University College Dublin and Holy Cross College, has published four other novels to date. He is also a parish priest.
Come Here To Me - Volume 2: More Unexplained Dublin Histories, by Donal Fallon, Sam McGrath and Ciarán Murray. New Island. £17.99
Donal Fallon, Sam McGrath and Ciarán Murray, of the hugely popular blog Come Here to Me, have published a second instalment of their book documenting some of the most interesting tales that Dublin city has to offer. Come Here to Me Volume 2 offers fresh new perspective on the lives and the histories of the city – celebrating more unexplored elements of the Irish capital.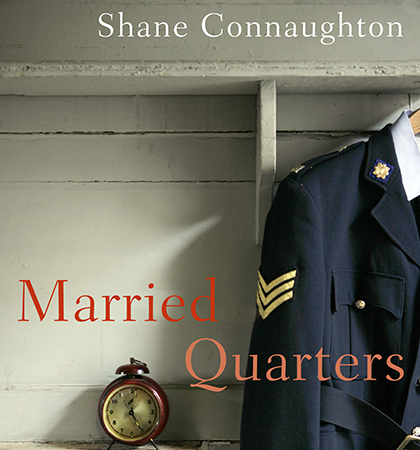 Married Quarters, by Shane Connaughton
Doubleday. £13.99
An insignificant Irish border village at the tail-end of the 1950s. The Sergeant is nervous. His men are lined up for inspection in the day room of the Garda station. Observing them with fascination, all but invisible in his own quiet corner, sits the Sergeant's son. On the cusp of manhood, he is drawn in by these rough and ready men, stuck in this place and time, when all he wants is a chance to leave and start his life anew. Taking up where his acclaimed A Border Station left off, Married Quarters is a funny, beautifully observed and deeply personal novel, which marks the return of Shane Connaughton, the Oscar-nominated screenwriter of My Left Foot.
HANNA SHEEHY SKEFFINGTON, SUFFRAGETTE AND SINN FÉINER, Her Memoirs and Political Writings, by Margaret Ward
UCD Press. £20.
A woman decades – if not a century – before her time, Hanna Sheehy Skeffington was the most significant feminist in 20th century Ireland. She was an activist, writer and polemicist of the highest rank. An advocate of feminism, socialism and republicanism, her writings, which were published worldwide, transcended national boundaries. Author Margaret Ward has trawled through her prolific writings to bring the full extent of her work to the modern reader.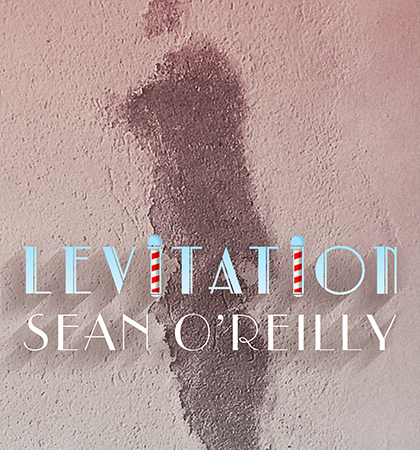 Levitation, by Sean O'Reilly
The Stinging Fly Press €12.95
A new collection of 11 short stories by Sean O'Reilly, which was published this year, has been described as "dark, unsettling and delightfully offbeat" in a recent review.
The reviewer also suggests that readers "persevere" with the title, as while the stories are "occasionally lewd", they are ultimately "richly rewarding".
Sean O'Reilly was born in Derry in 1969. His other books are Curfew and Other Stories (2000), Love and Sleep (2002), The Swing of Things (2004) and Watermark (2005).
Motherfoclóir, by Darach ó Séaghdha
Head of Zeus, £10.99
Darach ó Séaghdha's Motherfoclóir' is a book based on the popular Twitter account @theirishfor.
It takes an irreverent, pun-friendly and contemporary approach to the Irish language. The author includes stories about his own relationship with Irish, and how it fits in with the most important events in his life. This is a book for all lovers of the quirks of language, with a foreword by comedian Dara O'Briain.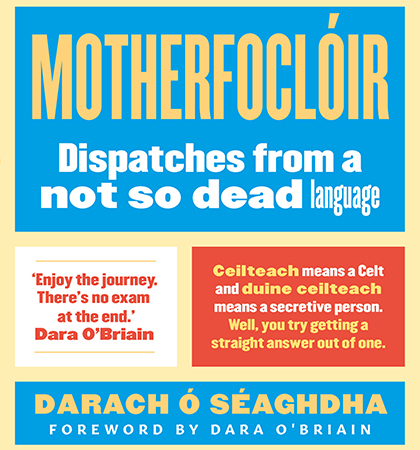 The Trespasser, by Tana French
Hodder & Stoughton. £7.99
Psychological crime novelist Tana French is back with another gritty tale in need of solving. In Dublin finding work on a police murder squad is nothing like Detective Antoinette Conway thought it would be. Can she put up with a strained work environment long enough to solve the case?
The Big Wind, by Beatrice Coogan
Head of Zeus. £8.99
Born in 1905, Beatrice Coogan began her journalism career at the age of 17, writing for the Evening Herald, before mebarking on a career in acting and turning to novel writing in later years. This year she published The Big Wind, a mammoth tale of tempestuous love and courage in Ireland, which al beigns on the the night when a savage storm struck the island in January 1839.
Restless Souls, by Dan Sheehan
W&N Fiction. £12.99
After three years embedded in the Siege of Sarajevo, war correspondent Tom returns to Dublin a haunted shelf o his former self. His childhood friends Karl and Baz know they are laughably unqualified to help him but are determined to see him through the darkness. Together they embark on a journey for an unlikely cure, at an experimental Calofornian clnic called Restless Souls.
The Woodcutter and his Family, by Frank McGuinness
Brandon Press. £12.99
In his new novel, writer and playwright Frank McGuinness reflects on how the intense obsessions of a major literary figure might affect his own life and that of his family, especially his children. In this book McGuinness imagines the last moments of James Joyce, his thoughts and those of his family as he slips away from them.