DOWN a tiny alley in Kilkenny is the unmarked entrance to Cartoon Saloon, Ireland's (twice) Oscar-nominated animation studio.
Inside, over 60 talented animators and cartoonists, directors and producers are working tirelessly to make movie magic.
The team's first Academy-Award nominated movie was released in 2009. On paper, The Secret of Kells doesn't sound like a hit children's animation film (it's about Ireland's ancient Book of Kells, painstakingly created by dedicated medieval monks) but both the original storytelling and the glorious artwork wowed critics and won over audiences young and old the world over.
The 2014 follow-up, Song of the Sea, was another slam-dunk. Actors Brendan Gleeson, Fionnula Flanagan, David Rawle (Moone Boy) and singer Lisa Hannigan all lent their voices and with its release came more award nominations and wins, and rave reviews from both sides of the Atlantic (the LA Times called it a"visually stunning masterwork", while the New York Times said it was "cinematic magic").
Right now, one team of animators are working on completing the latest season of the popular Netflix animated series for kids, Puffin Rock, while another are in pre-production for The Breadwinner — a new animated feature film (to be completed in 2016). The story, about a young girl growing up in Taliban held Afghanistan is based on Deborah Ellis's best-selling book. Oh, and Angelina Jolie is executive producing. Not bad for a side street in Kilkenny.
Inside is Tomm Moore, one of the team of three (Paul Young and Nora Twomey) young gins who met on the steps of Ballyfermot College of Further Education and with a little bit of FAS training money and the loan of a small studio space in Kilkenny set up Cartoon Saloon in 1999. "We thought we'd do this for a while and then get real jobs," says Moore laughing.
"Sometimes I look around in the beer garden in Ryan's or Billy Byrne's and think 'how did I managed to throw out a net and pull all these animators and cartoonists into Kilkenny?'"
The Oscar-nominations changed everything, Moore admits, but it wasn't like "day and night". The first starry-eyed trip to LA for the award ceremony was a buzz. Sitting at a luncheon with Quentin Tarantino on one side and Sandra Bullock at the other, he recalls feeling like people were looking at them and thinking "Who the hell are these kids coming out of nowhere?"
Our film was a €5.5million movie and the next nominated film's budget was €70million, so we were really the underdogs.
They didn't win, but it was "an amazing experience". When they arrived back in Ireland and the buzz died down, Moore jokes that they briefly contemplated melting down some of the awards they won for money.
"It's a slow burner. It's a slow business anyway because projects take so long but it certainly put us on the map and opened doors."
To illustrate what Moore means by "slow business", technical director Mark Slattery later jokes that making an animated film is "like telling a joke and waiting three years to see if anyone laughs."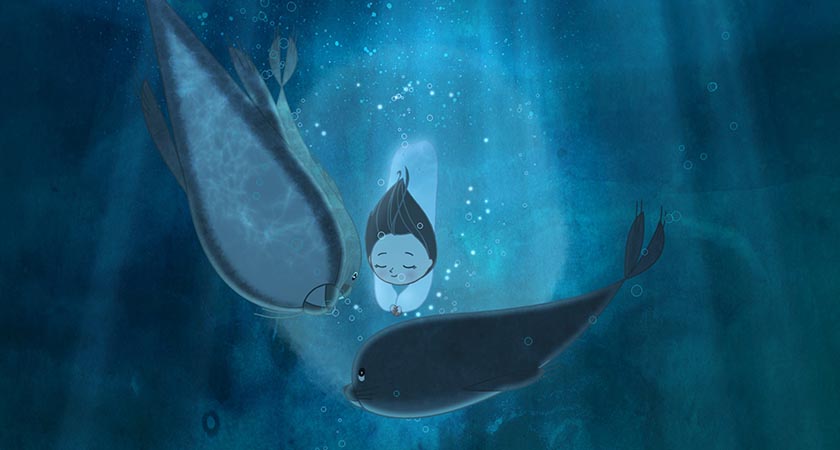 The second time around (Oscar nominated for Best Animated Film for delightful Song of the Sea) they went back to LA less deer-in-the-headlights and we mean business. They spent six weeks in meetings and it paid off, but there is a downside that comes with the nod from the Academy too — the expectation that the next project will do as well.
Moore was born in Kilkenny. He is the nephew of much-loved Irish singer Kieran Goss and says his uncle was the only person in his family who made it seem possible to make a living out of art.
Despite Moore's workload (he's creative director across all Cartoon Saloon's projects as well as director of the new feature film he's working on, Wolfwalkers), he still tries to draw every day. "That's why I got into it," he says talking about the art.
In production you are "up to your neck" and once that's over the travelling begins, then there are talks, film festivals and a heavy promotion schedule but the love of drawing is what it always comes back to.
The Cartoon Saloon style, he says, stands apart from big budget 3D animation movies from Disney or Pixar. Instead he describes their style as coming from "an illustration tradition", with an "organic, handmade, hand-drawn look". 
I think its more timeless, I saw Toy Story 2 the other day and it looks so old, the software has come on so much since then, but if you look at Bambi it still looks timeless.
And when he says hand-drawn he means it. Later Fabian Earlinghauser, Cartoon Saloon's German-born animation director explains the laborious process of creating an animated feature film in greater detail. "It baffles me when people say 'but doesn't the computer do it?' As if you press a button and out comes the final thing. The computer is a tool that helps you to do stuff faster but you still have to put all the work in."
That work involves a team of 60-80 people working round the clock for two years to make one film. To put it in context, only one second of film is done per day. "One person can do one second of film per day max," says Earlinghauser. So after a full week of working flat out you end up with a grand total of five seconds of character animation, so to make a 90-minute feature film, well, you do the math.
Those aren't the only impressive figures. Some animated Disney films cost hundreds of millions (Tangled reportedly cost $260million), whereas Cartoon Saloon's budget is more like €6million. That sum is quickly eaten up if you have a four or five-way co-production with each studio paying 30-40 people working on it the film for a year. "The kit is pretty normal, the main expense is people," affirms Moore.
Moore says he feels the studio is entering maturity now, but there are big plans for the future. More movies, expanding outside TV and film, the possibility of opening new studios outside Ireland — there are numerous "pans of the fire" as he puts it, but he also hopes the studio will maintain its family feeling.
Just before heading back outside, I'm given a quick tour around the pre-production room, where at lunch hour, the screens on dozens of deserted desks glow with photographs, storyboards and initial sketches. They represent the beginning of a long, painstaking labour of love for the people who make them, or 90 minutes of pure joy for those who can just sit back and watch.
Song of the Sea, a film by Tomm Moore, out to own on DVD, Blu-ray & VoD or available on digital HD
Click below to see the beautiful images by Cartoon Saloon