WITH 30 years in the industry under her belt, Sharon Shannon's music has taken her across the world, brought collaborations with many great artists, and has seen her carve a name for herself internationally as one of Ireland's best traditional musicians.
She told The Irish Post how she is marking three decades of making music and why it's a career she's never likely to retire from…
Thirty years of making music is a significant milestone – how did you celebrate?
I decided to mark the 30-year milestone by releasing what was going to be my first album which was recorded in 1989 but was never released at the time. The album was recorded on tape over three days and nights at Winkles Hotel in Kinvara in 1989. My friend John Dunford (who later became my manager) set up a mobile recording studio in the bar at Winkles.
It wasn't intended as a live album with cheering crowds or anything like that.
I didn't have a plan, or any particular sets of tunes prepared, the only idea I really had was to start playing in the same way as a normal session and see what happens. Up until now, only two of those original recordings were ever played publicly. They were included in my debut studio album in 1992. The rest of the stuff never saw the light of day, and the tapes have been sitting on a shelf somewhere gathering dust for the last 30 years.
To be honest, the thought of releasing a very exposed, warts and all recording from 30 years ago terrified me, but fast forward to 2020 and I want to say a huge, huge thank you to my old friend Mike Scott for rooting out these tapes again, listening through about 20 hours of music, picking out the best bits and convincing me that they should be put out as a full album. After quite a bit of coaxing, I finally plucked up the courage to have a listen... and apart from a few cringe-worthy bits and pieces, I was pleasantly surprised.
Overall, I'm absolutely delighted with it and I'm very excited to be finally releasing it after all these years. And what better way to celebrate 30 years of recording and touring?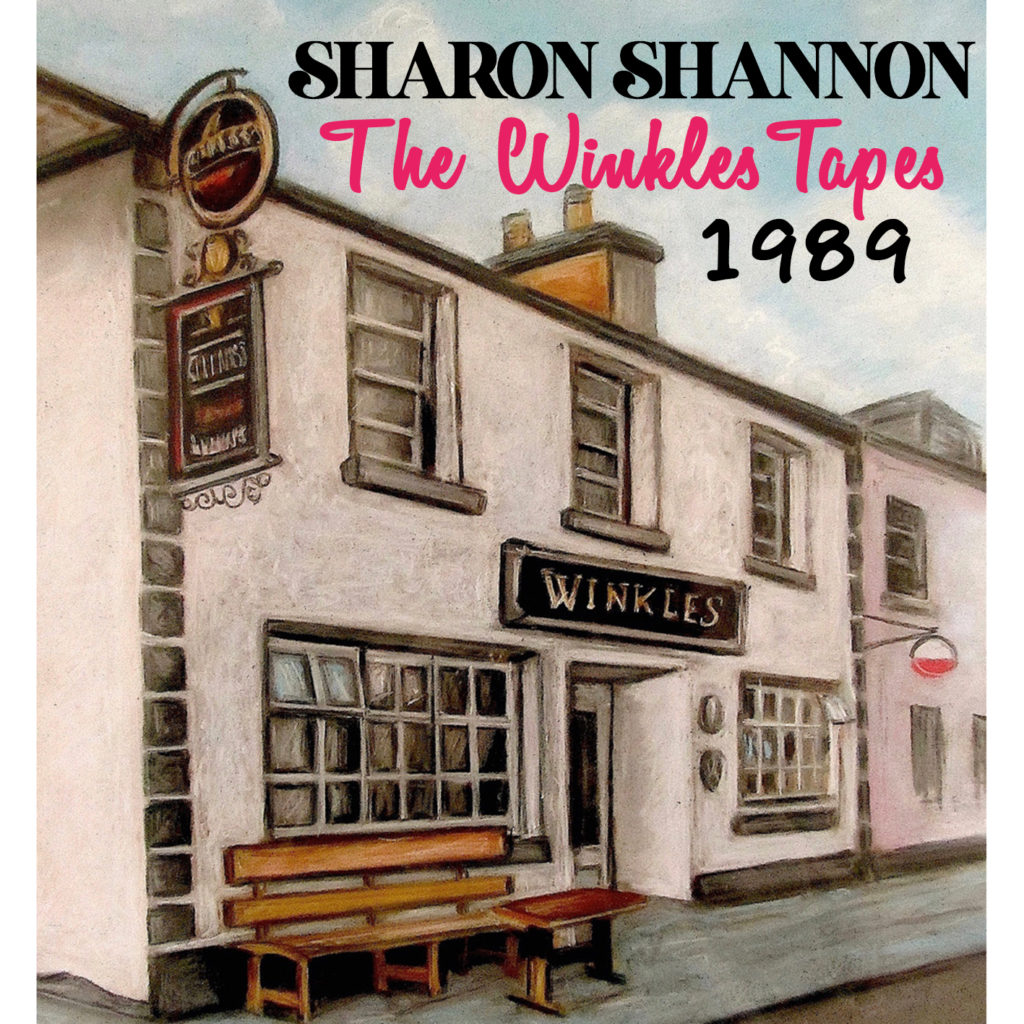 When did you first realise you had a musical talent and how did you nurture that?
I grew up in a musical family. My parents sent my brother Garry to tin whistle lessons in the local village when he was around 11, and he taught the rest of us at home. Garry is the oldest of four kids. I have an older sister Majella and a younger sister Mary. I was eight when I started playing the whistle. A few years later we all moved onto different instruments. He was and still is a great teacher. I was 11 when I got my first accordion. Garry took up the concert flute, Majella took up the fiddle and Mary took up the banjo. My parents were music mad and they loved dancing, and they passed on their great love of music to all four of us.
When you look back at your time in the industry now, how would you describe your journey as an artist?
When I was in my early teens, it would have been out of the question to even consider a career in music, even though I was gigging all through my teenage years. Back then, not as many people were playing Irish music for a living as they are now, especially not women.
But I was gigging since I was 14 and at one stage I was playing seven nights a week in Doolin with some brilliant musicians who played music professionally. One of those musicians is called Eoin O Neill, and he told me that I'd have no problem becoming a professional musician. So I was very very happy to take his advice. At age 18, I was happy as a pig in sh** to be playing in the pubs... that was enough for me to keep me happy for the rest of my life. But one thing led to another and I eventually transitioned from the pub gigs to performing on stage and recording albums.
I feel that I have been very lucky. So many people gave me amazing breaks, and one lucky break always leads to another.
It's been a very exciting journey these past 30 years. I've met so many absolutely amazing people and musicians through the music. I've made friends for life through music. I am extremely grateful for every second that I have in this musical journey.  I feel extremely privileged and lucky and honoured to be able to make a living from doing something that I enjoy so much.
Have your influences changed much in that time?
Donegal fiddle player Tommy Peoples was a huge influence on me growing up. I listened to his records and tapes non-stop. One album in particular was with him and Matt Molloy and Paul Brady called A Mighty Session. I was also hugely influenced by flute player Matt Molloy, and bands Stockton's Wing, Dé Dannan and The Bothy Band.
Irish music is my first love and it's the type of music that I understand the best. I'll never stop being blown away by Irish music, especially when it's played really well.
But there have been very many other influences too. I love most other types of music, and there's something to be learned from all the different genres. Fiddles, flutes and pipes etc. can fit in very well with any type of music, and, most of all, I love hearing a bit of Irish music mixed up with rock and roll. Some Classical music pieces sound gorgeous on Irish instruments.
I love experimenting with the different genres and mixing them up. Lots of great musicians and bands have been doing it for years before I ever came on the scene... bands that I grew up listening to such as Stockton's Wing, De Dannan, The Chieftains, Moving hearts, Planxty, The Bothy Band.
What have been your career highlights to date?
I've had so many great times touring for the last 30 years with so many great memories, it's difficult to pinpoint anything in particular.
It's a really great feeling when sometimes both the audience and the musicians are lifted up together at the same time to different level of consciousness. Sometimes there are some extra special magical moments at shows and informal sessions and even on recordings. Moments like these are totally unpredictable but are cherished by all of us who are lucky enough to experience them.
I get a good giggle when I think about the touring and the belly laughs with the big band and guests such as Shane McGowan, Dessie O Halloran, Mundy, Damien Dempsey, Jon Kenny etc. You could never dream up such an amazing list of unique characters like that all on the same stage.
Have there been any low points?
I have had my fair share of low points in my life, but I have to say that music always helped me enormously at these times. My music carreer has never been the cause of any low points in my life. It has always been the opposite.
You're great for working with many types of artist – do you have a favourite collaboration to date? 
The longest running collaboration and musical friendship I've had with a guest singer is probably Inis Boffin hero Dessie O Halloran.
Dessie was loved and adored by audiences all over Ireland and England and America.
Poor Dessie sadly passed away last year. I miss him a lot, but he got an amazing send off. It was a non-stop music session and songs and stories for three days and nights.
And he had beautiful tributes paid to him online by admirers from all over the world, including the President Michael D. Higgins. Dessie would have been immensely proud.
Is there anyone you still hope/plan to work with?  
All the collaborations that I have been involved with over the years have all happened very organically.
For instance, Steve Earle spent a lot of time in Galway City and we became great friends and played music together regularly at the trad sessions.
The same goes for the wonderful John Prine, he had been coming to Galway for over 30 years and we have played countless sessions together.
All collaborations so far have happened with people that I already knew. But I'm certainly open to doing other collaborations with people that I haven't met yet. Too many amazing artists to mention them all by name.
What are your plans for the years ahead?
I'll be happy for as long as I can keep playing and writing and listening to music and learning new music.
Could you ever see yourself retiring from the world of music? 
I love music so much I would never stop unless I had to. I will always play as long as I'm able.
That doesn't necessarily mean that I'll always be touring. I could drop out of the music industry completely, but I would never stop playing Informal sessions locally at house parties and pubs. It's what I love doing most.
Live music is the life and soul of me. Some of the most euphoric times of my whole life have happened to me while playing music with friends in sessions.
People's love of Irish music never fades, why do you think that is?
Music, not just Irish music, gives us a natural high. It is a language all of its own that brings people together and, in my opinion, it is one of the most positive and beautiful things in the world.
Sometimes music actually has other worldly vibes so maybe it connects us somehow to the mysteries of the Universe.
It is incredibly powerful and uplifting and It can help us in many different ways. It is also an extraordinary healer of grief and sadness. It helps us to ease stress, to relax and to liven up.
Albert Einstein once said "I know that the most joy in my life has come to me from my violin" -  I can resonate very strongly with that lovely quote.
Sharon Shannon tours Britain in October/November 2020, with a London gig at Kings Place announced this week for November 6. For full tour listings and tickets visit www.sharonshannon.com. Her 30th Anniversary Album The Winkles Tapes 1989 is due for release in November 2020.