1.IT was first performed as a segment in the 1994 Eurovision broadcast from Dublin. The seven-minute performance has been named one of the most popular interval acts in the history of the contest.
2. The first full Riverdance show opened at the Point Theatre in Dublin on February 9, 1995, the sell-out show ran for five weeks.
3. On May 8, 1995, Riverdance performed at the Royal Gala 50th Anniversary of VE Day celebrations at the special invitation of Prince Charles. The show attracted a television audience of 20 million introducing Riverdance to a whole new set of fans.
4. Over 2,000 dancers have taken part in the show in the last twenty-one years. The original lead roles were taken by champion Irish dancers, Jean Butler of Mineola, New York and Michael Flatley, from Chicago's south side. Both dancers came from an Irish-American background. Butler's mother was a Country Mayo native, and both of Flatley's parents were Irish.
5. The show's dancers have clocked up an impressive 26,000 hours of Irish step dancing lessons between them. Performers are often asked where best to send a child to learn the discipline. Riverdance Associate Director Padraic Moyles suggests keeping it local, wherever you live there's usually an Irish dancing teacher nearby.
6. The hard work doesn't stop when dancers join the show. Over the last 21 years it's taken 17,500 hours of on tour rehearsals to keep things running smoothly. When on the road the dancers will practice for an hour before each show, with a four-hour rehearsal once a month. With up to eight shows a week there is a heavy emphasis on recovery and letting the dancers rest to avoid tour fatigue.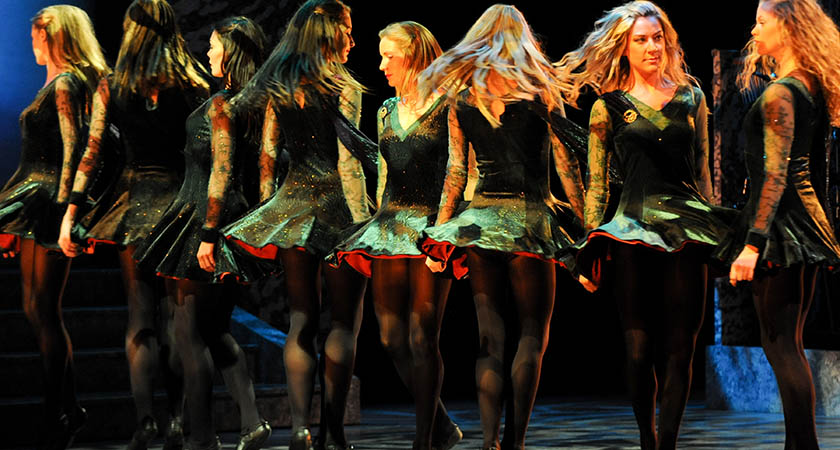 7. The tour has travelled over 70,000 miles, with London always a favourite stop. The show even played Orange, Texas in the USA, arriving not long after hurricane Katrina ravaged the northern coastline. Many shows had pulled out following the storm, not a surprise when the basement of the venue was still flooded. Not that easily put off the Riverdance show went ahead. The grateful audience responded with seven standing ovations.
8. The dancers have danced their way through 20,000 pairs of shoes — one dancer can rotate up to three pairs of shoes a night. All the dancers have their own favourite Irish shoemakers, going back to them time and again for the all important footwear.
9. They have worn 15,000 costumes, made especially for them in Dublin at what they jokingly refer to as the 'Riverdance costume mill'. When on tour the company takes along a wardrobe mistress and assistant to keep them looking their best. In emergencies they have been known to hire in local help for last minute mending operations, there can be a lot of sequins to sew back into place!
Scroll down to watch the dancers in action...
10. It's thirsty work, over the years the dancers have consumed more than 400,000 gallons of water and 75,000
gallons of sports drink Gatorade.
11. Since it started touring, Riverdance has sold 300,000 t-shirts and 2,000,000 show programmes to loyal fans.
12. It's taken over 14,000 light bulbs to keep the famous spotlights shining, all the better to see that impressive footwork with.
13. The house band have plucked their way through 16,250 guitar, base and fiddle strings.
14. The team physiotherapists have used 50,000 rolls of griptape, taping up everything from sprained ankles to pulled hamstrings. It is also crucial to protect dancers against the dreaded shin splints, one of the most common causes of repetitive strain injury in high impact dancing.  Many dancers will have their shins taped up as a preventative measure.
15. The hungry dancers have munched their way through 70,000 bars of chocolate, however times are changing. The backstage chocolate of the early days has been replaced by nuts, seeds and dried fruit, as the performers look towards healthier options to maintain energy levels. Such is the focus on maintaining a healthy diet, when touring internationally the team often have protein powders shipped out. There is one treat they haven't given up though, with the performers packing boxes of Irish teabags to take on tour.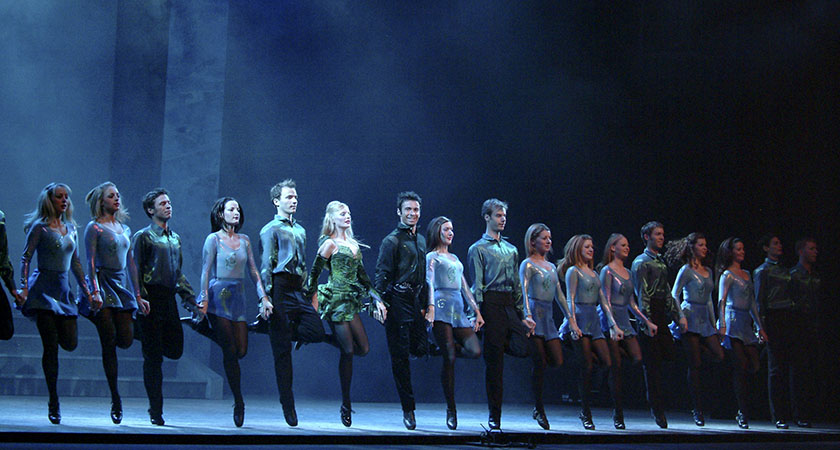 16. Riverdance has sold over three million copies of the Grammy award-winning soundtrack to the show. The soundtrack was composed by Limerick-born Bill Whelan. Whelan has also worked with some of the biggest names in Irish music, from U2 to The Dubliners to the Irish Chamber Orchestra.
17. If that wasn't enough, fans have snapped up over 10 million Riverdance DVDs and videos.
18. The tour has been seen by over 25 million people, in 467 venues, including New York's prestigious Radio City Music Hall, in 46 countries across six continents.
19. The show has led to romance for many of the dancers with over 60 marriages and plenty of Riverdance babies. Baby number 90 was born just weeks ago. There must be something in the water.
20. On July 21, 2013 Riverdance officially broke the Guinness World Record for the world's longest Riverdance, 1,693 dancers from around the world came together in Dublin to dance their way into history.
21. This year's show will feature dancers, who were born the same year as Riverdance started, 1995.
Riverdance returns to the UK at the end of March and will visit 13 venues across the UK, starting in Leicester on Tuesday, March 29. Tickets are on sale now www.livenation.co.uk or www.ticketmaster.co.uk
Watch the Riverdance troupe in action here...