SQUEEZING THROUGH the tiny doorway of 139 Brick Lane is like walking through a vortex into a retro cartoon kitchen world — all primary colours, kitsch decor and Captain Crunch.
This is Cereal Killer Café, a mecca for cereal lovers and the first establishment of its kind in the world.
Behind the counter is a wall of chewy, fruity and chocolatey choice — 120 different types from around the globe, from Toffee Crisp and Lion Bar to Lucky Charms and Apple Cinnamon Cheerios, with 30 varieties of milk and 20 toppings to pimp your cereal.
Proprietors Gary and Alan Keery's mantra is "if we can source it, we will sell it," and true to their word when a customer recently gave have them a tip about a chocaholic Israeli cereal they found a supplier and now Kariot is on the shelves. "It's like Krave but with way more chocolate, it's amazing," coos Alan.
If you don't fancy a bowl of cereal, you can always buy one of the original pieces of breakfast cereal-inspired pop art (one customer from Dubai spent over £200 on one the day I visited), a gold or silver Cheerio necklace, a Rice Krispies lip balm, or a slice of cheesecake, made with Lucky Charms.
Even on a grey January afternoon, the café is packed.
Achingly cool staff offer recommendations to excitable American tourists looking for their best-selling peanut cereal, while other tables look like a scene from octomom's house with at least half a dozen kids messing with spoons and half eaten bowls of Coco Caramel Shreddies.
Descending the stairs, Gary Keery tells me they get a lot of parents bringing their kids in for a treat, but strangely, children tend to make conservative cereal choices.
"A lot of the kids want Rice Krispies and Frosties. If you are five years old you probably don't understand so you go for something recognisable," he says.
It's adults who go wild for cereal 'cocktails' like chocopottomus, which costs £3.90 and contains Cocopops mixed with Krave, topped with a Kinder Happy Hippo and chocolate milk.
As well as the kiddy contingent, they get the odd crowd of all-night revellers who arrive at opening time looking for a bowl of something cold and sweet as a hangover cure.
In short, they are not short of customers and business is booming.
"We couldn't be happier…we've got queues out the door," says Alan, the slightly chirpier of the two bearded 32-year-old identical twins.
Yes you could buy a box of cereal for the price of a medium bowl in the café, but they are offering something unique. "It's an experience we're giving here," Gary continues, explaining the café's appeal.
"Tourists just love it," he says, and so far they have visitors from America to Ireland.
It's clear the support the boys have had from home has been appreciated, although they lament the absence of an indigenous Irish cereal on the shelves. "What about a Tayto-flavoured cereal?" chimes Gary.
As fun as serving cereal all day sounds, the twins have put their backs (and the shirts on them) into making the business work.
They are open 7am to 10pm (bizarrely breakfast is their quietest time) with 6-7 staff on at a time. "It's a 12-hour day, seven days a week," says Alan, "but you look at your watch and you've been here for eight hours but if feels like two. Time flies because you are always so busy."
Despite being ready to set up shop in May last year, they only opened for business in December — the delay due to problems finding a lease.
Both Gary and Alan have lived in London for over three years (now residing in Dalston) and knew they wanted to base their business in the hub of hipster hangout Shoreditch. "The thing with Shoreditch is there are so many creative people and so many people trying to do different things and everyone is very supportive."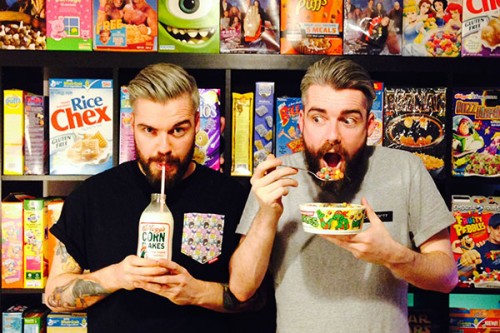 They certainly aren't the only ones with a novel idea for a coffee shop in the area — within walking distance is the Cat Café (where you can have a cuppa and pet a kitten), a Freegan café (where you pay what you feel is fair) and Ziferblat, the British franchise of a Russian café idea where you pay by minute.
"We used our own funds but we still needed more money," says Gary.
Unsurprisingly, the bank manager they went to didn't quite grasp the Cereal Café concept. "I remember when we went to Lloyds we said we were expecting 120 customers a day to start off with…leading to 240 customers a day. They told us 120 customers a day was 'unrealistic' for a café. We are now getting 500-600 customers a day."
In the end, they got the extra funding from blonde-bearded billionaire Richard Branson's Virgin Start Up which offers help to up-and-coming entrepreneurs.
While the Keery twins are close and had lived together as adults, they had never worked together before setting up Cereal Killer, and neither had any restaurant or café experience.
Alan was senior store manager for sporty fashion brand Superdry for almost 13 years, while Gary worked in retail sales for e-cigarettes. "We understood running other people's business' and customer analysis," explains Alan, but still, it was a big risk.
So why bet the house on cereal? Gary says they had been kicking ideas around for years, but when they hit on cereal they "jumped in feet first."
"Cereal is eaten by so many people every day of the week, but you can only buy it in a supermarket, you can't eat it outside of your own house, that's crazy!" says Gary. "Imagine if someone said sandwiches could only be eaten in houses!"
While their older brother immediately knew it was a genius idea, their parents took more convincing. "When we told our parents first they were like 'What?' says Alan laughing, "they just didn't get it at all."
Soon afterwards the whole family decamped to London to pitch in. "Dad's an electrician so he came over to help us and mum was here cleaning and painting."
Despite the family elbow grease, there were tensions. "When we were setting up there were quite a lot of fights. The stress levels were high," says Alan, "but since we've opened it has been fine."
He continues: "I don't think I could have done this with anyone else. Gary and I have the same vision and we're so similar, if it had of been anyone else there would have been blood."
They clearly make a good (and well-co-ordinated) team. Alan runs the logistics side, ordering and stocktaking, while Gary looks after HR and social media. They both love front of house and the attention. When they come out from the back office it's "selfie central" says Alan.
While they aren't sure if their hometown Belfast is ready for a branch of Cereal Café.
As for growing up there Gary says: "A lot of people think you grew up in a war zone, but it's like every other city, it's got good places and bad places but it's an amazing city, amazing people."
The Keerys do have their eye on Dublin for expansion, but Alan adds that they won't be rushing into anything soon. "We want to walk before we can run," he explains, but they will be doing the festival circuit this summer, another inspired idea for weary campers with no access to cold milk.
When I ask if they are fed up of cereal, the answer is a resounding no.
They are always experimenting and encourage staff to try a new combination daily. At the moment Alan's favouring a nutty option. "Is it the freaking or fecking Nut Case? Let's change it to fecking! It's Crunchy Nut Corn Flakes, Crunchy Nut Clusters and Honey Nut Cheerios with hazelnut milk and walnuts in it, it's really good."
Gary's favourite is the Unicorn Poop, a name decided by their social media followers. "It's Ricicles with party rings, marshmallow fluff and hundreds and thousands. It's all pink and purple and it looks like a party in a bowl." "We're tongue in cheek," he adds, "what we are doing here isn't serious, it's a bit of fun."
It did get a little serious for a moment though, when a Channel 4 journalist with a camera crew arrived on a busy day and started asking questions about the prices they were charging (from £2.50 for a small bowl of cereal) in one of London's poorest boroughs.
After reaction to the interview online, Gary took to Facebook, penning an open letter to Channel 4.
"I am a small business owner and am gambling everything I have in this business" he wrote.
"I am from one of the most deprived areas in Belfast so me and my family know all about poverty but haven't had to blame the small business owners in the area for it… I still have to pay over the top rent for my premises and pay the 12 staff I have employed so I either have to make profit or I will be out of business. Maybe if I charged over £3 for a coffee and dodged all the taxes in this country like some cafés — the reporters would leave me alone would they?"
The post received over 26,000 likes, 1,400 (largely positive) comments and 2,400 shares.
"Social media is massive for us…We are always talking to people on Twitter and Facebook," says Gary.
Staggeringly, they were the eighth most Instagrammed eatery in London last year, even though they only opened in December.
The most satisfying thing for the two entrepreneurs so far is seeing the evidence that their risk has paid off.
"Just seeing people who like cereal really makes our day and now we know there are people who are as obsessed with cereal as we are," says Gary. "We knew there'd be some but Jesus, we didn't think there'd be this many."
Do you hear that bank manager?