THREE impressive works of art celebrating the goddess of the River Shannon have been selected as the winners of the Arts for Sinann competition.
Launched by Coventry University's Fluid and Complex Systems Research Centre in November 2020, the arts contest was created to reignite awareness of the mythical deity of Ireland's longest river.
The Centre is part of L4 – an international collaboration of four leading research centres – and its Maths Meets Myths research programme uses mathematics to investigate world mythologies and epic literature.
Revealing their winners, L4 co-director, Professor Ralph Kenna said: "It is with a great sense of satisfaction and gratitude that we announce the winners of the Arts for Sinann competition.
"The aim of the competition was to evoke a mythological figure traditionally associated with Ireland's longest river but who has too often been forgotten in the mists of time or purposefully overwritten.
"Her name is Sinann or Sionann and, according to Irish mythology, she sought inspiration and knowledge at Connla's well – a place where nine hazel trees of wisdom grew.
He added: "Inspiration and knowledge are to the core of this competition – even in how it was judged.
"A prestigious panel of 22 judges was formed, which included famous folklorists and mythologists, eminent mathematicians and physicists and highly experienced teachers and community volunteers."
The competition, which closed to entries on February 1, was supported by partners the Rathcroghan Visitor Centre in county Roscommon, mythology experts the Story Archaeologists and The Irish Post.
Ahead of that date, 47 high-quality entries were received from across the world - with submissions in a range of artistic mediums sent virtually from Ireland, England, Wales and Spain, as well as from as far away as New Zealand and the US.
They included paintings; poems; digital art; community performances; etchings; short stories; photos; enamel; dance; movies; drawings; embroidery; an e-Book; a play; stained glass and a spirit doll.
As such deciding on three winners was never going to be an easy task, but the use of an algorithm assisted the process.
"Calibrating highly subjective opinions across such a variety of artforms and judges was quite a challenge," Prof Kenna admits.
"Fortunately, mathematicians in Coventry - where Ireland has an enormous diasporic population - had developed precisely the right algorithm to do just that.
"It is called Calibrate with Confidence and this is the first time it was used to make an actual decision," he explained.
"It is claimed to 'take Lady Luck out of the equation' and the hope is that, in future, it will help inform other processes involving human judgement such as Leaving Certs, A levels and other examinations where not every teacher can assess every exam paper."
And the winners, in no particular order, are: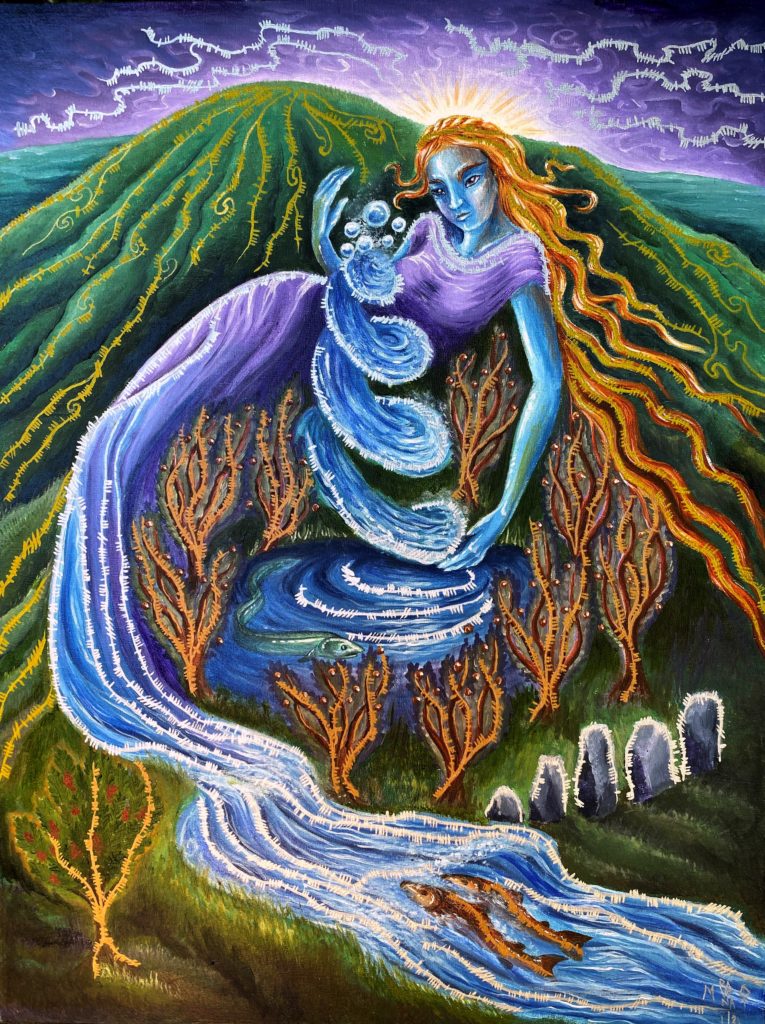 Sinann, a joint submission in the form of a painting and an accompanying poem.
The collaborative work is by the US-based pair Caróg Liath and Morpheus Ravenna.
"Drawing inspiration from the three Dindshenchas stories about Sinann, our work focuses on Sinann's journey seeking imbas forosnai, that moment of transformative illumination as she meets the waters of the well and her entry into her 'new life; arising from the transformation from woman to river," they explain.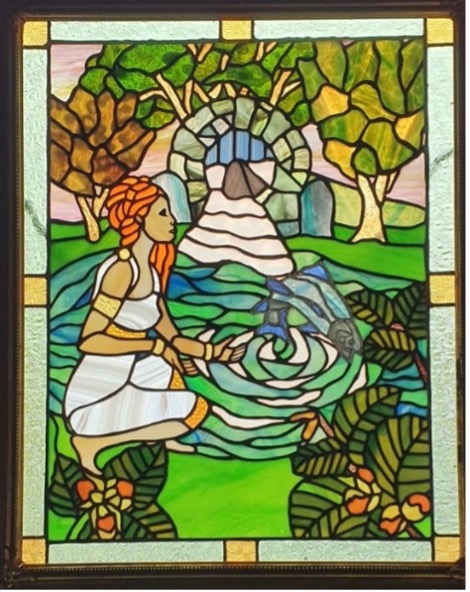 Sinann in Stained Glass, a stained-glass piece of work by Athlone-based Lee Fenlon.
The work is described by the artist as a depiction of "Sinann at Connla's Well with the rising waters of the Shannon, surrounded by the hazel trees."
He added: "I tried to use the textures, streaks, colour mixes and patterns found in the glass to give detail to the various aspects of the piece."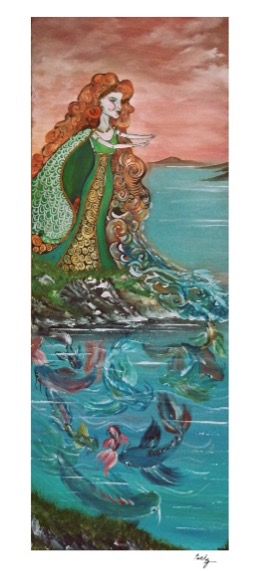 Sinann by Avril Egan, a piece created using acrylic paints.
Ms Egan, who is a graduate of the National University of Ireland Galway (NUIG) but hails from Athlone, was inspired by the "modern retelling the An Sinann story" when creating her work in acrylics.
"Granddaughter to the sea - I portrayed her as a beautiful, vibrant and youthful soul," she said.
Each winning piece will receive a prize of £1,000, Prof Kenna confirmed, adding: "Three equal prizes are awarded in recognition of the three-sided stone Sinann handed the mythological hero Fionn MacCumhaill when he was set upon by fierce warriors at a ford on the Shannon."
Of the remaining entries, Prof Kenna said: "They can take pride in having contributed to the awakening of knowledge of an important character in Irish mythology.
"Their work will help percolate knowledge of Sinann throughout Ireland, its diaspora and the world."
He added: "Knowledge and enlightenment were precisely what Sinann sought at Connla's well and the education that drove her quest is precisely what is needed in our pursuit of a better world."
Scroll down for a selection of the entries submitted for the Arts for Sinann competition: