KATHERINE RYAN, whose father is Irish, has backed the pro-choice lobby group in the run-up to the abortion referendum scheduled for this Friday.
The 'Your Face Or Mine?' presenter shared a tweet, which contained a video of the deceased Savita Halappanavar, using the hashtag #VoteYes.
17-week-old pregnant Halappanavar died in 2012 in a hospital in Galway as she contracted sepsis and due to Ireland's Eighth Amendment, she could not procure an abortion which would've saved her life.
Please #VoteYes on Friday. 🇮🇪 https://t.co/HBK3P1QeGi

— Katherine Ryan (@Kathbum) May 22, 2018
Following her tweet regarding the referendum, her Irishness was called into question.
Ryan was told by one of her Irish followers to 'Stick to your own country and keep your nose out of Ireland's politics.'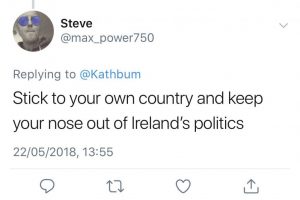 However in a typically comedic fashion, Ryan informed her follower to 'Keep your nose out of my d*ck'.
She added a selfie of her with her Irish passport, informing the world that she is indeed a proud Irish woman.
Keep your nose out of my dick. #TogetherForYes pic.twitter.com/QDPQuG8hlc

— Katherine Ryan (@Kathbum) May 22, 2018